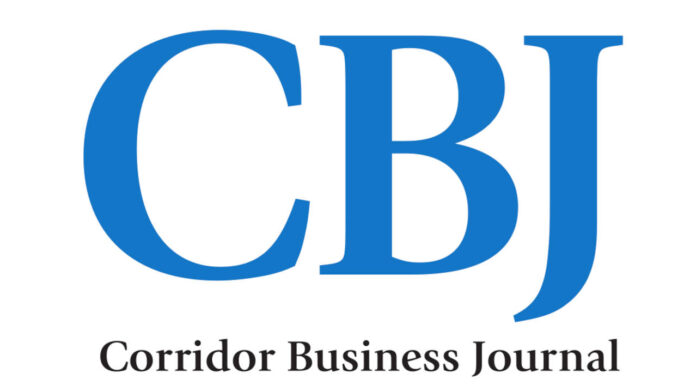 The Corridor Business Journal was again privileged to host the 14th annual Fastest Growing Companies awards event last week. (See related story on page 3). These companies and their leaders are making success happen through grit and determination, and oftentimes with a lack of appreciation.
That's why these awards are so important. They are essentially a big regional thank you to these entrepreneurs and their hardworking employees.
Congratulations to Angela
We were excited to award Angela Harrington with the Thomas L. Cardella Entrepreneur of the Year award at the awards banquet last week. Ms. Harrington is one of the very few female hotel owners and independent operators in Iowa. She was an inspiration for all business owners during the pandemic, especially as she navigated one of the most deeply impacted industries: hospitality.
Small town success
While Cedar Rapids continues to have the most companies on the list with nine the past two years in a row, we continue to be impressed with the entrepreneurial spirit coming out of smaller towns in the Corridor. Seven of the 25 companies on this list are headquartered in communities with less than 7,500 residents including: Urbana, Swisher, Hiawatha and Fairfax.
This is proof that small towns can thrive and support entrepreneurial endeavors; something the rest of the state should consider examining.
Having solid representation by fast growing companies within a community is just one indicator that localities can use to see how they are doing in attracting and building entrepreneurial companies. If a community isn't represented well on this list, they should be asking why.
Special kudos
It is a great accomplishment making the Fastest Growing Companies list once, but what is really impressive is the companies that have made the list numerous times. Special mention goes to Clickstop, a multi-brand merchant and manufacturer based in Urbana, for appearing on the list a record 11 times.
MediRevv marks its 10th year on the list and ninth consecutive year, making it the second most featured company. MediRevv, a revenue cycle management company that helps hospitals and health care organizations, has grown from six employees to more than 900.
Involta, the consulting, cloud and colocation services expert, returns after a two-year hiatus, marking its eighth time on the list.
Spotix is appearing for its seventh consecutive year on the list. The e-commerce company specializing in high-end hearth and patio products premiered on the list in 2015 as the fastest company.
Finally, North Liberty-based Moxie Solar continues its amazing streak. It premiered on the list in 2016 as the fastest company and has made the top five every year since. No other company has been able to sustain such tremendous growth.