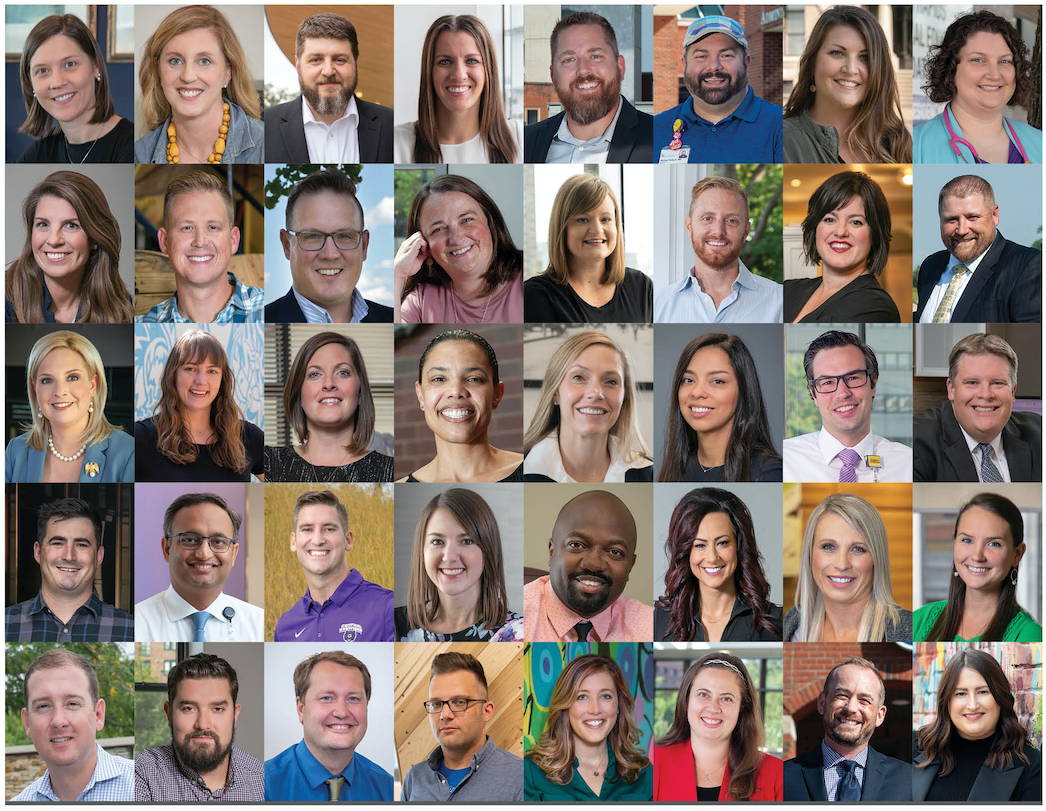 By Adam Moore
adam@corridorbusiness.com
The Corridor Business Journal is proud to introduce another remarkable class of Forty Under 40 honorees, selected for the meaningful contributions they've made to their businesses and communities in their still-young careers.
This year is particularly special, as we're celebrating the 15th anniversary of the Forty Under 40 awards program. What started as a simple recognition of young leaders on the rise has evolved into a coveted milestone among young professionals, and a reliable recruiting source for employers and nonprofits – a regional shorthand for the kind of engaged and passionate leaders every organization wants.
It's humbling to consider that we have honored 600 professionals since Forty Under 40 was launched in 2005; it's even more impressive when you consider the consistent quality of candidates who have been nominated and selected through the years. We feel it speaks to the deep pool of talent being produced here in Eastern Iowa and bodes well for our future – if we can just get them to stick around.
Interestingly enough, the answers given by this year's class of 22 women and 18 men on the CBJ's annual Forty Under 40 survey may offer some insights for keeping them here and engaged.
When asked what people should know about their generation – now mostly millennials – many from this year's class referenced the importance of purpose and passion in their work, whether banking or law or human services. They want to make things better, and are looking for companies and organizations that understand that.
"I think most millennials care about purpose to their work," wrote State Rep. Ashley Hinson, of Marion. "That is, we don't want to work just for a paycheck. We want purpose in our careers."
"I know my colleagues and I don't settle for 'this is how we have always done things' as an acceptable response," added Michael Colburn, a doctor at the University of Iowa Stead Family Children's Hospital. "We are proponents for quality improvement."
The CBJ's 2019 honorees also spoke often about the need for unity and collaboration in the face of the region's biggest challenges, from the ongoing workforce shortage to the lack of mental health care options. Forget the tired trope of millennials as self-absorbed takers – this group is willing to roll their sleeves up and get to work, but they also realize they can't do it alone.
"There are a lot of concerns that I have about the Corridor and society in general, which is why I stay active," wrote Lindsay Glynn, executive director of AbbeHealth Aging Services. "The biggest thing I hope for in the future is for all of the communities in the Corridor to come together to make progress. Each community in our area brings incredible value and strength. In an ideal world, we would capitalize on those strengths and work together to address big issues."
"I would like to remind people that all generations share some common goals. When we focus on those common goals, we build stronger teams and achieve greater results," noted Justin Foss,
This year's class has selected United Action for Youth as its "charity champion." Honorees were given the opportunity to make a short speech upon their acceptance at the Forty Under 40 awards dinner, held Oct. 17 at the DoubleTree by Hilton in downtown Cedar Rapids, with honorees paying $25 a word after the first three words, or $500 for a one-minute speech. The event regularly raises several thousand dollars for the selected nonprofit.
Alumnus of the Year
In celebration of the 15th anniversary of the Forty Under 40 awards, the Corridor Business Journal has named its inaugural Alumnus of the Year. This award spotlights a previous Forty Under 40 recipient for his or her continued professional success and impact on the community.
This year's award goes to Joshua Schamberger, president and CEO of the Iowa City/Coralville Area Convention and Visitors Bureau and a member of 2005's Forty Under 40 class.
Mr. Schamberger has made an outsized impact on the Corridor quality of life in his 18 years leading that organization. He has spearheaded a number of initiatives, including the early development of the Iowa Cultural Corridor Alliance, Herky on Parade, FRYfest, the USA Wrestling Olympic Team Trials, Telenet UCI Cyclocross World Cup, RUN CRANDIC, the Xtream Arena and many others. He has also served the community through board leadership roles with UNESCO City of Literature, Iowa City Downtown District, United Way of Johnson and Washington County and the Eastern Iowa Airport, where he was appointed as Johnson County's first airport commission member.
We salute Mr. Schamberger for all of the work he's done to make the region a better place to live, and hope that he inspires this year's class to stick around and do the same.
The CBJ's Forty Under 40 awards were presented by the University of Iowa Tippie College of Business, with support from U.S. Bank.
2019's Forty Under 40:
Emily Anderson
Ashley Bermel
Justin Bishop
Erika Brighi
Jesse Bulman
Michael Colburn
Autumn Craft
Jennifer Donovan
Laura Ebinger
Nate Etten
Justin Foss
Cady Sinnwell Gerlach
Lindsay Glynn
John Greenwood
Katie Hallman
Clint Hinderaker
Ashley Hinson
Jessalyn Holdcraft
Megan Isenberg
Nalo Johnson
Felisha Junge
Desiree Kilburg
Luke Leyden
Chris Loftus
Rob Miller
Arunkumar Modi
Jordan Montgomery
Ashley Moore
Rama Muzo
Jess Novotny
Andrea Rogers
Samantha Rogers
Pat Sauter
Logan Schultz
Jesse Thoeming
Joe Tiefenthaler
Sarah Watson
Jeralyn Westercamp
Eli Wynes
Allison Yoder