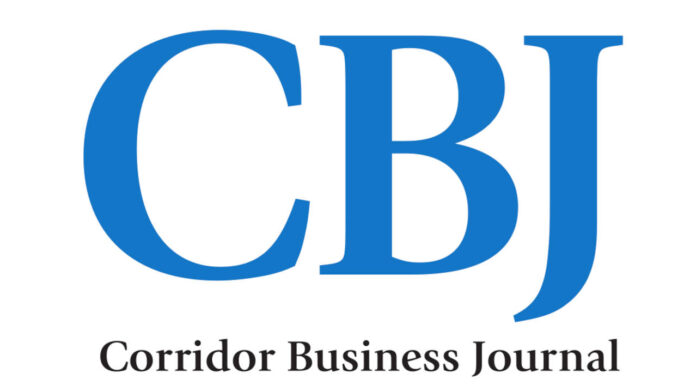 Congratulations to Inteconnex for its new Cedar Rapids headquarters in the Fountains in northeast Cedar Rapids.
Everyone in the region should be celebrating the growth of these companies, especially ones that have a headquarters in the region.
Inteconnex was founded in 2010 and is a leading physical security integrator and, notably a former CBJ Fastest Growing Company in 2014 and 2015.
We were especially excited to hear their growth continues.
"Inteconnex's technical expertise and unique system integration model provides our clients with physical security solutions superior to those from competitors in the area," said Marc Meyer, president of Inteconnex, in a release. "Despite the challenges of the pandemic and derecho, we had one of our largest growth years in 2020, with a slate of exciting projects for the remainder of 2021 and well into 2022. We are excited to provide our highly trained team of installation experts with first-class office space that is well suited to our work. This new space will also provide room as we expand our team in Cedar Rapids."
BAE System lands big contract
It was refreshing to hear about the $325.5 million contract that BAE Systems received from the U.S. Defense Logistics Agency for manufacturing advanced Military Code (M-Code) Global Positioning System (GPS) modules at the company's operations in Cedar Rapids and Coralville, especially considering Collins Aerospace's new cost-cutting goal, which has been increased from $600 million to $1 billion.
While BAE Systems is headquartered in the United Kingdom, we are nonetheless excited about their potential in the region with contracts like these and its investment in a new facility.
BAE Systems acquired Collins Aerospace's former military GPS business in January 2020 for just over $1.9 billion and is currently operating out of Collins Aerospace facilities, but construction of a new $139 million, 200,000-square-foot facility is underway at the corner of Sixth Street and 76th Avenue SW in Cedar Rapids. It is slated for completion by September 2022.
Corbett to lead economic development for Economic Alliance
We were excited to hear about the realignment of the Cedar Rapids Metro Economic Alliance, especially Ron Corbett being promoted to vice president of economic development to lead economic growth projects for the organization, including business attraction, retention and expansion projects.
It's a great choice for one of the region's most experienced leaders, who keenly understands that the economic growth of the private sector is essential for Cedar Rapids and our entire region to thrive.
The other two promotional moves include promoting Jamie Toledo to economic development relationship manager and Mike Lukan to economic development project manager.