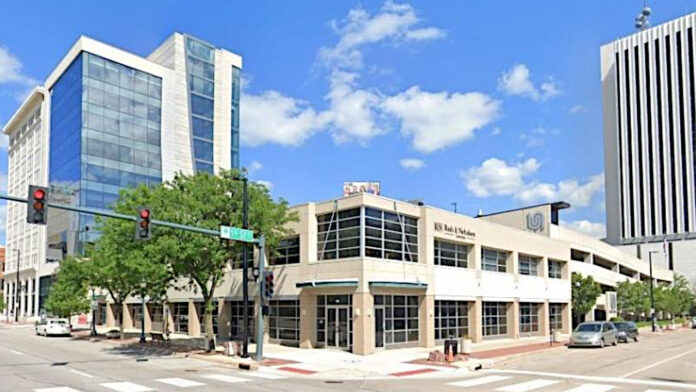 The Cedar Rapids City Council voted unanimously at its meeting Tuesday, July 12 to move ahead with the purchase of a building at 101 First Ave. SE for use as a Cedar Rapids Police Department annex facility.
The city plans to purchase the building from its current owner, United Fire Group, for $2.5 million, slightly below the building's original marketed price of $2.7 million, city finance director Casey Drew told the council Tuesday.
The current Cedar Rapids police station, built in 1997, is nearing capacity, Mr. Drew said, and purchasing the building currently owned by UFG would cost "significantly less" than expanding the current facility or building an annex from the ground up. It's also an ideal downtown location, just east of the Cedar Rapids City Hall.
"It just so happened that (city manager) Jeff (Pomeranz) noticed this building came up for sale, and we decided to take a look at it," Mr. Drew said.
The building, constructed in 1957, comprises 27,186 square feet in total. A portion of the second floor of the building is currently being rented by Rush & Nicholson, a law firm, but that lease expires in December 2024, Mr. Drew said.
The purchase will allow some of the divisions currently located in the police station headquarters, at 505 First St. SW, to move to the new facility, which will be known as the Cedar Rapids Annex Building.
Freeing up space at the current police station will allow the city to expand both male and female locker rooms, create additional office space for staff, and reclaim lost classroom space for meeting rooms or other purposes.
The new Cedar Rapids police annex will be used for a variety of purposes, including police training, a regional Police Academy classroom, police in-service training, a Use of Force simulator, other training facilities, locker rooms and records storage.
It could also serve as the new home of the city's Joint Communications Dispatch center. City officials have planned to relocate that facility for the past several years to provide a remodeled and updated space.
Other city departments could also eventually be housed in the annex facility as space needs dictate, Mr. Drew said in response to a question from Cedar Rapids Mayor Tiffany O'Donnell.
Under the plan, the city will also lease 10 parking spaces from UFG in an adjacent parking ramp, for a total of $850 per month. Another 10 spaces would be available from 5 p.m. to 5 a.m. each day as part of the parking agreement. The spaces would be designated solely for use by authorized city employees.
Other costs could also be incurred for remodeling the new annex space, but overall, the purchase could save the city as much as $20 million as compared to building a new facility for police and other departments' use, officials have said.