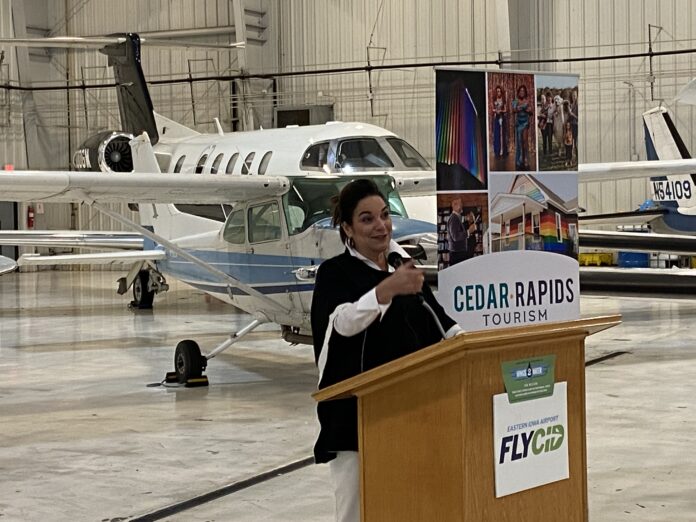 Together with the Eastern Iowa Airport (CID), Cedar Rapids Tourism Office and the National Gay Pilots Association (NGPA) — a worldwide LGBTQ aviation community — the City of Cedar Rapids is hosting "Wings over Iowa" on June 3-5.
"When I first met Julie Stow [CR Tourism Director], she told me that Iowa is not just flyover country anymore," said NGPA President Brian Gambino during his remarks. "And we said 'You are right. This is a place to land.' Being able to meet the members of this community…we realize that this is a community that is open and welcoming."
The NGPA is the largest organization of lesbian, gay, bisexual and transgender aviation professionals worldwide with the mission to "build, support and unite the LGBTQ aviation community worldwide," according to a release. The organization also provides educational opportunities and outreach efforts. It is the first time the NGPA will come to Cedar Rapids.
The city will also partner with the CRPride to participate in the city's first Pride parade.
On June 5, there will be a static aircraft display and food vendors to give the event a "block party feel," said Mr. Gambino in a statement. In addition, event organizers encourage people to fly their personal aircraft to the event.
"We are a place for dreamers and believers," said Cedar Rapids Mayor Tiffany O'Donnell in front of a backdrop of airplanes, saying the event has special meaning for her since she flew her first solo flight as a private pilot out of Eastern Iowa Airport. 
She then referred to the summer event as another opportunity to cement Cedar Rapids' place in the country as an "aviation hub," referring to the city's connection with the Wright Brothers and the Apollo 11 space mission.
"If you look across aviation right now, only 6% of pilots across the world are female and even less fall within the LGBTQ community," said Mr. Gambino.
Marty Lenss, CID airport director, said an event like this is crucial in highlighting the benefits of the aviation industry when airports face a national pilot shortage and technician shortages.
"We can welcome young people out to the airport and plant the love of aviation at an early age and get them to think about flying and pursuing a career."
CID provides an economic impact of $451 million annually and supports more than 5,000 jobs throughout the region. Demand for flights has recovered since the pandemic, Mr. Lenss said during his prepared remarks.
More details and a schedule of events will be released later.