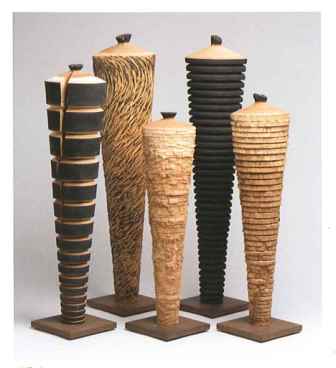 By Cindy Hadish
CEDAR RAPIDS – Works of art go beyond exquisite paintings and sensual sculptures.
Artwork also can possess a more utilitarian purpose, as evidenced in the Cedar Rapids Museum of Art's "Taking Shape" exhibition.
More than 80 recent acquisitions from the museum's own collection are showcased in two galleries to shine a spotlight on ceramics, glass, wood and metal decorative arts.
"It's still being debated today," Sean Ulmer, the museum's interim executive director, said of the somewhat contentious distinction between crafts and decorative arts.
To Mr. Ulmer, though, there is no controversy.
"These are really exceptional pieces," he said. "They are fine art."
Visitors can make their own determination in viewing pieces such as Mat Rude's white stoneware vase, a 2010 museum purchase.
Mr. Rude, a University of Iowa assistant ceramics professor, created exaggerated textures of both smooth and worn surfaces in the wood-fired vessel, which was initially thrown and then manipulated by hand.
Most of the artists, like Mr. Rude, are local or regional living artists, with a notable exception for the most well-known among the group: Grant Wood. The legendary Iowan artist died in 1942.
Three pieces by Mr. Wood are included in the exhibit, including a metal bowl, created about 1914 or 1915, which the museum purchased at an auction.
Mr. Ulmer noted that Mr. Wood began his career as a metalsmith; he founded his own business in Chicago named Volund Shop, after the Norse god of silversmiths, that produced handmade gold and silver wares and jewelry. Because of World War I and the decline in interest in luxury items, however, the shop went out of business after 18 months, he said.
Fireplace andirons created in about 1925, a gift from Joe Hladky, and a wrought iron candle stand lamp from about 1920 that Mr. Wood created, also are on display.
Though less known to the public, Mr. Ulmer said other artists whose work is exhibited in Taking Shape are respected in their fields.
"If you're in that field, you'll know these people," he said.
Steve Sinner of Bettendorf, for example, is Iowa's premier wood turner, Mr. Ulmer said, with a national reputation. His Chairman Dances II is an optical illusion that appears as a woven pattern from a distance, but actually uses straight lines on wood.
Ely potter Clary Illian has had her work displayed previously at the museum, but said she is equally pleased to have her ceramics exhibited alongside pieces by fellow artists.
Working in her field since the 1960s, Ms. Illian said she has intentionally remained local and is grateful to have made a career out of her passion.
"I think things in Cedar Rapids are very healthy for the arts," she said, citing as an example the Cherry Building in the New Bohemia neighborhood, which has become a business hub for local artists.
Ms. Illian has several pieces displayed in "Taking Shape," including a stoneware plate, pot and vase donated by Don and Mary Lou Hattery.
Oak leaves reach over the edge of "Planter," a round stoneware piece by Cedar Rapids artist Sharon Neff, which also was donated by the Hatterys.
About 500 of the museum's collection of more than 7,000 pieces are decorative arts. Much of the work has been donated, but Mr. Ulmer noted that the museum is better able to purchase decorative art than paintings that can command millions of dollars.
"We can't even begin to approach that amount," he said. "The decorative arts are still within our reach. Our limited funds go much further in the decorative arts."
Artists also have donated their work, including those through a program with the Ceramics Center of Cedar Rapids, in which several students have contributed pieces.
"You can't go through this show, without walking away and saying, yes, craft is an art," Mr. Ulmer said.