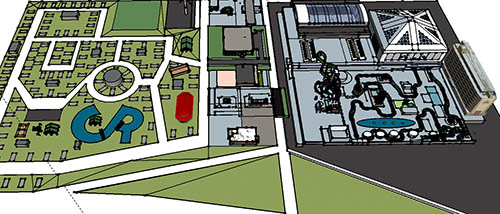 By Cindy Hadish
news@corridorbusiness.com
CEDAR RAPIDS—Ground could be broken as early as next spring on an $80 million indoor/outdoor water park, swimming facility and RV park in southwest Cedar Rapids.
The proposed park, called Cedar Bayou, will be built on nearly 60 acres along Interstate 380, at J Street and 66th Avenue SW, said Nick Ford, a Cedar Rapids native who is leading the project.
"The whole point of this is for me to do something for Cedar Rapids," said Mr. Ford, who is retired from the U.S. Navy. "The timing is perfect, the location is perfect and the rate of return is incredible."
Mr. Ford is partnering with the Butschi family, which owns the vacant land where the project is planned, and is being advised by his father, Jerry Ford, president of Cedar Rapids-based Perfect Game USA, the largest amateur baseball scouting service in the world. Bradley Mollet, of Mollet Architecture in Jefferson, S.D., has been hired as architect and project manager.
Representatives on the project hosted a public information meeting March 30 at Parlor City Pub & Eatery in Cedar Rapids to answer questions about the Cajun-themed water park and to generate excitement.
"We want this open to the public to get immediate feedback," said Russ Fagle, a Cedar Rapids artist who is serving as Cedar Bayou's creative consultant.
Current plans for the water park include two 146-foot-tall water rides, which would surpass the Water Park of America's 10th Floor Body Slide in Bloomington, Minn., billed as the tallest indoor water slide in America.
Cedar Bayou's indoor water park, at 62,000 square feet, will connect to the 5-acre outdoor water park. Mr. Ford estimated that the indoor park could draw 300,000 visitors annually, with another 200,000 arriving during the outdoor park's season.
Mr. Ford has researched water parks in the Wisconsin Dells and other locations in planning the project. No comparable indoor/outdoor water park exists in Iowa, he noted, citing an indoor park in Dubuque, and outdoor parks in Waterloo and at Adventureland in Altoona. The Ramada in Williamsburg also has a small indoor water park, called the Wasserbahn.
The swimming facility, called the CREWS (Cedar Rapids Elite Water Sports) Natatorium, will feature a swimming pool capable of hosting pro-level, college, high school and amateur swimming events, with seating for 3,000 spectators.
Mr. Ford said the location could offer a convenient place to swim for students of nearby Kirkwood Community College and College Community Schools, neither of which has an aquatic facility, and noted that Cedar Bayou also fits in with the Cedar Rapids Blue Zones Project's goals of encouraging people to get active.
The 20-acre RV park, with 120 spots, will be connected to the site's features, as well as a stocked catch-and-release fishing pond. Year-round access will be available to about half of the spaces, Mr. Ford said.
He added that plans call for "going as green as possible," by utilizing solar power and potentially placing a wind turbine on the site. Long-term leases will be offered for restaurants, gas stations, shops and a small hotel.
Mr. Ford said although the site could support a 300-room hotel, the plan is to keep it to about 100 rooms, as the intention is not to compete with hotels already in the area.
Jennifer Pratt, community development director for the city of Cedar Rapids, said that Cedar Bayou project would likely be a popular one, although no timeline for city council action has been set, as it is still in the early planning phases.
"We have heard a lot of interest from residents in a water park facility," Ms. Pratt said in an email. "Water parks are a classic family entertainment venue."
One of the most difficult components to accomplish likely could be the pursuit of an on/off ramp at the junction of 66th Avenue, on both sides of I-380. The idea has already been presented to state and city officials, Mr. Ford said.
He noted that Cedar Bayou is currently seeking investors. Ground could be broken in spring 2016 with at least $8 million in-hand to fund design and other initial work. Building would take about two years, with a goal of opening for the 2018 summer season.
Supporters say a family-oriented attraction like Cedar Bayou is long overdue.
"I've got kids, so I'm always looking for entertainment," said Mary Edaburn, who lives near Mount Vernon and was among the people who came to last week's presentation. "This will bring tourism and something fun to the city."