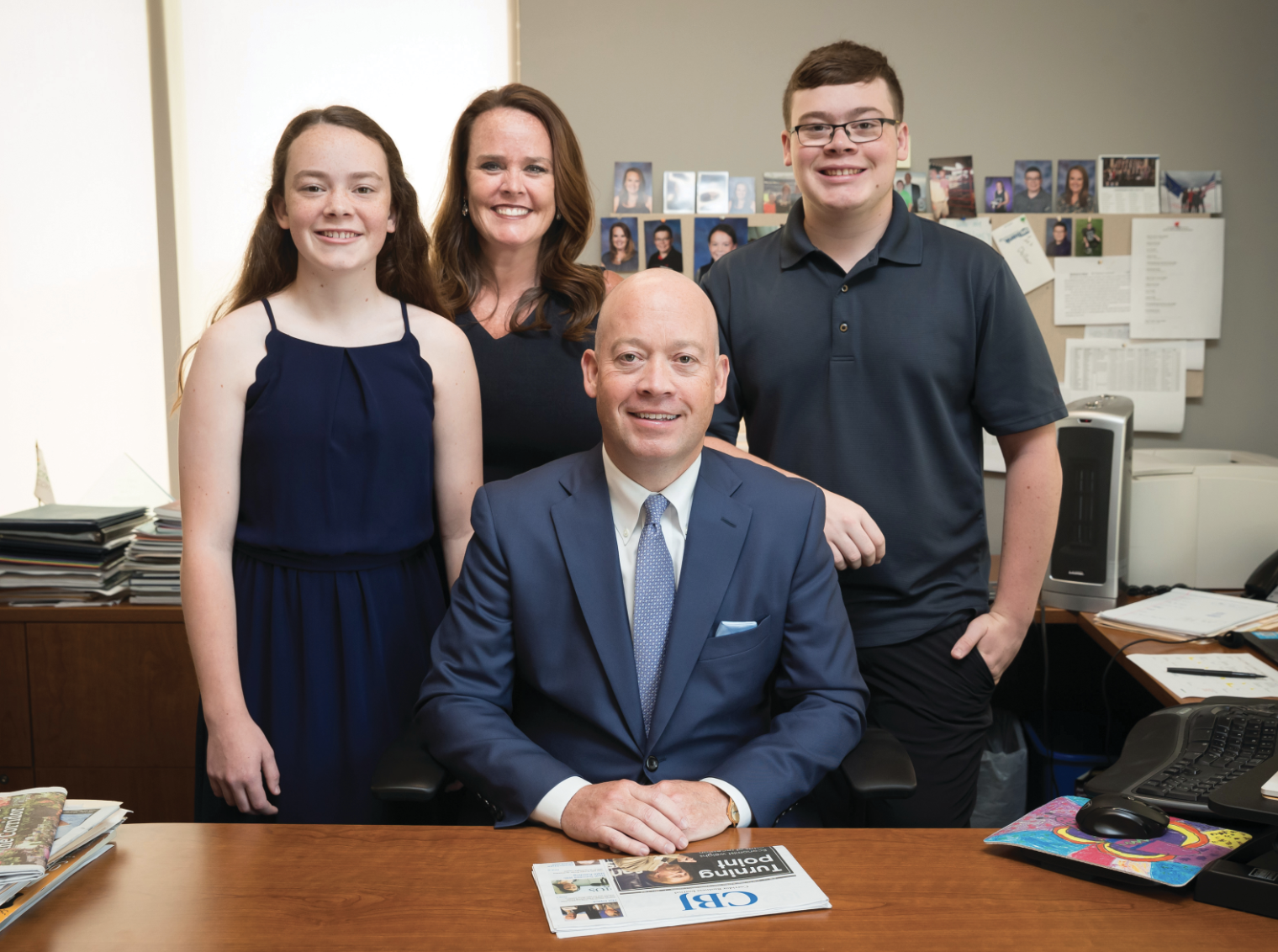 Lucy, Aspen, John and Quincy. PHOTO BILL ADAMS
By John Lohman
news@corridorbusiness.com
My wife, Aspen, and I are immensely proud that the CBJ continues to thrive 15 years to the month after we launched the business in our basement in North Liberty.
Just prior to starting the CBJ, I had a good paying and seemingly reliable job at the Duane Arnold Energy Center in Palo and Aspen was a newly half-time first grade teacher in Coralville. After working on the business plan for two years and with the encouragement of Aspen, I quit my job to start the CBJ, even though we had several large student loans, a mortgage, no savings and a new baby boy named Quincy.
It was one of the best decisions we've made. We survived the floods of 2008, the Great Recession and the near-complete transformation of the media industry. Any single one of those occurrences could have killed most startup media companies.
We were able to survive and thrive for two primary reasons: We had and continue to have an amazing staff of dedicated and talented media professionals, and the Cedar Rapids/Iowa City Corridor region is a great place to start and run a business and raise a family.
When we started the CBJ we were excited, but clearly naïve about what it took to launch a business, let alone a trusted source of business news and information. Fortunately, we were able to recruit a crew of experienced professionals from the other media companies in the region. Quickly the CBJ captured the attention and respect of the regional business community.
One of the biggest compliments we received not long after we launched was that we helped better define the Corridor and bring the region together. Those objectives weren't in the business plan, but we certainly feel proud to have helped move the region forward.
It wasn't easy over these 15 years, especially during 2008 and 2009, as many can attest. We were directly impacted by the flood, but not nearly as severely as most.
We're bullish on our evolving business model and the region as a whole. We often hear that the Corridor reminds people of the Austin, Texas, of 30 years ago or the Research Triangle of 40 years ago. That should give us optimism that our best days are still ahead.
Even though we are 15 years old, we still feel and operate very much like a startup company. We need to continue to innovate, and we're doing just that. We are developing more podcasts and our event schedule now includes a rigorous leadership training course.
Our 15 or so yearly events continue to bring people and the region together. We see them growing in number as businesspeople need quality, in-person networking opportunities in an increasingly disengaged society due to social media and online purchases and delivery.
The foundation of our business rests on the solid news and information that our distinguished news team delivers on a daily and weekly basis. Our news team recently won an award for its 2018 series, "Working for a Living," which examined issues affecting the region's working class, including minimum wage, the rising cost of living and housing affordability.
Our son, Quincy, is now 16 and will be a junior in high school. We also have a 13-year-old daughter, Lucy, who will be in eighth grade. Aspen is a full-time first grade teacher, still in Coralville.
It is a privilege to run a family-owned media company that informs, promotes and engages business and community leaders from throughout the region. We're hopeful that we can continue to make the CBJ an even more vital part of the regional economy in the years to come.
Thank you and keep reading the Corridor Business Journal.