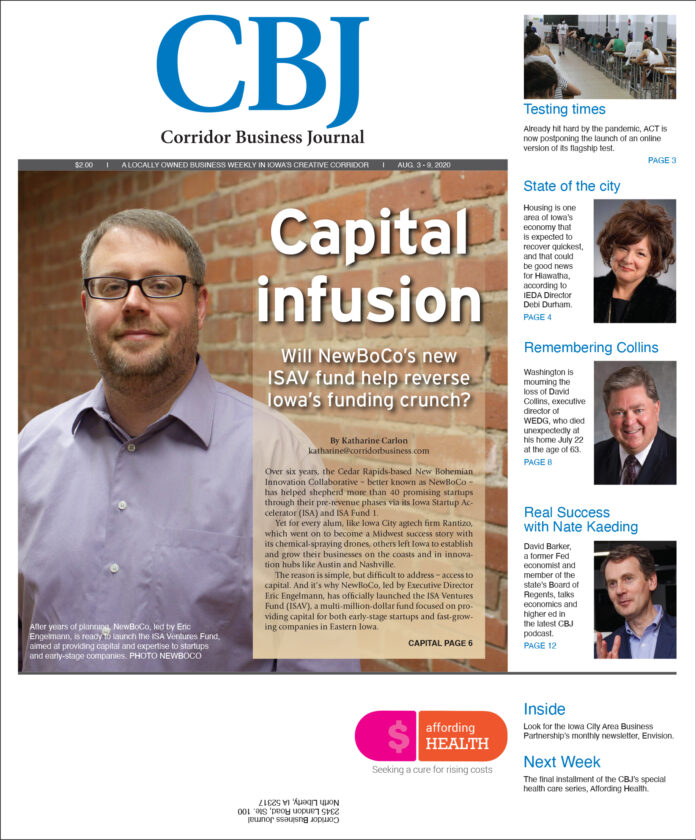 By Katharine Carlon
katharine@corridorbusiness.com
Over six years, the Cedar Rapids-based New Bohemian Innovation Collaborative – better known as NewBoCo – has helped shepherd more than 40 promising startups through their pre-revenue phases via its Iowa Startup Accelerator (ISA) and ISA Fund 1.
Yet for every alum, like Iowa City agtech firm Rantizo, which went on to become a Midwest success story with its chemical-spraying drones, others left Iowa to establish and grow their businesses on the coasts and in innovation hubs like Austin and Nashville.
The reason is simple, but difficult to address – access to capital. And it's why NewBoCo, led by Executive Director Eric Engelmann, has officially launched the ISA Ventures Fund (ISAV), a multi-million-dollar fund focused on providing capital for both early-stage startups and fast-growing companies in Eastern Iowa.
The fund is the key part of the state's first-ever multi-stage "venture studio," which promises to provide a wide array of resources in addition to capital, including technology and sales and marketing support, through all phases of an enterprise's growth.
Mr. Engelmann and one of his closest advisors on the project, Steve Gray of Gray Venture Partners, announced the new fund at NewBoCo's first-ever annual meeting in September 2019. They had hoped to be up and running by early this year until COVID-19 intervened. Now with about $15 million raised to date and a goal of eventually doubling that amount, the project is ready to launch. Investors so far include more than 70 local individuals, as well as institutional investors such as Alliant Energy, GreenState Credit Union and UFG Insurance.
Plans call for supporting more than 100 businesses over the next five years, and doubling the number of Corridor-area companies on the Inc. 5,000 list of fastest-growing companies to at least 20.
"One reason I'm excited about this is we've spent six years getting a good sense of where the constraints are and how to help our founders and entrepreneurs grow more efficiently … and focus on building the next iteration," said Mr. Engelmann, who sees the venture studio as a natural outgrowth of the Iowa Startup Accelerator, which has assisted 41 early-stage startups with pre-revenue funding of $20,000-$75,000 over its history.
ISAV allows investment far later into the process, helping fast-growing companies with demonstrable traction to scale up and later-stage companies "with plausible exit in view" to expand. It can also write checks for as much as $1 million.
"The first fund captured only a tiny slice of a business and if it was a good one, there was no opportunity to invest big money in it," Mr. Engelmann said. "It's like poker. If we have really good cards, we have the option to go all in … It's about investing in Iowa and there is no fund like this in the state that can write $1 million checks. At the same time, we're filling a gap in the ecosystem."
ISAV has been on the horizon for NewBoCo since at least 2017, when Mr. Engelmann took an eight-month sabbatical, traveling the world with his family and plotting how he would raise another fund and help Iowa companies reach the next level without having to leave the state.
"This is a 10-year project, and part of the idea was I wanted to be mentally ready," he said, adding that he regularly checked in with a small group of advisors, particularly Mr. Gray, in drawing up plans for how it might work. "If I was going to build something nobody in Eastern Iowa had ever done, I had to commit and have that fire in the belly. I came back ready to rock in the summer of 2018 and it's certainly been a lot of fun."
Mr. Gray, whose own fund invested $25 million in several young companies from 2005-2010, including Security Coverage, Involta, Higher Learning Technologies and Ready Wireless, said he and Mr. Engelmann began discussing a multi-level fund and venture studio even prior to the formation of NewBoCo and the ISA.
"The idea was to get the accelerator launched, do the first fund, and if that went well, go on to bigger and better things. And that has obviously occurred," Mr. Gray said, adding the project had two objectives. "Number one was to [establish] an Iowa-based fund, primarily, if not exclusively, meant to help businesses in the Corridor and do meaningful things for the seven-county region. We want to keep people and ideas in Eastern Iowa. Number two is economic development as we watch bigger employers merge or be acquired. Who will be the next Rockwell [Collins Aerospace] or Quaker, and how can we seize the opportunity to grow jobs here and drive the economy?"
Under the ISAV model, pre-revenue companies are eligible for $25,000 in initial capital, in addition to an additional $75,000 if certain milestones are met. Revenue-generating companies can receive negotiable terms for capital outlays of $25,000-$1 million.
According to its website, ISAV programming includes weekly coaching sessions with experienced entrepreneurial leaders, access to a deep mentor pool of experienced founders and industry experts, and educational workshops covering budgeting and financial modeling, sales and marketing and raising capital. Participants also have access to technical services, including in-house prototyping support, and $1 million worth of software and other perks, from Amazon Web Services and Google Cloud credits to sizable discounts on CRM systems, email systems and payment processing.
"The word 'studio' [in venture studio] is doing some heavy lifting, but this is more than a check," Mr. Engelmann said, adding the technical components, in particular, represent "a key piece of the puzzle."
In addition to Mr. Engelmann, full-time ISAV staff includes General Counsel Frank Camp, former associate general counsel at Transamerica, who is supported by Drew Larson of BrownWinick. Advisory team members are Mr. Gray; Cammie Greif, co-founder of TaxAct and mentor-in-residence for ISA from 2014-2019; Bruce Lehrman, founder of Involta; Pankaj Monga, president and CEO at Channel Fusion; and angel investor Nate Kaeding. (Mr. Kaeding is a contributor to the CBJ.)
"This is a really talented group of people with a wide array of experience to make good investment decisions," said Mr. Engelmann, who also touted the opportunity ISAV represents for investors. Now that the fund has hit its initial minimum threshold of $15 million, investors are eligible for a substantial tax credit through the Iowa Innovation Fund. The minimum investment for accredited individual investors is $20,000 a year for five years, beginning this year.
"We're looking at the first few investments now," he said, adding that participants would range from established companies in expansion mode to "top of the funnel" startups still a few years away from needing to raise serious money. "We need to find both. Our focus is on technology-enabled businesses where Eastern Iowa has strength – ag and food, transportation, health care, edtech – industries where we can make connections in the region and really build … We're also looking for highly scalable, interstate commerce businesses."
All companies that receive investment from ISAV will be required to maintain principal operations in the state of Iowa.
"People from elsewhere come here to participate in the accelerator, then take their ideas and fledgling enterprises elsewhere," Mr. Engelmann said, citing the example of one founder entrepreneur who moved to Boston after completing the ISA because it was so difficult to tap venture capital in the state. "It's not easy to raise money in Iowa. As a region, she could have built that business here if we'd had our act together, but we didn't."
"How many companies leave because funding is not available? There are numerous examples of that," Mr. Gray agreed. "We want to be sure those companies are staying here instead of going to Boston or Nashville or Austin or Charlotte simply because they can't get their follow-up financial needs met."   CBJ