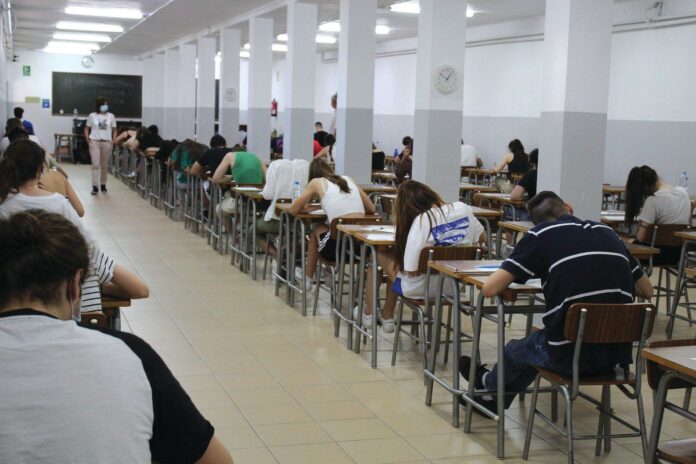 Months of COVID-19 related test date cancellations have frustrated students and parents as time ticks away for early decision and scholarship deadlines. CREDIT PIXABAY
By Katharine Carlon
katharine@corridorbusiness.com
Already coping with widespread cancellations of test dates, the sudden departure of its transformational CEO, Marten Roorda, and a rapidly growing number of colleges and universities saying they will no longer require the test, ACT has been hard hit by the coronavirus pandemic.
Now, the Iowa City-based nonprofit, still heavily dependent on revenue from its national college exam, has quietly announced it will delay its launch of an online version of the test, which it had hoped to introduce in the fall.
ACT said last month in a blog post that it would postpone the launch of online testing for national ACT test-takers, focusing instead on adding more testing capacity for its paper exam in the fall.
"We were technologically on track – as in 26 miles into a 26.2 mile marathon – to launch online testing at national test centers this fall, but the world has changed, and so too must our plans and timeframe for launching this enhancement," said new ACT CEO Janet Godwin in the post. "We're going to focus our efforts on doing what we have done well for 60 years and implementing what we can, when we can, safely and with confidence. That said, we will continue to build out this capability from a technology standpoint so we can be ready to deliver it when the market is ready."
The pull-back follows the glitch-plagued roll-out of online Advanced Placement (AP) tests this spring that quickly led to a class action lawsuit against the College Board, which also administers the competing SAT. And it came a week before ACT made national news for the wrong reasons: On July 18, a number of testing centers unexpectedly cancelled a planned test date, with students arriving to find signs taped on doors informing them the event had been scrapped.
In all, ACT estimates about 1,400 students at 21 test sites were turned away the morning of July 18, with 88,000 still able to complete the exam. But that doesn't account for thousands of other would-be test takers who were informed weeks earlier that their July test dates had been cancelled due to local public health officials' COVID-19 mandates.
Both ACT and the College Board cancelled March, April and May test dates on a national basis, and many local June tests were cancelled amid a spike in COVID-19 cases that carried into July.
Months of cancellations and pent-up demand crashed ACT's online registration website July 27 – the first opportunity students had to register for September and October tests – causing the organization to shut down the site temporarily. That setback came as news emerged that two Oklahoma students who took the July test had contracted COVID-19 at an exam site, and reports circulated that test-takers were not being required to wear masks in some locations.
"We know we have work to do to earn back trust and provide a positive experience for all who engage with us," ACT officials said in a statement at the time. The organization did not respond to requests for further comment by the CBJ.
For Bob Schaeffer, executive director of FairTest, ACT's response is an understatement. The Massachusetts-based organization leading the national movement for test-optional admissions has seen a trickle of colleges and universities waiving testing requirements morph into a torrent.
"The COVID-19 pandemic has been a catalyst that has transformed the test optional movement into a tidal wave," he said, adding that by the end of 2019, about 1,050 four-year colleges were test optional. In the first 10 weeks of 2020, another 22 followed.
"With the closing down of test centers and difficulty even finding places to take the test, about 300 more have gone test optional," Mr. Schaeffer said. "Now more than half of all four-year accredited institutions are test optional and we're moving closer to 60%, including 85% of the top universities in the country."
One of the biggest blows to the SAT and ACT came in May when the sprawling and influential University of California system announced it would phase out the testing requirements over several years – a move that was vociferously opposed by former ACT CEO Mr. Roorda, and swiftly followed by his departure.
By mid-June, every Ivy League school had agreed to drop SAT and ACT requirements for students entering in the fall of 2020 and even U.S. News & World report announced it would start to rank test-blind colleges and universities in its annual rankings after previously excluding them.
Eleven Iowa institutions no longer require either test, up from six in April 2019. The most recent Iowa school to announce it would go test optional is the University of Dubuque, which is also waiving admission fees beginning with the January 2021 academic semester.
"By permanently removing the ACT and SAT requirement, as well as the application fee, we are removing barriers for all prospective students," said Robert Broshous, associate vice president and dean of admission. "A college education will be accessible to many more students as a result. This is an incredible step toward aligning our admission policy with the university's overall mission of educating students from all backgrounds."
Iowa's Regent universities – the University of Iowa, Iowa State University and the University of Northern Iowa – are not among those waiving testing, which is used to calculate the "Regent Admission Index" based on ACT scores, grade-point averages and the number of core high school courses applicants take. In hopes of accommodating a raft of frantic applicants, the Board of Regents is offering special on-campus ACT testing dates in August for students graduating in winter 2020 or spring 2021 – with the proviso that scores "will be valid and accepted only by the state of Iowa Regent institutions."
Mr. Schaeffer speculated ACT's prominent position in a state eager to build a thriving edtech hub could account for the Regents' reluctance to drop the requirement. But, he said, that position might become untenable if widespread test cancellations continue, adding that New Jersey-based Educational Testing Services, which writes and develops the SAT on behalf of the College Board, has seen schools in its backyard go test optional, including Princeton and Rutgers. In New York, home of the College Board, the entire State University of New York system has gone test-blind.
"This is definitely going to be a long-term shift," Mr. Schaeffer said. "Once schools go test optional and see how to do it, many of them are likely to stay the course. The pandemic is just accelerating the process."
That spells rough times ahead for ACT, which Mr. Schaeffer described as "less well diversified" than the College Board, despite moves by Mr. Roorda to transition away from its dependency on college exams. Over his tenure, ACT invested tens of millions of dollars in edtech, data analytics and K-12 products to broaden the scope of its mission. Even so, its most recently filed tax form from 2018 indicates the organization took in $349 million in revenue, with about 80% coming from educational assessments.
"Despite the effort of their previous leader, he got vaporized. He just suddenly disappeared," Mr. Schaeffer said. "Then there are layoffs and cutbacks pending and, at about $50 a pop, every time [ACT] cancels tests, that is revenue they cannot collect. You're talking tens of millions of dollars that will not be made up."
That's without mentioning the decision to push launch of the online ACT to next year – a decision Mr. Schaeffer attributed to the "debacle" experienced by the College Board in administering spring AP tests. A string of technical difficulties in submitting answers led to a class action lawsuit seeking more than $500 million in compensatory damages as well as punitive damages. The College Board later put off its own planned at-home online SAT, citing a lack of high-quality internet for all test-takers.
"I think ACT saw that and thought, 'we'd better wait until next year,'" he said.
While ACT may be down, even Mr. Schaeffer said the test will continue to exert an influence – a view shared by several Corridor test preparation experts.
"It's been a little bit of a disappointment for some [students] to get to the test date and then have a cancellation," said Kelly Finn, founder and CEO of FinnPREP, which has taken much of its test prep tutoring to Zoom amid the pandemic. "But I do think this is a blip on the screen."
Ms. Finn said that while the spring and summer has been fraught with cancellations and parents and students to calm down, she believes many of the schools going test optional will return to requiring the ACT and SAT when the pandemic passes. Tests like the ACT are not easily replaceable as a uniform measurement of college readiness and aptitude given variable grading standards across the county and from school system to school system, even within the same state.
"Say one student has a 30 composite and another has a 28 – it's easier to compare, whereas with grades, there might be inflation in some areas," she added. "If you're going to let the ACT go, you need some other measurement and test writing is a very difficult task."
The ACT and SAT are also widely used in scholarship decisions, determination of merit aid and deciding which level classes freshmen will be enrolled in.
Ms. Finn said postponing the launch of an online test makes good sense and applauded ACT's plans to add additional in-person test dates at locations allowing for safe social distancing, arguing students tend to perform better on the paper test. She said she was more concerned about an ACT initiative allowing students to retake subject tests and make use of superscoring, which enables them to report the highest scores in math science or reading across multiple tests.
"That's more important than online testing right now, getting the best score possible," she said. "As for online, ACT is a very big company with smart people. They are going to figure this out."
Darcie Torres of Marion, who has tutored students for standardized tests since 2008 – 10 years of that with Club Z! Tutoring of Cedar Rapids – said preparation has been frustrating this year without knowing whether test dates will in fact occur.
"There's a lot of uncertainty about A, whether parents should even sign their student up, and B, what happens if the test is cancelled again?" she said. "Prepping with a tutor obviously costs money, so what do we do in the meantime? They've done all the prep and suddenly one and a half months goes by and my student hasn't done anything."
Like Ms. Finn, Ms. Torres has opted to put prep sessions on pause for students who have had cancellations. She is replacing regular sessions with a two-hour online refresher course just prior to new test dates.
Ms. Torres pointed out that while colleges might not be requiring ACT and SAT scores, scholarship programs have not waived the requirement. In addition, high-achieving students like those working with Club Z! want National Merit Scholar honors, free ride scholarships and invitations to the most high-profile schools.
"I don't see long-term that colleges are going to get rid of the ACT requirement," she said. "I think it's still one of the factors that gives the best indication of eventual college success and I don't think there's a replacement for that."   CBJ