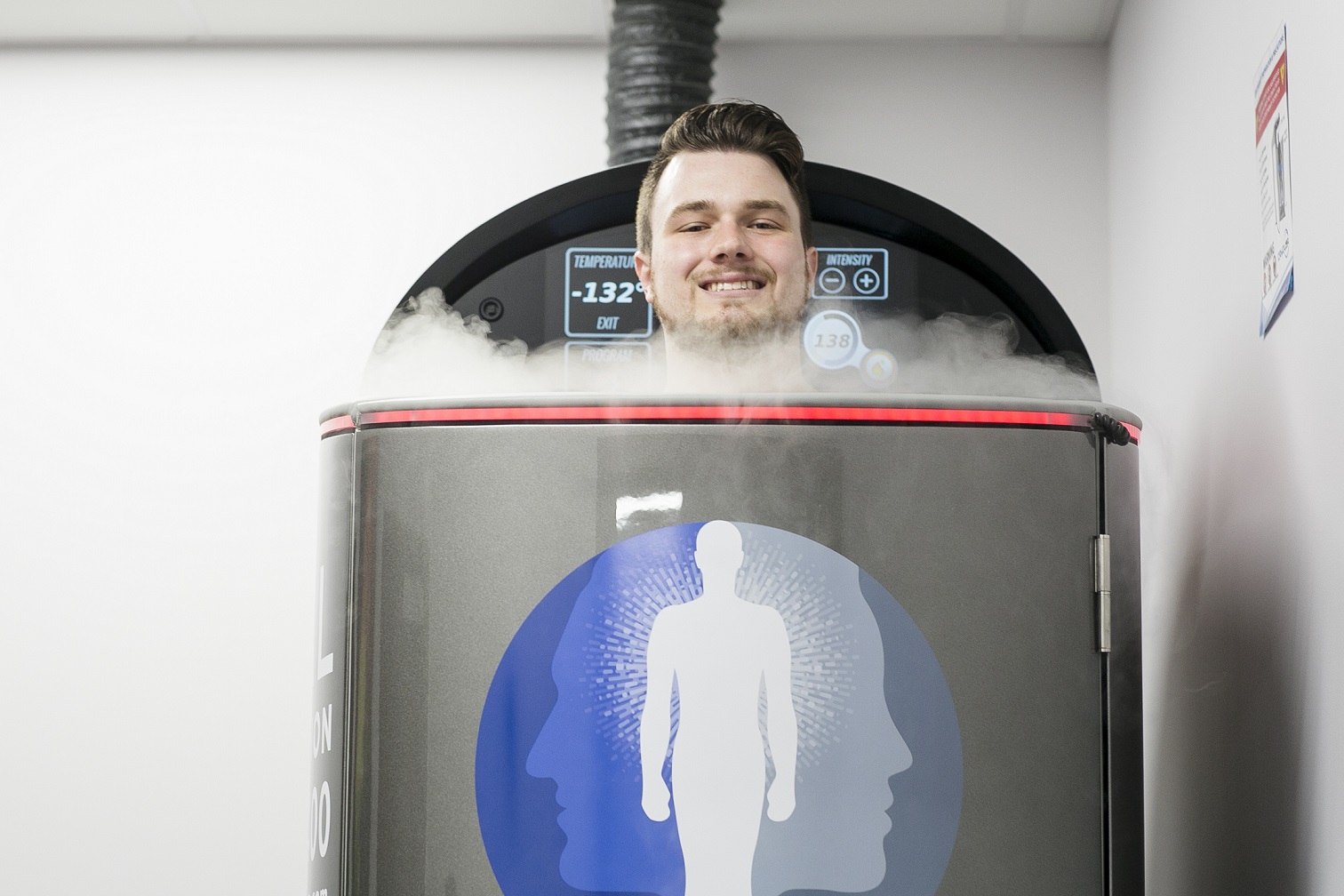 By Cindy Hadish
Cedar Rapids Titans kicker Michael Georgetti trains during the off-season in Florida and California for the indoor football season and has come to appreciate various health therapies that are popular on the coasts.
Mr. Georgetti, 25, uses cryotherapy, float pods and more in his home state of New Jersey, so he was excited to find those health trends have made their way to Iowa.
"I love this," he said of the options offered at Total Rejuvenation, 1501 51st St. NE, Cedar Rapids, which opened in March.
Mr. Georgetti opts for cryotherapy once or twice per week, in addition to massage and other therapies to relax his muscles and reduce inflammation. It also has the added benefit of promoting better rest.
"I like doing it 24 hours before a game because it helps me relax and it refreshes me," he said of whole body cryotherapy, performed in a chamber with hyper-cold air. "It gives you a good night's sleep."
While scientific evidence is not yet conclusive on the benefits of these health trends, anecdotal evidence, like Mr. Georgetti's, abounds.
People with health conditions should consult with a doctor before using cryotherapy or other new therapies. Here is a look at a few of those available in the Corridor:
Cryotherapy
Todd Diestler opened 40drop cryocenters in September at 568 Boyson Rd. NE, Cedar Rapids, offering whole body cryotherapy, local cryotherapy (for joints, for example) and cryo-facials. He is in the process of opening another site in the Quad Cities.
Whole body treatments inside 40drop's cryo chamber last three minutes. Clients are given socks, gloves, footwear and a robe. Men must wear underwear, or a bathing suit or shorts. Clothing is optional for women, but most wear shorts or underwear and a sports bra.
The robe is removed once the client is inside the chamber to expose as much skin as possible to the nitrogen gas, which fills and cools the unit, with temperatures dropping to 260 degrees below zero.
Vapors can be seen rising from the top, as the customer's head stays above the chamber walls.
Mr. Diestler noted that the extreme cold triggers a reaction from the central nervous system.
"The increased blood flow is where you see the benefits," he said.
When 40drop first opened, Mr. Diestler thought he would see mostly athletes, but the majority of customers have been people with chronic pain, such as arthritis, fibromyalgia and back and hip pain; some as young as their early 20s.
"They're just looking for a way to improve their quality of life," he said, adding that while it's not a cure, customers report being able to decrease their pain medications, resume exercising or need to visit a chiropractor less frequently after cryotherapy.
One commonality they report, Mr. Diestler noted, is they all "sleep like a baby" after the session.
Josh Giles, owner of Total Rejuvenation, said customers there report similar findings, particularly when it comes to better sleep.
His cryo chamber offers an option to drop and then increase the temperature and drop it again during a longer session of 4 1/2 minutes.
Mr. Giles, too, has seen clients who use cryotherapy to relieve pain, inflammation and even migraine headaches.
Flotation therapy
Tammy Bryant opened Cloud 9 Massage & Spa in Ely in April 2015, and moved nearby to add a float center last July.
Now at 1685 Dows St., Ms. Bryant said the float pod is often booked months in advance.
Many customers combine a one-hour massage with one hour in the float pod, a capsule-like unit containing 200 gallons of water and 1,000 pounds of Epsom salt to increase buoyancy. The result is an effortless, floating sensation.
Epsom salts contain magnesium, a mineral essential for sleep, bone health, building muscle and other bodily functions. The water is set to 93 degrees, a skin-receptor neutral temperature, Ms. Bryant said.
The lid of the pod closes – or can remain open for those worried about claustrophobia – with clients floating inside either with lights and music, if desired, or in the dark and quiet. The customer's head stays above the water.
Ms. Bryant said the pod provides sensory deprivation, "so you feel like you're floating in space."
People with high levels of stress, insomnia, chronic pain and other conditions have reported benefiting from the float pod, she said.
Jackie Stiles, owner of Honest Floating, has a float tank located at Hands in Harmony, 1615 32nd St. NE, Cedar Rapids.
The concept is similar to the float pod, but in a box-like four-by-eight-foot space, filled with 10 inches of water, 600 pounds of Epsom salt and 50 pounds of Dead Sea salt.
Ms. Stiles and her husband traveled to Illinois to test flotation therapy after an overwhelming period in her life and bought one to use in their home in 2014.
She sees both men and women who use the float tank to soothe joint pain, reduce stress and more.
Mr. Giles has both a float pod and float tank at Total Rejuvenation, where customers seek a way to decrease distractions with the form of meditation flotation therapy provides.
"It lets their mind focus singularly, without any distractions," he said, adding that "time just flies by" during the 90-minute sessions.
Mr. Giles said nearly eliminating external stimuli allows brain waves to slow to the theta state – the waves active during dreaming and meditation.
Veterans with post-traumatic stress disorder are said to benefit from flotation therapy, he added.
Halotherapy
Another room at Total Rejuvenation takes on the look of a beach party, with more than 2,000 pounds of Himalayan salt on the floor, lounge chairs and an amber-colored wall made of Himalayan salt.
The room is used for halotherapy, also known as salt therapy (from "halo," the Greek prefix for salt), which dates back to 11th-century European salt caves.
A halogenerator breaks down medical-grade salt into an aerosol that is vented into the room.
Mr. Giles said clients with colds, allergies and other respiratory ailments, as well as skin conditions, such as eczema, have reported benefits from halotherapy. Clients also report sleeping well after a session.
Up to six customers can sit in the salt room for 45 minutes, reading or relaxing, and can wear comfortable clothes, such as shorts and a t-shirt, along with a clean pair of socks that are provided.
"It's like a trip to the ocean," Mr. Giles said. "We've brought that to Cedar Rapids."