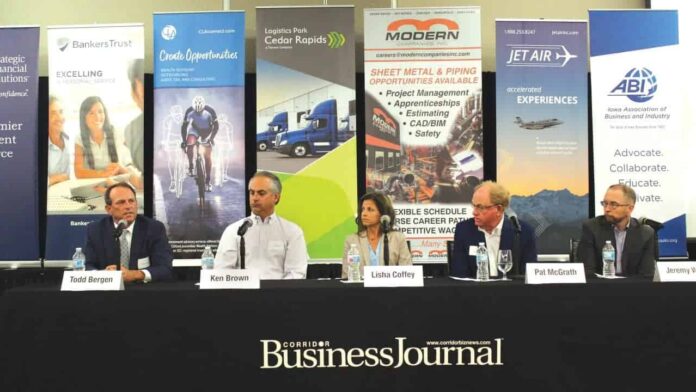 Panelists at the Corridor Business Journal's Mid-Year Economic Forecast luncheon June 22 generally expressed cautious optimism as the economy continues to rebound from the COVID-19 pandemic and the resulting recession. But concerns were still clear, particularly regarding the capacity of the supply chain to keep up with demand for resources and the ability to attract and retain needed employees.
Panelists for the luncheon included Todd Bergen, vice president for commercial real estate and business development at Skogman Realty; Ken Brown, chief vision officer for Modern and president of Haven Steel Products; Lisha Coffey, president of Travero Inc.; Pat McGrath, president of McGrath Auto Groups; and Jeremy Wild, chief financial officer, and chief operating officer of New Leader Manufacturing. The panel was moderated by Jack Evans, chairman of the Hall-Perrine Foundation. Todd Wishman, market president for Bankers Trust, delivered opening remarks.
Event sponsors included Bankers Trust, Jet Air, the Iowa Association of Business and Industry, CLA, Modern, Logistics Park Cedar Rapids, Strategic Financial Solutions and MidAmerican Energy.
Here, in lightly edited form, are panelists' responses to a series of questions posed at the event.
How is the local housing market?
Todd Bergen: If you think about the housing market last year, when the pandemic started, we were in the process of just trying to figure out, how do you do an open house? How do you sell a home? Will buyers come to look at a home? We adapted to that. And then we got the derecho, which completely turned the market upside down. Through all that, we saw a pretty steady demand, and supply was certainly constrained. But starting in 2021, supply of housing has just been tremendously depressed. Typically, we would have anywhere from 800 to 1000 active listings at this time of the year. Right now, we have 230 active listings in this market. Locally, we're almost to the point now where the buyers are beginning to step back and not want to be in a process where they bid and lose, and the Realtors are working harder than ever trying to keep their buyers calm. Where new home construction might take up some of the slack, they're facing the same constraints with cost of raw materials. Going forward, we're seeing some easing of those pressures and more active listings. But there are longer term economic trends at play there, and until we know the nature of inflation, it will be hard to predict what our market will look like in the medium to long term.
How is the construction market?
Ken Brown: The construction market is starting to come back. I think there's some hesitancy for customers to pull the trigger on projects because of commodity prices. If you can afford to wait six months, it's probably not a bad idea. I think the future is bright at Modern, and it's bright for the construction industry. However, one of the biggest problems we have is skilled labor. It's hard enough to get any labor right now for any of our business units, and skilled labor is very difficult. Where I think this may change is people are starting to finally look at the value of higher education. Nobody really wanted their kid to grow up and be a plumber, they wanted [them] to be a doctor and lawyer or go into business. We try to engage kids early and get them to come in and see the technology and the things we're doing. It's important that people make a decision that's right for them, because not everybody's cut out for college
What is the chip challenge?
Pat McGrath: I guess the best answer to that is unpredictability. We don't know where we're at right now. We're on an email [from Ford] every week for production schedules, and they canceled the email, because literally, as one gentleman from General Motors told me, we're hour to hour, not week to week. Say I want to order a Silverado pickup. Here's how I want it. When will I have it? [They] cannot tell you. Will it be here in the normal six weeks? No. Will it be here in six months? God, I hope so. Yet vehicles still roll in. I got a call Thursday from my daughter who runs our Ford location and said, 'two transports just came up and dropped 10 F-150s we weren't expecting.' I feel bad for the manufacturer and worse for the consumer, because you just can't get a direct answer.
What are issues with the supply chain?
Jeremy Wild: We are not struggling, but we are cautiously optimistic about our continued supply chain. We've got a lot of our shipments that come from overseas, and we see a lot of lead times are going farther out on already long lead times for products. Price has been an issue. We had a really good initiative in 2020 to drive prices down in our company around the cost of our product. That turned out to work well for us, because now in 2021, we're seeing all these price increases. A big portion of our product is steel, coil steel and regular hot rolled steel, stuff that [normally] doesn't cost a whole lot, has more than doubled. There's higher demand and less supply, so we're managing all those expectations of price and lead time.
Why the name change to Travero?
Lisha Coffey: Why change the name of a company that's been around for over 100 years? Because we're a different company, so we had to have a different name. We are no longer just the [CRANDIC] railroad, as many people have known us. We're actually a supply chain solutions company. And as such, we move both raw and finished product through rail, barge and trucks. And we're pretty excited because we now have Logistics Park Cedar Rapids. It'll open up in the next couple of months to assist in what we found was a dire need in the state of Iowa. Transportation costs for the state of Iowa are a minimum 10% higher than they are in the rest of the Midwest. Through a Midwest and statewide study, we were able to find that this is a great place to put warehousing transloading capabilities and to grow in Eastern Iowa to help deliver the services all of you rely on, whether it's building materials or agriculture.
How is the commercial real estate market?
Todd Bergen: The pandemic put a real dent in the market. Today we're about 13% higher in closed volume and transaction volume than we were this time last year, so the market's returning. But there's still very significant differences between this year and last year for some of the subcomponents of the market. Retail and small office is not coming back as quickly as other parts of the market, like manufacturing and industrial. Another interesting dynamic is the liquidity available on the market today because of a variety of factors, [such as] PPP loans that were extended, but weren't fully used. Now people have money to invest in assets, including real estate. You have subcontractors after the derecho that generated a lot of cash [and are] now looking to expand their business or make investments in real estate. There's a lot of activity around investment real estate, but the activity around leasing real estate has certainly not returned. Most companies are trying to figure out the productivity around people working from home versus returning to the office.
How is the local used car market?
Pat McGrath: Rental cars used to be a provider to us. They've got tens of thousands of cars out there, and they would turn them at good miles, desirable vehicles for somebody that would say, 'I can't afford a new [car], but I want a late model lower mileage used one.' They [rental cars] couldn't get [new cars] from the manufacturers, so they've prolonged their fleet, and they became a competitor of ours. They're driving the values up … The trades have been less and the buying has been much higher. We changed our whole marketing campaign trail. We wanted to buy vehicles off the street, so we said, [we] have a story, [we're] local. We've had a lot of success with that. But the used car market has been a real ripple effect from this whole chip thing.
Why the name change to New Leader Manufacturing?
Jeremy Wild: We went through a name change a couple years ago. We used to be Highway Equipment Company and we changed what we were doing. It was more ag related. So, we started the New Leader Manufacturing [name]. The company's 82 years old. And we have two product lines, mainly highway and New Leader. The highway is the salt and sand spreaders that you'll see out on the highways. The ag side is the precision nutrient applicators. We have major OEM customers like John Deere, AGCO and Case. 2020 was difficult, but it was a year where all of leadership got to shine and made decisions every day that changed our policies and procedures. How the year started out for us, we got to the March-April timeframe, and demand dropped out. In June, we had everybody just stay home and shut down on Fridays so we could slow down production but keep the supply chain moving. Then it seemed like July 1, that switch flipped and we were as busy as ever. Since the derecho, we've been working overtime in our shop. There's pent-up demand for our goods, and hard sales are through the roof.
What is the Logistics Park?
Lisha Coffey: It's a 265,000-square-foot warehouse with translocate ability. It has rail right up to the door, so from a logistics perspective, we can pretty much handle anything. We will be opening our doors in less than eight to 10 weeks, and we're working on contracts right now. Whether it's working in the office as a broker or at CRANDIC as a conductor engineer, much like the pipe fitter positions, these are positions that within their first year are making $60,000 to $80,000. We're going to need to figure out how to entice the next generation, and that probably means we're going to need to change the job a little bit … because we know to keep moving those products for the different large customers, we have to have people to do it.
What is the future vehicle distribution model?
Pat McGrath: It all comes down to the electric vehicle. Tesla was a huge disrupter in that. They were an Amazon to our business, because they have been able to fight many franchise laws in the country and win, and they have a pretty neat model on how to deliver a car to a customer. The electric vehicle industry started this distribution model to disrupt it. If you want to buy a Mustang Mach 1, even though it's called a Mustang, it's Ford's 100% electric vehicle. It's an SUV. You don't buy it directly from us, you get online and reserve it. You buy a GMC Hummer, you get online and reserve it. You buy an F-150 Lightning, which is their new electric pickup, you go online and you reserve it. What that's done is completely bypassed us as a retailer. We've got to put ourselves in a position to be at the winning edge of this. That's why we've diversified in brands, not knowing that this distribution system could be totally effective.
What is Modern's umbrella?
Ken Brown: The business units in Modern consist of the historical company that everybody knows, Modern Piping, which is the largest business unit we have, and the sheet metal company that we've had around for a while that's been gaining some ground in not only the commercial, but the industrial side of our industry. We also represent and supply compressed air products and services to industries and small businesses around the state. We also have a company called MSUITE that we started when we moved to our current location on Walford Road. We determined that we needed to measure the quality and the speed at which we're delivering products through our fabrication shop. And that's what MSUITE does. It's a software company based here in Cedar Rapids. Modern Companies itself provides the executive oversight for those organizations. The pandemic was a test. It was difficult for us as an essential business doing work in the food industry as well as in the ag industry. We had to keep people working. We had supply chain concerns, even before the big push in commodity prices. Right now we see pipe prices are up 20 to 30%, and flat sheet metal coils are up more than that. We're now looking at how many come back to the office.
What is Travero's outlook?
Lisha Coffey: We weathered 2020 fairly well. Alliant Energy is our parent company, but Travero is on the [non-regulated] side. The businesses that make that up – CRANDIC, Logistics Park Dubuque, which is the northernmost opportunity to barge up and then house or transload, and we own that. Then we also have the warehouse, and we have two new third-party logistics companies that we recently acquired. So 2020, for us, was a time of growth in the midst of one of the most difficult times to grow. We're headed into 2022 on the heels of what looks to be a fantastic 2021. Product is there, but we are still struggling [with] capacity. Trucks are tough to get, drivers are even tougher. We're going to struggle for the next six to 18 months, dealing both with a worker shortage and a capacity shortage. So other modes are going to be really important. That's where transloading comes into play. Many of you might want to rail your products in, but it takes a lot of capital to get rail right to your company or your business. So, rail it into a location where you can transload it to a truck and last mile it in.