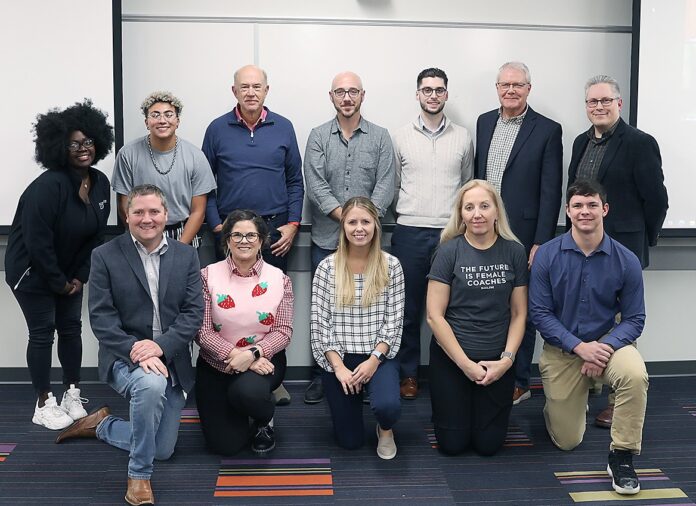 Bull Force and its founder Greg Schut won first place and $2,000 at the University of Iowa John Pappajohn Entrepreneurial Center (Iowa JPEC) Venture School Fall Final Pitches and Awards on Nov. 15 at Kirkwood Regional Center in Coralville.
Ten pitches were delivered with Jade Peterson and Jolt Education placing second and earning $1,200, and Brian Nigg and The Collective Group winning third place and $800. Paige Lassen and HydroSpring received a $500 Customer Discovery award and Aaron Bontrager of Payroll Vault was awarded $500 for Judge's Choice.
Bull Force is a battery-operated tray that mounts on a concrete bull float. Using a remote control, concrete dumps out of the tray in a controlled manner and fills voids in a freshly placed concrete pad. A vibration device helps level concrete.
Jolt Education is a school lesson plan that uses a social media approach to education. Lessons are structured in short, easy-to-process bits of information such as video clips, prompts and fast activities.
The Collegiate Group is an independent educational consulting firm to help students and their families navigate the college search, admission, financial aid and decision processes.
HydroSpring is a multipurpose water bottle with a retractable straw that extends from the stationary water container bringing water to you to meet your hydration needs. This design would decrease spills on work stations and improve safety with outdoor activities and driving.
Payroll Vault is a boutique-style payroll service provider that designs payroll and workforce services for small businesses in eastern Iowa.
Iowa JPEC Venture School instructors were Lynn Allendorf, director of Iowa JPEC, Scott Swenson, and Jay Cooper. Mentors from the professional community included Paul Heath, Margaret Horsfield, Liz Hubing, Julie Lammers, Thom Powell and Anna Spooner.
The next Venture School will be held in Spring 2023 with dates to be determined.