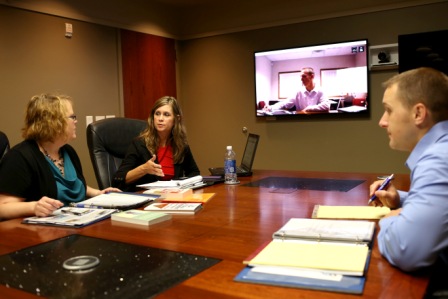 By Leah Grout Garris
Photo by Rachel Jessen
CEDAR RAPIDS — Two Corridor companies invest in leadership development for employees as a way to improve business.
"Managers are a dime a dozen," said CEC Director of Business Development Melissa Henderson. "But good leaders are hard to find."
With the record growth Hiawatha-based CEC (Communications Engineering Co.) has experienced in recent years, the company discovered it was running short on high-quality leadership.
As CEC worked with Bill Withers, a professor from Wartburg College who also serves as the assistant director of the Institute for Leadership Education, on a customer service initiative, the executive management team discovered that customer care needed to start with employees first.
"And we realized that great leaders typically come from within," Ms. Henderson said.
So the company's Leadership Development Program was launched in 2011 to help employees reach full leadership potential. This May, the program received an Excellence in Business award from National Systems Contractors Association for being a best-in-class industry strategy.
UnityPoint Health-St. Luke's Cedar Rapids shares a similar story of acknowledging employees as the organization's greatest asset.
"We also recognized that we were in a time of significant transition in healthcare," said UnityPoint Health's Vice President of People Excellence Emily Porter. "So we made a commitment to develop our leaders so they could help drive the organization forward during a time of great opportunity and change."
As a result, the organization established two leadership academies in 2009. Along with the Physician Leadership Academy, designed specifically for physicians, it also established a Management Leadership Academy for administrative professionals. Later this year, it will be ready to launch its Executive Leadership Academy.
Ms. Porter feels it's a necessity to develop talent internally in order to gain a competitive edge. Having employees with great ideas isn't enough; to stay ahead, organizations also need employees who can carry great ideas through to completion.
"Today, you have to have that drive and speed to execution," she said. "And a lot of that comes from employees. Investing in your talent is a differentiating factor in your future and in your ability to be successful."
Dr. Dennis Rosenblum, a graduate of UnityPoint Health's inaugural Physician Leadership Academy, had recently been named a NICU medical director when the program was first announced.
"I knew it could help me with the business skills I needed for this position," he said. "I never learned those skills in college or medical school. When I went to school, there weren't combined MD/MBA programs like there are today."
Ms. Porter said Dr. Rosenblum isn't alone in this challenge.
"Physicians are often trained to be very good at autonomous decision-making," she said. "But in business these days, and in the healthcare industry, it's about how you work in teams and collaboratively across departments to get things accomplished."
Creating the curriculum
Both CEC and UnityPoint Health decided to invest in internal programs that not only focus on leadership characteristics and capabilities, but also give participants a chance to better understand the industry and organizations for which they work.
Each organization's program focuses on general leadership topics: business ethics, communication styles, good habits, servant leadership, ways to build up colleagues, proving the value of an idea through dollarization, etc., as well as industry-specific topics as they relate to leadership.
The Physician Leadership Academy at UnityPoint Health is a combination of online and in-person classes. Participants learn about topics such as financial management within a health system, and the growing IT component of healthcare. In the Management Leadership Academy, participants examine healthcare trends and physician partnerships that achieve positive outcomes.
CEC's Leadership Development Program helps employees better understand the functions of various departments, project workflow, and the value of customer service. Drew Baumhauer, operations manager at CEC and former Leadership Development Program participant, appreciated the focus on company-specific topics and the chance to discuss them with his peers.
"It was like one-on-one coaching versus a webinar or seminar," he said.
Bringing Leadership Development Program participants together in the same room once a month from January through October, Ms. Henderson said CEC also focuses on leadership within the "circle of influence," whether that is among family, friends, a volunteer group, a department, or an organization.
"There are different types of leaders, and we focus on how they spread within a team," she said. "When we say 'team,' we're not talking about management. We're talking about how you effectively lead whatever it is you're passionate about or involved in."
Participants in the Leadership Development Program take a three-month summer break to work on a dollarization project, working in small groups and using what they learned to come up with a practical way to address a real business challenge. The group puts together research and provides an ROI, and then presents their idea to the entire group in the fall. Some of these ideas have cut costs, improved efficiency, or boosted morale.
Both CEC and UnityPoint Health choose to partner with an outside organization to bring a new perspective and maintain a relaxed learning environment.
"The Leadership Development Program is an open forum for employees to share ideas and concerns in a productive manner," Ms. Henderson said. "Having that third party helps employees know they can share ideas without them being viewed as complaints."
CEC works with Mr. Withers, who was there when the Leadership Development Program idea was born. The leadership academies at UnityPoint Health are led through a partnership with the American College of Physicians and the American College of Physician Executives.
Shaping employees for the future
Troy McDermott, a network engineer and leadership graduate at CEC, knows that a supervisory role isn't for him. But after participating in the Leadership Development Program at CEC, he has a clear understanding of why being a leader doesn't have to involve managing other employees.
"I learned that being a leader means serving as an escalation point or sounding board for people who might need assistance in making decisions," he said. "My current position isn't a supervisory role, so I always assumed I didn't have to worry about 'leadership.'"
After participating in the program, however, he realized that his industry experience and knowledge still provided a chance to serve as a leader among employees.
"I can offer information to new colleagues, even though I'm not 'in charge' of them," Mr. McDermott said.
Leadership academies at UnityPoint Health have also led to positive changes, Ms. Porter said. In addition to seeing participants move into formal leadership roles, she has also seen them excel at projects they're working on.
After Mr. Rosenblum completed the Physician Leadership Academy at St. Luke's Cedar Rapids, for example, he decided to take more classes through the American College of Physicians. He then earned his master's degree in medical management from the University of Southern California.
"That combination has really opened doors within my position and helped the organization look at things differently," he said.
As a result of the program, Mr. Rosenblum has developed contacts at UnityPoint Health-Allen Hospital Waterloo and UnityPoint Health-Trinity Quad Cities. Instead of working as an isolated group, he said he now feels part of a larger group where ideas, quality standards and metrics, and financial review sessions are shared.
"These are talented individuals when they come into the academy," Ms. Porter said. "But the academy helps them even more in terms of enhancing leadership and business acumen, and preparing them for what's next. What's next may be another position, furthering expertise in a current position, or strategic project work that allows us to leverage their new capabilities. But it only benefits us to be able to have that talent internally and not have to go externally to find it."
Professional development pays off
Ms. Henderson thinks more local companies could be successful if they simply looked at ways to develop the skills of their staff.
"Your employees are who take care of your customers, so you have to work on building your employees first."
As for company executives who think that professional development will do nothing more than train staff members for a job elsewhere, Ms. Porter said to consider the fact that employers always face the dangers of turnover.
"There's a risk in any business venture you go into in any organization," she said. "But we've seen individuals grow in their positions, and we've retained key talent as a part of this training. Employees notice when an organization helps them develop their career paths; it's a driver toward engagement and retention. The benefits of a program like this outweigh the risks to an organization."
Building a Program of Your Own
CEC Director of Business Development Melissa Henderson and UnityPoint Health Vice President of People Excellence Emily Porter, who manage their organizations' leadership programs, have these words of advice to share with Corridor companies thinking about starting with their own internal leadership programs:
Meet with other companies that have established programs to learn about best practices
Create a clear definition of what the program is: a leadership program or a management program
Partner with a third party to share ideas and maintain an impartial learning environment
Decide who within the organization will own and manage the initiative
Conduct surveys throughout the program to determine whether you're on the right track
Make sure everyone buys in to the program from the top down
Consider next steps for program graduates; Henderson is already working on another phase of CEC's program that may involve launching more of the ideas generated during the company's Leadership Development Program
Limit the number of participants; CEC and UnityPoint Health keep group sizes small so there is enough time for one-on-one interaction and feedback