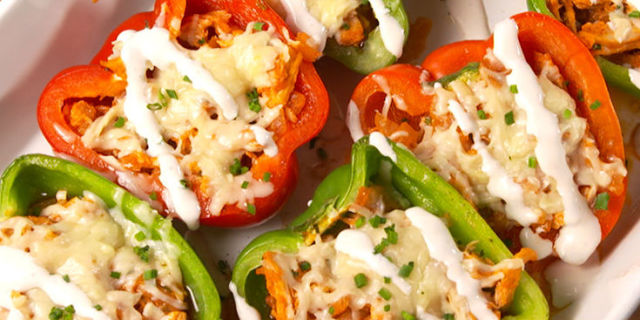 Spice up your stuffed pepper game with the flavor of buffalo chicken, and cool it down with ranch.
INGREDIENTS
4 bell peppers, seeds and cores removed
1 tbsp. extra-virgin olive oil
Kosher salt
Freshly ground black pepper
3 tbsp. butter
1/2 large onion, chopped
2 cloves garlic
3 c. shredded rotisserie chicken
1/2 c. hot sauce (preferably Frank's Red Hot)
2 c. shredded gouda
Light ranch dressing, for drizzling
2 tbsp. freshly chopped chives
PREPARATION
Preheat oven to 400°. Place bell peppers cut side-up on a large baking sheet and drizzle all over with olive oil, then season with salt and pepper.
In a large skillet over medium heat, melt butter. Add onion and cook until tender, about 5 minutes. Add garlic and cook until fragrant, 1 minute more.
Add shredded chicken and hot sauce and toss until combined. Cook until the mixture comes to a simmer, then remove from heat.
Divide chicken mixture between pepper halves. Top each with gouda and bake until cheese is melted and peppers are crisp-tender, about 20 minutes.
Drizzle each stuffed pepper with ranch and sprinkle with chives.