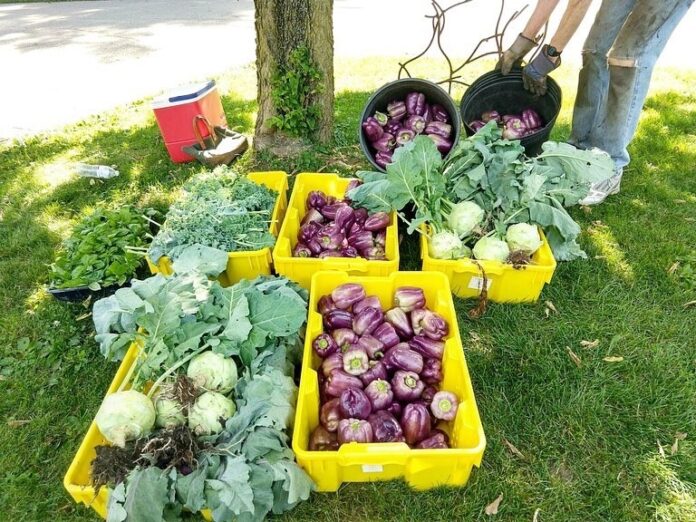 The American Association for State and Local History (AASLH) announced Brucemore is the recipient of an Award of Excellence for the Brucemore and Feed Iowa First Historic Garden Project. The AASLH Leadership in History Awards, now in its 76th year, is the most prestigious recognition for achievement in preserving and interpreting state and local history.
The partnership between Brucemore and Feed Iowa First served the community by using a garden on the historic Brucemore grounds to provide fresh produce to those in need. Throughout the summer of 2020, a group of volunteers prepared, tended, and harvested produce to be distributed to food pantries in Linn County. The project yielded 1,800 pounds of free, nutrient-rich, organic produce. Through this partnership, the historic cutting garden provided unique insight into how the property was used over 100 years ago, while directly fulfilling a modern community need. Access to fresh, chemical-free produce has become more vital in the past year with the emergence of COVID-19, its subsequent economic impact, and the rise of food insecurity.
This year, AASLH is proud to confer 38 national awards honoring people, projects, exhibits, and publications. The winners represent the best in the field and provide leadership for the future of state and local history. The AASLH awards program was initiated in 1945 to establish and encourage standards of excellence in the collection, preservation, and interpretation of state and local history throughout the United States. The AASLH Leadership in History Awards honor significant achievements in the field of state and local history and bring public recognition of the opportunities for small and large organizations, institutions, and programs to make contributions in this arena. For more information about the Leadership in History Awards, contact AASLH at 615-320-3203, or go to www.aaslh.org.
Since Brucemore opened as a historic site and cultural hub in 1981, it has looked to the legacies of the site's families to create historic connections to make the community a better place to live, work, and play. Through this project, Brucemore intentionally partnered with a human service organization to directly meet a human need. For Feed Iowa First, this partnership offered an opportunity to expand its mission of combating food insecurity by growing food and farmers locally. The organization values Iowa's strong farming heritage and cultivates the necessity for local produce in creating a healthy community. For more information, visit www.feediowafirst.com.