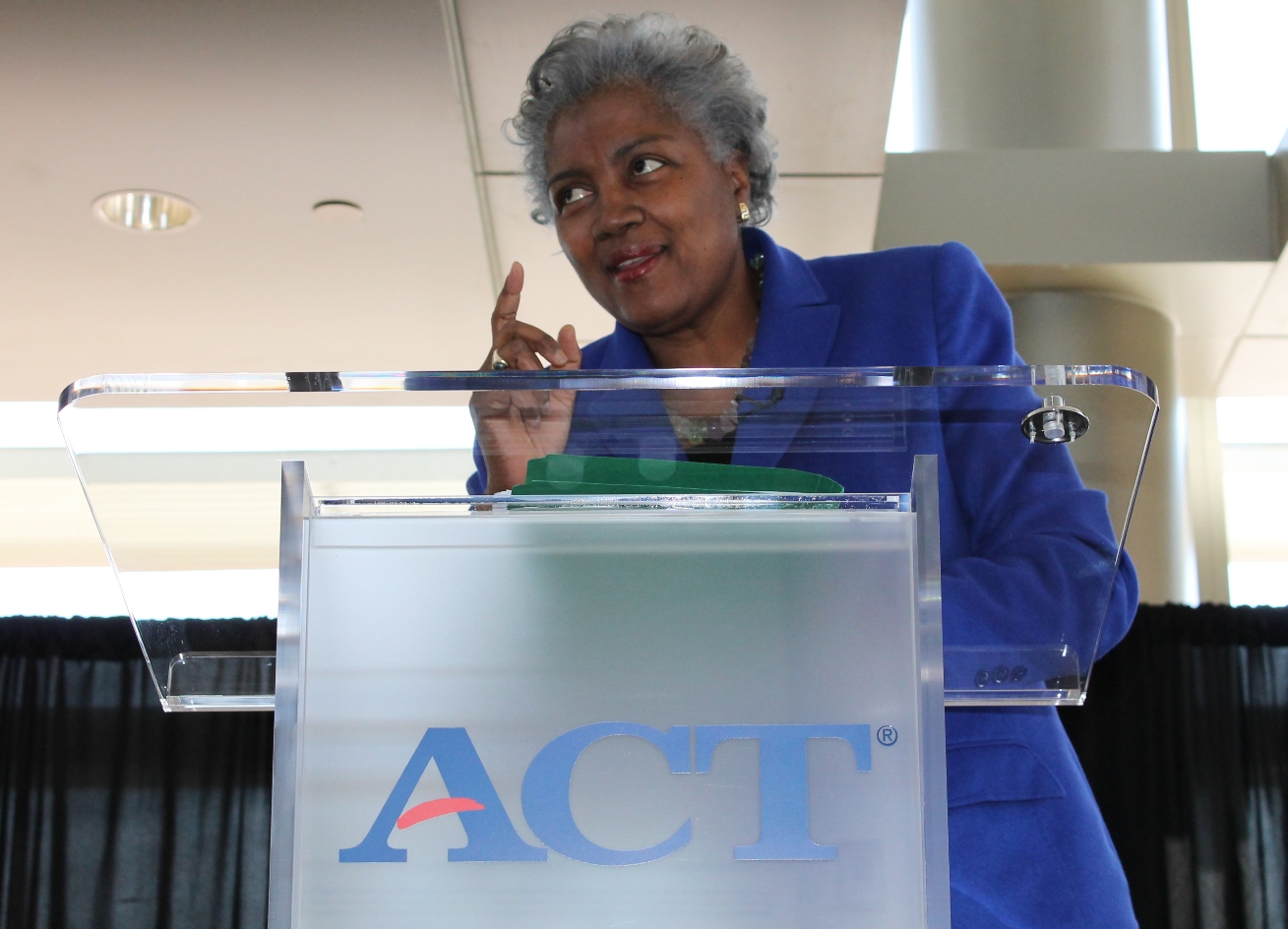 By Angela Holmes
IOWA CITY – Political strategist Donna Brazile is no stranger to Iowa – or to ACT.
In honor of Women's History Month and the 50th anniversary of the U.S. Civil Rights Act, Ms. Brazile was the first speaker of ACT Talent Strategy's Diversity and Inclusion quarterly series.
"It's a delight to be back in Iowa," she told the crowd of about 250 in ACT's Ferguson Center on April 15.
Born and raised in Louisiana, Ms. Brazile broke into the national political scene at age 23 when she was "deployed" to Waterloo, Ames and Marshalltown during a campaign. She recalled her apartment on Fifth Street in Des Moines and enduring her first Iowa winter.
"I have always been treated nice here," she said. "I believe you are fair; that matters to a woman like me."
She was the first African-American to lead a presidential campaign – chairing former vice president Al Gore's campaign in the 2000 election, which eventually went to George W. Bush. She is currently vice chair of voter registration and participation for the Democratic National Committee, as well as an adjunct professor and syndicated columnist. She appears regularly as a political commentator on ABC News and CNN and is founder and managing director of Brazile & Associates LLC, a general consulting, grassroots advocacy and training firm based in Washington, D.C.
She credited the Civil Rights Act of 1964 with ending segregation and opening the doors for women and minorities, such as herself.
"It was never about reverse discrimination; it was about expanding opportunity to all people," she said of the legislation.
She also credited ACT with helping advance her education.
"Little girls like me were able to get a scholarship after taking the ACT test," she said. "Without the ACT test, I would not have entered college. Education cannot be measured, but performance can."
The most important result of the Civil Rights Act has been its influence on education, Ms. Brazile said.
"There can be no opportunity without education," she said. "With education, we can not only help shape the world, we can transform it."
For example, Head Start, a program of the U.S. Department of Health and Human Services that provides comprehensive early childhood education, health, nutrition and parent involvement services to low-income children and their families, helped her family greatly after it was created in 1965.
"You have to start education young," Ms. Brazile said. "Head Start gave us a chance; it helped level the playing field."
Her parents knew the value of education, and as the oldest child, she served as a role model to her younger siblings, and now, nieces and nephews.
"For me, the best ticket out of poverty was an education," Ms. Brazile said. "I had six siblings behind me to encourage."
While she never met civil rights leader Dr. Martin Luther King Jr., she heard his voice on the radio and saw his face on television on a young girl in the 1960s. In 1968, when she was 8 years old, her grandmother told the children they had to pray for Mr. King, his family and for whoever shot him.
While she didn't initially agree with praying for the shooter, her grandmother and father convinced her that forgiveness and peace were paramount to Mr. King's mission.
"Grandma told us we had to continue Dr. King's march," Ms. Brazile said. "It mattered to me because I'm an American, not just an African-American woman from the Deep South."
That forgiveness and acceptance also shaped her attitude when white students and their parents threw rotten eggs and tomatoes at her and other black students while they got on the school bus.
"I made friends with the white students," Ms. Brazile said. "We had to co-exist. We learned we had so much in common. Education was the lifeblood of reality that I too could learn."
She admits that while race relations have come a long way since the Civil Right Act was passed in 1964, there is still need for improvement.
"The journey has been difficult; and resistance to the law is still present today," she said.
Answering a question from the audience regarding the lack of women in politics, she said there needs to be more women in the pipeline running for office.
"The majority of voters are female," she said. "It's a two-way street – women need to run and women need to support them."
She made the prediction that a woman will succeed an African-American as U.S. president, referring to the possible presidential run of Hillary Clinton in 2016.