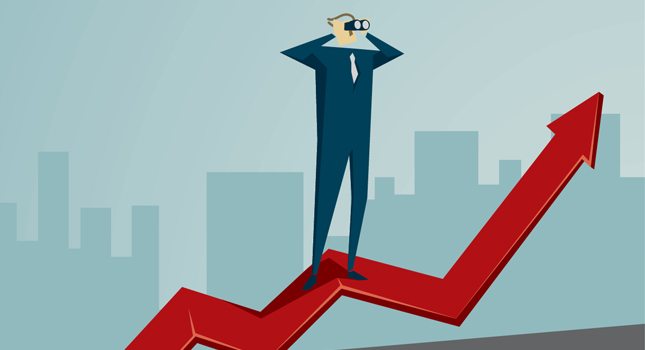 By Katharine Carlon
katharine@corridorbusiness.com
Wheels are turning, and not just on the highways, according to a panel of experts assembled by West Bank as part of a May 8 economic forum held in Iowa City.
Freight is (over)flowing with trucking companies forced to turn away loads, according to Heartland Express Chairman and CEO Mike Gerdin. Banks are loaning money as credit quality and repayment rates surge, said Dave Nelson, president and CEO of West Bank. Even economist and author David Barker of the Barker Companies, who sounded the few notes of caution at an event full of positivity, said the good times could well keep rolling as long as the economy avoids some obvious road bumps.
"What I've seen in the last year is a dramatic change in our economy," Mr. Gerdin led off, noting the trucking industry is often the first to pick up on prevailing economic winds thanks to its proximity to the movement of goods across the country. "It may not have quite hit everybody yet, but I can tell you, it's coming."
Mr. Gerdin said Heartland is now hauling about 12,000 loads of freight every week and turning away another 10,000-11,000 loads from the likes of Wal-Mart, Georgia Pacific, Lowe's and FedEx due to lack of capacity.
"I could almost start another trucking company with just loads we say no to," he joked, crediting federal tax cuts and a surge in consumer confidence for the trucking boom. "People are buying things. They're going to the mall, they're buying things online. Usually when the American consumer starts buying things, then the economy really heats up, and I can tell you it is really heating up right now."
Mr. Nelson, whose regional bank serves central and Eastern Iowa as well as the Rochester, Minnesota area, seconded that opinion, adding that Iowa was particularly well-positioned for expansion.
"In case anybody doesn't know, we are in an economic boom," Mr. Nelson told a packed audience at the Hilton Garden Inn. "We are very fortunate to live in Iowa. In fact, where we do business … I think we'd be hard pressed to find three communities anywhere in America within a couple hundred miles of each other that are as solid as those three places and as poised for continued growth."
Credit quality is strong at Iowa banks, he said, with only a handful of the state's 306 chartered institutions experiencing financial stress – mainly smaller ag banks.
"People are making their payments," Mr. Nelson said, also citing low unemployment and a "jaw-dropping" roster of new development projects throughout the region as further signs of a strong economy. "The banking industry is healthy with lots of money to lend."
In the short term, Mr. Nelson said he expects to see short term interest rates continue to rise, with the Federal Reserve promising at least two more hikes to come this year. In the longer term, he said he would be keeping an eye on the $1.5 trillion student loan debt problem.
"Along with the rising cost of housing, health care and higher education, if something would happen where parents can no longer finance the cost of a college education, what could that do to enrollment?" he said. "That would be one concern that I have unique to where we are right now."
Mr. Barker agreed it was important to be aware of potential pitfalls even as the financial and economic forecast appears sunny.
"It's a beautiful day in Iowa City, but you may have heard economics called 'the dismal science,' so it's my job to remind you that a beautiful Iowa spring day is sometimes followed by floods or tornadoes or hail storms," said the former economist for the New York Federal Reserve Bank, who is now a partner in Barker Apartments, which builds, owns and operates rentals throughout the Midwest and West, as well as serving as president of Barker Financial.
Mr. Barker said events that could derail the economy include a spike in inflation and/or oil prices, mistakes by the Federal Reserve, a financial panic, trade disputes and the "age of the expansion" – the feeling that good times have an expiration date. He said he believed inflation was "under control" at 2 percent, "which is exactly where the Federal Reserve wants it to be."
Oil prices have crept up and events such as President Donald Trump's decision to trash the Iran nuclear deal could trigger a crisis, but decades of fuel efficiency improvements and less dependence on foreign oil mean rising fuel prices are "not as worrying as they might have been several years ago."
Mr. Barker said he believed "markets would adjust" to a trade war by realigning trade flows, and dismissed the argument the economic expansion has been going on too long and that a recession is around the corner.
"We might think of age of recovery as something like a tire on a car: The longer we've driven on a tire, the more likely it is to blow out today," he said. "But we might also think about the analogy of catching cold. If we haven't caught cold for a long time, maybe it's been a year or two, that doesn't make it any more likely for you to catch a cold today."