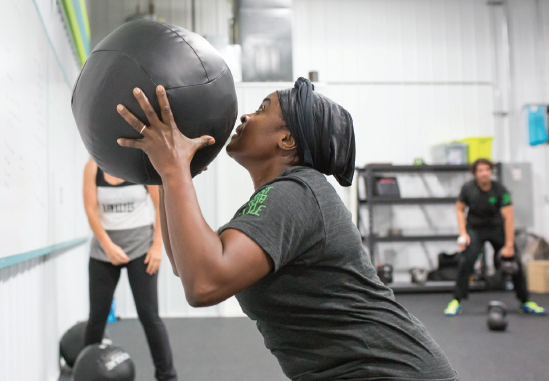 A woman holds a medicine ball during a workout at Alchemy Strength & Conditioning in Coralville in an undated photo. PHOTO JONI TYRELL
By Jon Burke
news@corridorbusiness.com
Owning a gym in the Corridor can be a risky venture. In the Iowa City area alone, there are more than a dozen open gyms at any given time; Cedar Rapids has closer to 30. And while some have staying power, many gyms close shortly after they open, brought down by a saturated market and a limited customer base.
It's a reality Ethon Burns knows well.
The fitness guru and his wife, Sarah Harkness, are the owners of Alchemy Strength & Conditioning, which opened last year at 2325 James St. in Coralville. It aims to provide an alternative to both the impersonal nature of "big box" gyms, as well as the potential dangers of competitive CrossFit-style fitness, instead focusing on raw fitness, joint stability and proper movement in small class and one-on-one environments.
It's a personalized, holistic approach that the couple hopes will set their business apart, and it appears to be working. Alchemy has grown to about 45 members, not including personal training clients, and recently brought on three new trainers to help distribute the load. It has also expanded its physical footprint, allowing it offer more training space, and now offers members access to dietary counseling and yoga classes.
Nevertheless, the job of building and defining the gym's identity continues to be a challenge in the crowded Corridor market.
"Our biggest challenge has been avoiding the CrossFit comparison," Mr. Burns said. "We are accused of mimicking [CrossFit] fairly frequently. It's gone beyond just having an elevator pitch, and is definitely harder than I expected."
Many gyms struggle to break out of the shadow of CrossFit, a fitness regimen popularized in the early 2000s incorporating high-intensity interval training, powerlifting, calisthenics and other exercises. The official CrossFit website now lists more than 7,200 affiliates across the country, with 25 in Eastern Iowa and the Quad Cities alone.
Mr. Burns, a former high school wrestler and taekwondo champion, came from that world himself, having previously worked as a trainer at one of Iowa City's original CrossFit gyms. His time there gave him some valuable lessons in training pedagogy and small business economics, but it also exposed him to the narrowing parameters of CrossFit approach and its potential to cause injury. He eventually decided it was time to open his own gym "and start making waves." His wife, a professor of sociology at the University of Iowa, agreed.
"CrossFit has a very finite definition of 'fitness,'" Mr. Burns said. "There is a model they fit their elite into and it is highly skill-based. … Your needs and desires have become less important than fitting the [CrossFit] mold."
"At Alchemy, our philosophy is 'one size fits nobody,'" he added, offering his own training mantra: "Meet your client where they are, love them for who they are and get them to their goals."
Opening the gym was surprisingly easy, at least financially, Mr. Burns said. A small business loan, legal paperwork and rent­al space came together quickly. Many of Mr. Burns' CrossFit clientele followed him over to Alchemy, and within eight months the gym had enough members to consider moving to a larger location.
To achieve his vision for a comprehensive small-group training model, Mr. Burns enlisted two experts to join Alchemy's staff. Emily Brink, a registered dietitian and former UI golfer, offers members one-on-one dietary consultations, meal planning and the expertise of a successful collegiate athlete. Shara Power brings nearly a decade of experience and training in a variety of yoga methods. Her classes are specifically designed to complement Alchemy's training regimen by focusing on post-workout recovery and renewal.
That multidisciplinary approach is reflected in Alchemy's pricing, although it has aimed for the middle of the pack in terms of monthly fees. The price at CrossFit gyms range from approximately $100-$200 a month. A premium monthly membership at Alchemy is $140, although memberships start as low as $90 for boot camp classes alone. Most conventional gyms in the area, excluding special membership clubs like the UI Recreation Center, average around $50 a month.
"Our prices reflect competent programming tailored specifically for each class with a qualified – not just certified – trainer there to assist everyone," Mr. Burns said. "We make proper adjustments according to skill level, fitness level and/or physical limitations."
There's still plenty more to do when it comes to getting the word out about Alchemy's approach and philosophy. Mr. Burns leads with his gym's personalized format in all of his conversations, and has just begun to build the business' presence on social media, but is heartened by the early response from the community.
"The business as a whole is growing," he said. "We have steadily gained members each month and our member retention is fantastic."