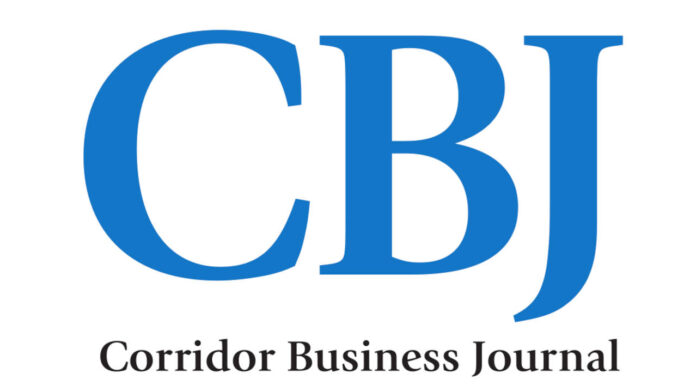 An important economic development position at a key Corridor institution is going to Jasmine Almoayyed.
Ms. Almoayyed will become vice president of Continuing Education and Training Services at Kirkwood Community College, succeeding Kim Becicka, who is retiring.
Ms. Almoayyed has been serving as economic development manager for the city of Cedar Rapids and previously worked at facilitating business and economic development outreach and training services at Kirkwood.
There are few economic development deals or expansions done in the Corridor without some involvement from Kirkwood and its Continuing Education and Training Services division. It has become an essential economic development leader in the region's seven-county territory, which, not coincidentally, is also Kirkwood's geographic footprint.
Ms. Almoayyed brings a wealth of experience, especially serving under Cedar Rapids City Manager Jeff Pomeranz's aggressive, Cedar Rapids-first economic development approach. She is great at building relationships as well as removing bureaucratic barriers for companies, large and small, to achieve economic success in Cedar Rapids.
She will now have to think regionally. Her experience and leadership in this key role should help the region operate more cooperatively.
We congratulate Ms. Almoayyed on this new position. Her success will be our success.
And a special thank you to Ms. Becicka for more than 10 years of hard work on economic development and regionalism in that role. Those two areas are not always aligned, but both are better due to her tenure.
Duane Arnold Solar should be approved
There was some misplaced schadenfreude in a recent CBJ editorial about the challenge that NextEra Energy has with its proposed solar farm in and around the Duane Arnold industrial complex near Palo.
Moving on from the fact that we will no longer be getting clean, baseload nuclear energy from this site and will lose its 500 high-paying jobs, it's important to determine the next best option for this 500-acre facility and its robust electrical transmission infrastructure.
This proposed solar farm, which could total 690 megawatts over three phases, is the next best thing, and most of the neighbors set to benefit from leasing their land to NextEra to increase the project's efficiencies are in favor of the project.
The company plans to invest $800 million in the project, including $50 million paid to landowners over the project's 30-year life span, if it gains state and county approval, according to a recent news report.
NextEra has been a good corporate citizen in the various communities in which it produces energy, and it won't squander its reputation on an important project like this one.
The other major benefit of this large solar farm is that it will help with regional economic development efforts to attract relocating businesses or manufacturing facilities that are increasingly required to obtain significant portions of their energy from clean, renewable energy sources.