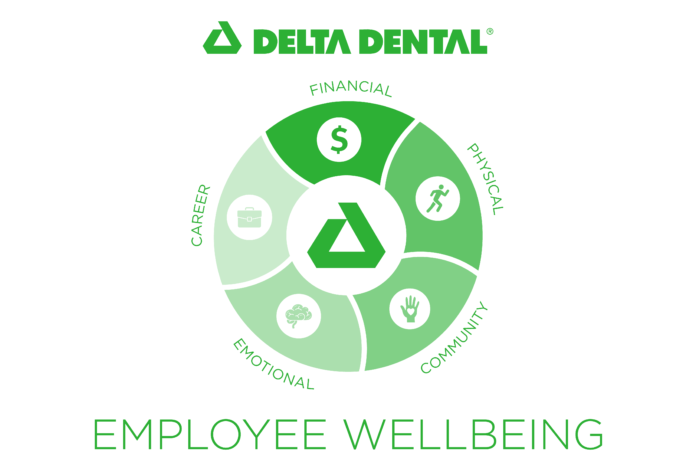 How does your organization define employee wellness? Twenty years ago, casual Fridays, discounted fitness memberships, workout challenges and a holiday bonus were some of the standard tools to recruit and retain employees. Today's workplace – especially in the wake of the pandemic and the current wave of people changing jobs – demands a shift in how companies package a comprehensive employee wellness program.
If you've ever managed a team, you know that what motivates one team member may be very different than another team member. Your employees' needs will evolve over their tenure as they experience family changes, job promotions, or personal health changes. At Delta Dental of Iowa, we developed a comprehensive, full-circle approach to our employee wellness offering. This evolved program was based on employee feedback and research.
Our wellness program encompasses five components – Financial, Physical, Community, Emotional, and Career. The purpose of our wellness approach is to fully address our employees' needs so that they are free to do their best work and fulfill our mission every day.
Financial: The financial component consists of many familiar elements of an employee's compensation package including base pay, incentive pay, 401(k), short- and long-term disability programs, life insurance, legal insurance, health savings accounts and flexible spending programs. We're committed to educating employees about these programs, whether they currently utilize them or not. When employees understand their total financial picture, they can make better decisions for themselves and their family.
Physical: As a health and wellness company, Delta Dental knows the power of proactive health care. Our medical, dental and vision plans encourage preventive appointments, which can help our employees earn wellness discounts. We encourage employees to use their benefits to stay healthy, not just when they have a healthcare need due to illness or accidents. Our physical component also addresses wellness at work by offering sit-to-stand desks, outdoor walking trails, and bi-weekly fresh fruit delivery. We focus on encouraging manageable but meaningful changes for our employees' physical health.
Community: Two of our core values at Delta Dental are leadership at all levels and improving lives. These values extend to our actions in our community through volunteer opportunities and corporate and employee giving. When we elevate others, we invest in community wellness, which, in turn, factors into the overall wellness of our employees.
Emotional: In addition to generous paid time off and paid holidays, Delta Dental offers an employee assistance program to help team members find resources for mental health counseling, stress management, and more. When our team was working from home in 2020, several tools were made available including mindfulness journals and an interactive webinar featuring a clinical psychologist who spoke on managing stress and anxiety.
Career: How do you convert a job into a career? We believe that ongoing collaboration is key to demonstrating our commitment to our employees and their careers with Delta Dental. We provide opportunities for job shadows in other departments, mentoring relationships, and professional development. We invest in our teams through tuition reimbursement programs, meaningful performance discussions, and supporting work-life flow. We listen to what is important and what is challenging our overall wellness. For example, we have implemented a formal hybrid schedule to allow employees to work remotely a few days a week to help balance their overall wellness.
No matter how your organization defines employee wellness today, it's important to continue to assess employee needs. Continue to evolve your offering to recruit and retain team members whose talents will help you reach your business goals. Beyond physical and financial benefits, research what other components are necessary and needed in your work environment. When your employees have the majority of their wellness needs met, they are more engaged and better able to do their best work.
Beth Russett is Human Resources Director at Delta Dental of Iowa.