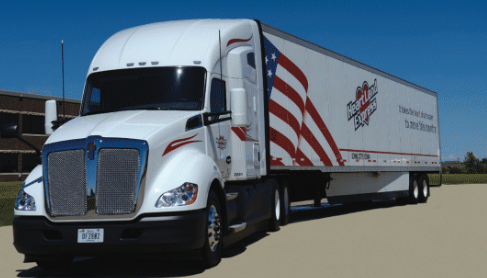 3 TIMES ON LIST
North Liberty-based Heartland Express, making its first appearance on the CBJ's Best of list since 2009, attributes its success to abiding by the same set of principles and values that guided its founding. Since the company's initial public offering in 1986, Heartland has grown from approximately $20 million in revenue to one of North America's largest and most profitable carriers, most recently posting first quarter operating revenues of $156.7 million and net income of $13.4 million.
"The trucking industry is cyclical and our core values and discipline help guide us through the ups and downs within our industry," said CFO Chris Strain, citing Heartland's principles of remaining debt-free, operating above the standards of its competitors and providing drivers with the tools to be successful.
The company is constantly looking for ways to improve operations, he said, recently releasing a mobile app to help drivers better communicate and manage their payroll. A year ago, it acquired Interstate Distributor – the second largest purchase in Heartland's history – and has begun renovating many of its more than 20 terminals.
– Katharine Carlon
1ST RUNNER UP: Don Hummer Trucking
2ND RUNNER UP: West Side Transport