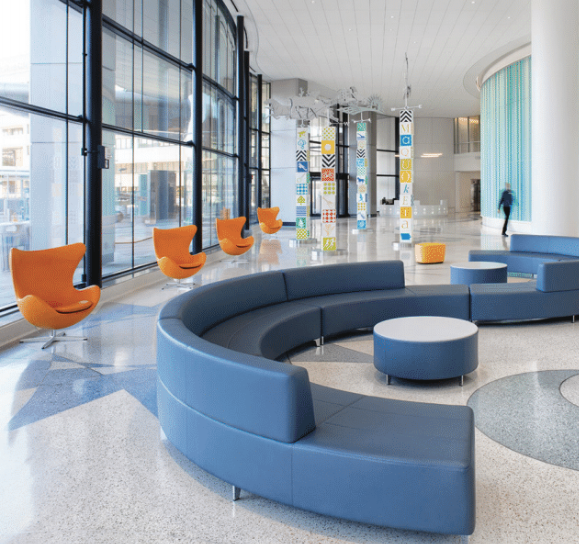 FIRST TIME ON LIST
An award-winning redesign of its own office in Des Moines and an expansion to South Dakota were the highlights of the past year for Pigott, a fresh face in the Best Office Furnishings & Design category.
The firm's renovation earned it the prestigious IDEA Award from the International Interior Design Association, and offered valuable insights into the customer experience during a large project. "We had to walk the talk," said Director of Sales Jeanette Smith.
Pigott, which also has locations in Cedar Rapids, Davenport and Dubuque, is excited by the recent opportunity to pick up the Herman Miller dealership in Sioux Falls. With baby boomers retiring and Generation Z entering the workforce, the need for collaborative spaces is accelerating the introduction of new products and office designs across the company's territory, Ms. Smith said.
Coming off a successful design-furnish project at the University of Iowa's Stead Family Children's Hospital (shown at left), Pigott continues to win major clients, including Alliant Energy and Transamerica, both in Cedar Rapids. The firm's philosophy that "when people are inspired by place, anything is possible," its commitment to customer relationships and a staff of good listeners are keys to Pigott's success, Ms. Smith said.
-Emery Styron
1ST RUNNER UP: Saxton
2ND RUNNER UP: Phelan's Interiors