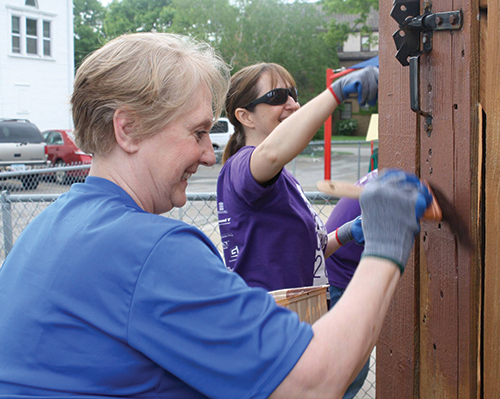 1 Time Best Nonprofit

by Chase Castle
chase@corridorbusiness.com
The Hawkeye Area Community Action Program has an almost ubiquitous presence in the Corridor, with operations that span across six counties and impact more than 55,000 individuals a year. That reach helped the agency earn the honor of being the Corridor Business Journal's Best Nonprofit of 2015.
By most nonprofit standards, HACAP's support network is a fairly robust one, with about 300 employees and 2,000 volunteers spread across Linn, Jones, Johnson, Iowa, Benton and Washington counties. A recent surge in demand, however, has prompted HACAP leadership to tailor more services towards veterans. The use of food bank services by Corridor vets is higher than in almost any other area of the country.
According to a 2014 study by Feeding America, a national nonprofit that works with food banks, about 20 percent of food banks' meals or groceries go toward households with at least one active or retired member of the military. Within the HACAP service area, however, CEO Jane Drapeaux said about 42 percent of resources go toward serving members or their families.
READ: See the CBJ's other 2015 Best of the Corridor winners
In addition to ongoing demand for childcare programs, professional development, housing programs and other services, Volunteer Engagement head Regina Boutwell said the spike in local demand prompted the group to add an expansion of veteran services to the group's strategic plan last year.
"That's another huge need that's just surfaced in the community in the last two years," Ms. Boutwell said.
Veterans can actively receive HACAP services for a 90-day enrollment period, after which they may recertify for an additional 90 days, for a maximum of 6 months. Although some HACAP services are used by veterans whose services date back as far as World War II, most served in Vietnam or Desert Storm. Within the Corridor, Ms. Drapeaux said, many of those veterans, due to a variety of circumstances, sleep in their cars in big box store parking lots, including those who have some form of employment.
"There have been many times when people have made a bad choice," she said. "That doesn't mean you shouldn't have another chance or another opportunity."
Even beyond veteran services, which include housing improvements, transportation and temporary financial assistance, HACAP leadership has been continuously restructuring the organization to accommodate increases in demand.
In 2005, the group's food reservoir, which provides food for multiple food banks throughout the Corridor, typically gave out roughly 100,000 pounds of food. At the end of this year, that amount is expected to increase to almost 5 million pounds – nearly 50 times the amount provided a decade ago.
Ms. Drapeaux said the increase is partially a response to new programming, including its Operation Backpack program. The initiative, driven solely by volunteers, sends students identified by their teachers as "food insecure" home each Friday with a bag of single-serve food items so that they can eat over the weekend. The program, which served eight schools in Linn County three years ago, is now present in 53 schools throughout the Corridor and assists some 1,500 students.
"So if you look at that alone in terms of how we've repositioned ourselves to the needs of hunger throughout the community, we're really proud of that," Ms. Drapeaux said. "But once again, it's taken all of us mobilizing resources together."
While HACAP's food bank may be one of the agency's most widely used services, it's far from the only one. HACAP also works with community partners such as United Way, Shelter House, the Grant Wood Area Education Agency and others to provide services ranging from transitional housing for homeless individuals to childcare programs to job searching assistance.
In recent years, Ms. Drapeaux said, the agency has placed extra emphasis on child care and pre-school development programs, which she said provide a valuable resource for working parents, especially single ones.
"Our board of directors believe that probably the one thing that gets people out of poverty the most is full-day, full-year child care for parents, so that parents themselves can get job training or work full time to support their families," Ms. Drapeaux said.
Among the dozens of other services offered is a Weatherization Assistance Program that qualifies low-income individuals for housing improvements that reduce utility costs. Each year, the program reaches an estimated 200 households that save an average of $476 annually. In order to help stabilize low-income households' finances, HACAP also offers financial literary services that help individuals budget, improve their credit scores and learn about savings and credit.
"We're like a whole variety of businesses under one umbrella," Ms. Drapeaux said.
Given the range and number of programs offered, Ms. Drapeaux said HACAP is always seeking volunteers. The organization has a board of directors comprised of business representatives and public sector employees, as well as representatives of low-income communities. Professionals from all fields are encouraged to find out about service opportunities within the board and other areas, Ms. Drapeaux said, although direct volunteering is oftentimes the best way to understand the organization.