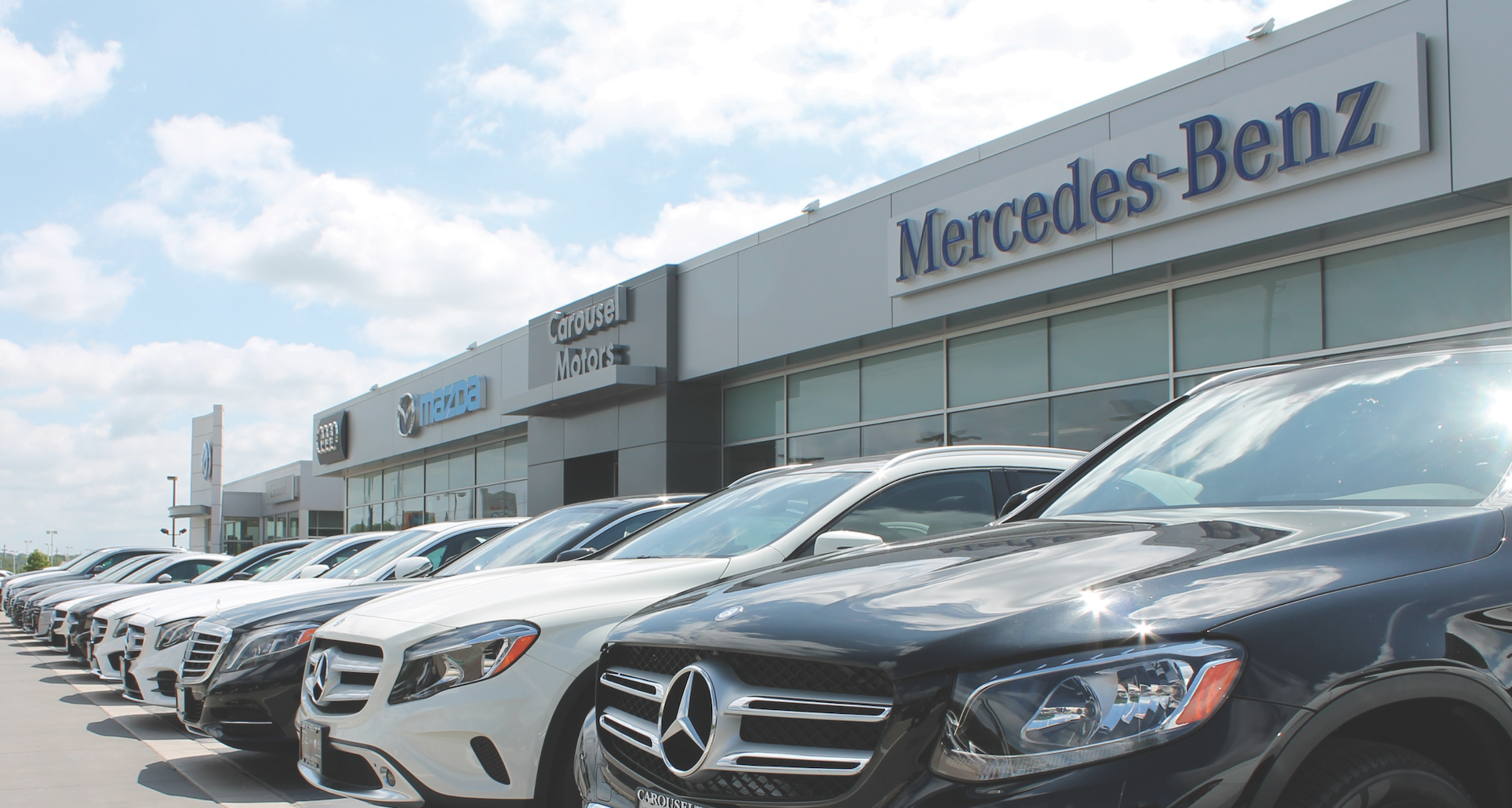 A row of Mercedes-Benz sport utility vehicles stands at the entrance to Carousel Motors at 801 Highway 1 W., Iowa City, on July 5. PHOTO / DAVE DEWITTE
Carousel Motors' 34-year history of selling prestigious nameplates has generated a lot of satisfied customers, and earned its third title as the Corridor's best luxury auto dealer.
The Iowa City dealership has sold and serviced thousands of Audis, Mercedes-Benzes, Mazdas and Volkswagens.
"Our biggest strength is our team," said General Manager Pat Lind. "I've been here 32 years, and I have team members who've been here since the beginning. We have plenty who have been here 15-20 years. Iowa City/Cedar Rapids is a great area for us – a good sales market – and gives us lots of opportunities to represent our brands."
Ken Williamson of Iowa City started the dealership on Highway 6, and soon moved to a larger facility at 809 Highway 1 W. He has been the dealership's owner the entire time.
Mr. Lind says the local ownership has given Carousel an edge, because all of its decisions are made locally, with an understanding of the dealership and its market.
Some of the vehicles Carousel sells are pure luxury, while others are more mid-market. The dealership doesn't approach the sale of its luxury vehicles differently, Mr. Lind said, but rather strives to exceed each customer's expectations and provide a buying and service experience that will bring them back again.
"It's always an honor when a customer has bought five, six or 10 cars from you over the years," Mr. Lind said. "Repeat and referral business is what tells you that you're on the right track and that you're exceeding your client's expectations."
The dealership had $16.2 million worth of vehicle inventory on its lot last month, and has recently seen a growing demand for larger sport utility and crossover vehicles as lower gas prices have reduced the emphasis on fuel economy.
Having so many automotive franchises under one roof means the dealership has to meet more franchise standards, and the standards for luxury nameplates like Mercedes-Benz tend to be even higher than the industry norm.
"The biggest part of the franchise requirement or brand standards is the training demands and equipment and tooling required," Mr. Lind said. "With the sophisticated testing equipment and tools, we probably spend $100,000 per year on tools and equipment, and double that on training."
Technological advancements such as the electrification of cars and autonomous driving continues to drive those tooling, testing and training investments higher. The dealership gets about 18,000 service visits per year.
About 75 employees work throughout the dealership, not including a separate Carousel Nissan dealership at 817 Highway 1 W.
"We've sold thousands and thousands, but the way we do it is one at a time," Mr. Lind said. "We want to sell the right car to the right person at the right time."
– Dave DeWitte
TIMES ON LIST:
3rd Time on Best of List