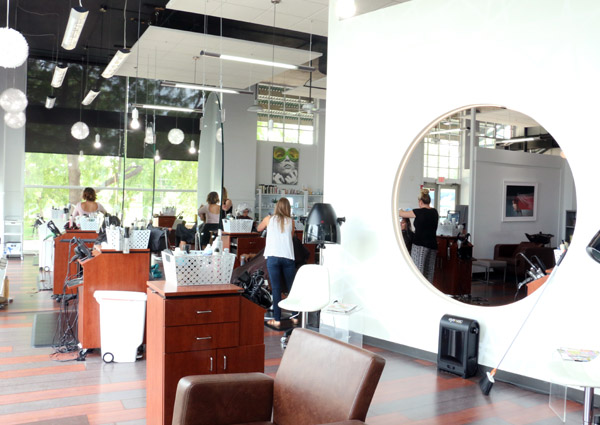 Although the modern décor and design of Moods Salon and Spa in the Bottleworks building in Cedar Rapids' trendy New Bohemia District set the tone for the customer's experience, it's the staff that sets the salon apart.
"We have such a talented group of stylists and spa providers," said owner Jessica Herold. "We have a team that meshes and has good chemistry."
The team's stylists stay on top of current trends by receiving training in hotspots such as
New York City, Chicago and Miami.
Moods is a full-service salon that provides the latest coloring techniques, nail services, messages and facials for both women and men. A large section of the salon's clientele includes male business professionals who work downtown.
"Men are good at taking care of themselves," Ms. Herold said, adding that they seek such services as beard tailoring, eyebrow waxing and pedicures.
Stylists keep up with men's trends by attending barbering classes.
Moods carries two environmentally-friendly hair care lines that are exclusive to the salon: Davines from Italy and Unite from California.
"I've had cancer,and that's important to me to have healthy products," Ms. Herold said.
When she opened the salon six years ago in the Warehouse on Third building in southeast Cedar Rapids, she had a modest four chairs. Now, Moods has 12 chairs and serves a mix of new and returning customers.
"If you don't have a quality product and service, people aren't going to come in," she said. "Everybody wants something different, and we have a great location to top it off."
– Angela Holmes
1 Time on Best of List (new category)