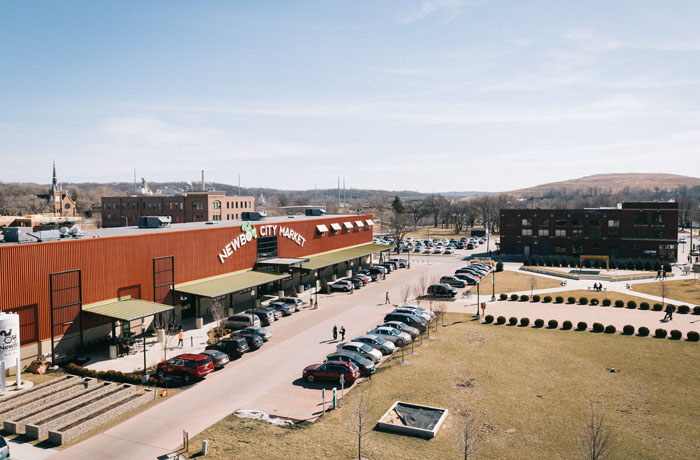 Boasting the NewBo City Market, museums, live performance venues, historic buildings, and a growing number of restaurants and nightlife options, the Czech Village/New Bohemia Main Street District in Cedar Rapids has captured this year's Best Cultural Attraction award.
"We have so many options for people that everyone can find something to enjoy," said Jennifer Pruden, the district's executive director.
Ms. Pruden has seen a shift over time, from visitors who stop by while visiting family, to a growing number who specifically travel to see attractions, such as this summer's Overalls All Over public art display.
"There are so many different players involved and everyone has been boosting their efforts in programming," she said, pointing to the jam-packed events calendar on the district's website. "There's stuff going on every day."
One of the major players is Legion Arts, the nonprofit that operates the landmark CSPS Hall at 1103 Third St. SE. Cutting-edge artists and world-renowned musicians are among the draws at the historic hall, which was renovated after the 2008 flood and helped spur redevelopment in New Bohemia.
"New Bohemia has grown and developed in ways we never would have imagined when we moved into CSPS 25 years ago," co-founder F. John Herbert said. "But that's the nature of a catalyst. You initiate the change; you don't control it. It's been gratifying, and exciting, to play that role."
Nearby, the African American Museum of Iowa at 55 12th Ave. SE recently reopened its permanent exhibit, "Endless Possibilities," said Deputy Director LaNisha Cassell. A temporary exhibit, "Products of a Creative Mind," which explores African American innovators, doctors and scientists, closes at the end of July.
Ms. Cassell noted that the museum often collaborates with community neighbors, and offers a variety of traveling exhibits and trunks available to teachers, libraries and venues interested in promoting the museum's mission to preserve and teach Iowa's African American heritage.
The National Czech & Slovak Museum & Library also offers a permanent exhibit, along with temporary ones, including "Immortal: Warhol's Last Works," which runs through Oct. 2.
A new exhibit, "Amadeus: Costumes for the Obsessed and Vengeful," opens in August, and the museum offers walking tours of the historic neighborhood and numerous other programs throughout the year that celebrate Czech, Slovak and American life.
Vice President Leah Wilson said the museum is deeply rooted in the district and serves as a primary attraction that brings in thousands of visitors annually from all over the world.
"But I think what's most exciting is the creative energy of the people here who are thinking big and pushing the boundaries of what's possible by working together toward a common vision," Ms. Wilson added. "The potential for the district to be a totally unique destination – it's huge."
That creative energy exists at The Artisan's Sanctuary, 45 16th Ave. SW, a nonprofit cooperative that features artist studios, galleries, performance stages, a recording studio, a photographic darkroom, a digital media lab, a matting/framing studio and a metals/woods workshop. Educational sessions in writing, acting, painting, photography, sculpture, jewelry, printmaking and mixed media are offered, along with festivals, plays, concerts, exhibits and public artworks in partnership with schools and community organizations.
Interspersed throughout the district are art galleries, including Black Earth Gallery in the Cherry Building, 329 10th Ave. SE, and venues such as Lion Bridge Brewing Co., 59 16th Ave. SW, which partners with the Ceramics Center and other entities to provide workshops along with local brews.
Ms. Pruden cited the 300,000 visitors annually at NewBo City Market as a sure sign of the district's vitality. The market hosts a growing number of activities, including Rock the Block, a Friday night concert series that features live music and children's activities.
Even as new attractions draw visitors to the district, Ms. Pruden said the "old" is an attraction in itself.
"It has a lot to do with the history," she said. "We honor that history and tell that story as much as possible."
– Cindy Hadish
TIMES ON LIST:
1 Time on Best of list