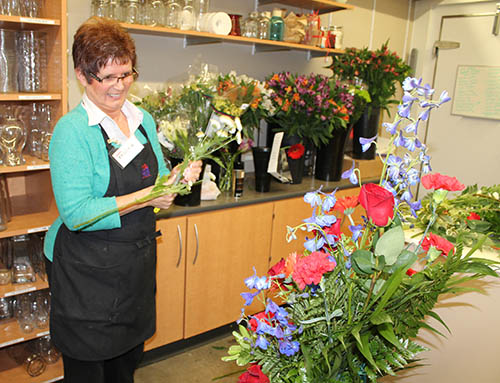 By Angela Holmes
When Beth Hennessey started working at Hy-Vee as a checker in the early 1980s, there was a small selection of flowers available in the produce section. Now, most Hy-Vee stores, including 11 in the Corridor, have their own floral shop.
Ms. Hennessey, floral department manager at the Hy-Vee at 3235 Oakland Road NE in Cedar Rapids, has watched her department grow from a two-door cooler that carried carnations and baby's breath in 1995 to a full-service floral shop that sits front and center of the busy supermarket.
"Now we are right in front of everyone instead of in the corner," Ms. Hennessey said. "We want to look just like you walked into a flower shop."
West Des Moines-based Hy-Vee operates 145 floral shops in seven Midwestern states. All Hy-Vee flower departments are full-service, offering FTD, wedding services and custom design work, according to Rita Peters, assistant vice president, floral operations for Hy–Vee Inc.
"We are a full-service florist," Ms. Peters said. "In many of our stores, we are the only florist in town."
Most shops carry balloons, plants, flowers, gift items and decorations for holidays such as Fourth of July. The shops also supply flowers and decorations for birthday parties, proms and homecomings, funerals and weddings.
The Oakland Road Hy-Vee, for example, does at least 100 weddings a year in which the entire floral staff participates, preparing arrangements, driving vans, setting up and so on.
The perception of buying flowers in a supermarket has positively changed over the years, Ms. Hennessey said.
"We I first started out, it was definitely something we had to overcome," she said. "People would not want the Hy-Vee name on the box."
"There is still a little bit of stigma with weddings," she continued. "Some people say, 'You're going to the grocery store to get your flowers?'"
But customers have nothing to worry about, as Hy-Vee floral shops are staffed with professionals who take pride in their work, Ms. Peters said.
"We worked really hard letting people know that we are a full-service florist," she said. "We are really known for our wedding work in that [Cedar Rapids] market."
Employees in Hy-Vee floral shops often have advanced training in areas such as floriculture and horticulture. Ms. Hennessey was recently awarded her third Börgen Cup, this time for best signage, at the International Floriculture Expo in Chicago, a contest open to all florists nationwide.
Local shops are given day-to-day purchasing decisions, Ms. Peters said, allowing them to meet the needs of their customers and markets. Items range from single flowers or simple arrangements for around $5 to more elaborate designs with decorative vases.
"We try to hit everybody's price point," Ms. Hennessey said.
Customers also have the option of ordering online and picking up the product at individual stores.
Stores in the Corridor that can accept online floral orders include Johnson Avenue, Wilson Avenue, Lindale, Oakland Road, Mount Vernon Road and Edgewood Road in Cedar Rapids; the Highway 151 location in Marion; the Lantern Park Plaza location in Coralville; and the Dodge Street, Waterfront Drive and South First Avenue locations in Iowa City.
Whether somebody makes a spur-of-the-moment flower purchase while grocery shopping or is planning a wedding, the Hy-Vee floral staff has one goal in mind, Ms. Hennessey said.
"We hope we can make people's day brighter," she said.
Keeping spirits up
A wide selection, competitive prices and, most of all, superior customer service draw people to Hy-Vee wine and spirits stores across the Corridor, according to Dennis Kron, wine and spirits manager at the Coralville Hy-Vee in Lantern Park Plaza.
"The biggest reason Hy-Vee is successful is our customer service," said Mr. Kron. "We have wine specialists and craft beer specialists – people who have a lot of knowledge in those areas. You have a lot of customers who come in that don't drink very much and they need help making their selections."
As a wine specialist himself, Mr. Kron has successfully completed a course through Gallo Family Vineyards that explains how grapes are grown and how soil and climate affect the quality of the wine.
Craft beer specialists complete a Cicerone Certification Program, which teaches them about different types of beer and how they are brewed.
That kind of knowledge is a good thing to have right now, as craft beer is the hottest trend in the alcohol industry, Mr. Kron noted
"There's new breweries popping up every week," he said, adding that the number of craft breweries in Iowa is expected to triple over the next two years. The Coralville store currently carries beers from about 12-15 Iowa breweries, including from Backpocket Brewery in the nearby Iowa River Landing.
Hy-Vee wine and spirits stores also carry beer kegs, a variety of hard liquor and mixers, and enough wine for every type of taste.
The stores are able to keep their prices competitive through buying in bulk, Mr. Kron said.
"The more you buy from the state or distributors, the better deals they'll give you as a retailer, and we can pass that savings down to our customers," he said.