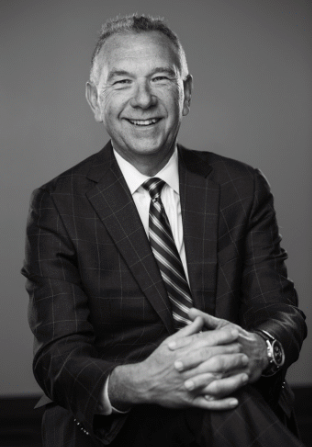 FIRST TIME ON LIST
TrueNorth Companies CEO Duane Smith takes the first title as Best Business Leader since 2011 with a track record that includes not only successful acquisitions and profit growth, but the building of a legacy business that will continue long after his planned retirement in 2020.
Mr. Smith said he has employed the many lessons he learned as an entrepreneur to grow TrueNorth Companies, which was founded in the 2001 merger of three insurance agencies. It now counts more than 60 business units and limited liability corporations, and revenues have grown more than six-fold to over $100 million.
"My personal mission statement is 'providing vision and instilling confidence in others,'" Mr. Smith said. "When I'm doing that, I'm up before the alarm clock – I'm energized. It's my highest return on investment personally, and to the group that I'm engaged with."
TrueNorth's entrepreneurial platform is based on four balanced goals: Profitable operations, dynamic culture, client experience and business development. They are measured regularly on both a corporate and individual employee basis.
"My whole focus since 2008 goes back to our company's vision statement – to spearhead the effort to build a legacy company with structured entrepreneurial focus to attract, coordinate and develop high-performing talent," Mr. Smith said.
– Dave DeWitte
1ST RUNNER UP: Randy Ramlo, UFG Insurance
2ND RUNNER UP: Kelly Ortberg, Rockwell Collins