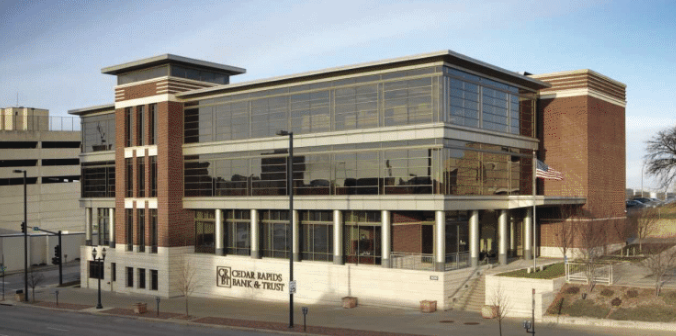 2 TIMES ON LIST
At Cedar Rapids Bank & Trust, the formula for winning Best Bank begins with people.
"It's all about the people – the employees," CRBT President and CEO Larry Helling said. "If we have the right people in place and give them the right guidance and leadership, they're going to do the right thing for our clients."
The bank puts a focus on service, and surveys new customers about their experience. The results go directly to Mr. Helling, and he personally contacts customers who are not fully satisfied to find out how the organization can improve.
Ongoing customer satisfaction is tracked using Net Promoter scores, which indicate if customers would recommend CRBT on a 10-point scale. Customers who rate their likelihood to recommend the bank at a nine or 10 are considered "promoters." The scores have been high from the beginning, Mr. Helling said, and the bank has worked hard to maintain them as it has expanded.
An obvious sign of the bank's success has been its growth, most recently with the 2017 acquisition of Guaranty Bank & Trust and its five locations. Since being formed 17 years ago, CRBT has grown to $1.35 billion in assets, making it the largest bank chartered in Linn County. Employment has grown from 17 to 150
-Dave DeWitte
1ST RUNNER UP: U.S. Bank
2ND RUNNER UP: MidWestOne Bank