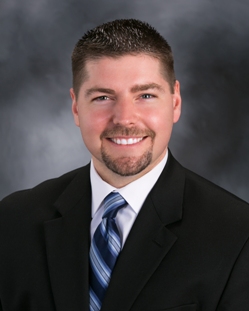 Bert McClintock
Vice President of Retirement Services
Strategic Financial Solutions
Age: 37
He creates a positive experience.
Bert McClintock, vice president of retirement solutions at Strategic Financial Solutions in Cedar Rapids, started his financial career when he joined Principal Financial in 1998.
"During his 15 years in the industry, he has always worked to create a positive experience for his clients, bringing a strong sense of loyalty to himself and his firm," Scott Gasway, president of JP Gasway, stated in his nomination of Mr. McClintock.
Growing up as a small-town farm boy in Essex (Western Iowa), Mr. McClintock felt my parents and grandparents were underserved from a financial planning perspective.
"So my passion is for helping businesses and people make good financial decisions relative to their goals and objectives," he said.
He is or has been a member of the Simpson College Alumni Board of Directors, Cedar Rapids Estate Planning Council, Principal's Eastern Iowa Business Center Board of Directors, ESOP Association and National Association of Insurance and Financial Advisors. He also coaches youth sports teams and volunteers at Prairie Ridge Elementary School.
"In addition to his focus on others, once you meet him, you will find him easy going, kind, patient and a professional individual who, in my opinion, embodies this award and the definition of the community," Mr. Gasway stated.
Mr. McClintock hopes to become more involved in the community.
"Having moved to Cedar Rapids from the Des Moines area eight years ago and just starting a family, I was really focused on that part of my life first," he said. "As the kids get older, I want to continue to branch out relative to other opportunities in the community and helping to make this area a better place to live and raise a family."
He said he is most proud of finding a work-life balance in recent years.
"It allows me to still dedicate time, energy and efforts to my wife and children and other activities along with my clients and activities that I do for a career," he said.
He earned a bachelor of arts degree in business management with a specialization in finance and insurance from Simpson College and is a certified financial planner. He grew up in Essex and lives in Fairfax with his wife, Tia and their children Collin and Paige.
-Gigi Wood