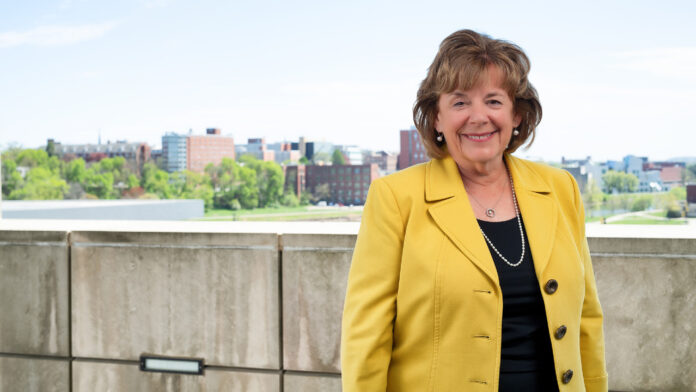 During a ceremony on Friday at Hancher Auditorium — as part of the University of Iowa's 175th anniversary celebration — Barbara Wilson was formally installed as UI president.
Ms. Wilson served as executive vice president and vice president for academic affairs for the University of Illinois System before succeeding former president Bruce Harreld last July. She has also served as interim chancellor for the Urbana-Champaign campus.
"As soon as I arrived here on campus, I knew the University of Iowa was a very special place," said Ms. Wilson during her remarks. "But what I've discovered in the last seven months is that we have a secret sauce here that's comprised of three distinct qualities: comprehensive excellence, creativity and community."
Her speech laid out a brief history of the university, current efforts and set the stage for the future by outlining her vision as president.
"The University of Iowa has accomplished so much during its 175-year history, and together…we will accomplish so much more," she said.
The ceremony included musical performances from the UI School of Music and speeches from representatives of the student, graduate student and faculty populations.
"The hiring of a university president is the most important task of the Board of Regents," said Michael Richards, president of the Iowa Board of Regents. "In its search for a new president, the regents and the Iowa campus saw in Barbara Wilson a leader with unusual depth of experience in public higher education leadership…and a personality that fit well with this institution. She has brought a fresh vision to the University of Iowa and she knows how to move the campus forward in innovative and productive ways."
"I am so grateful for President Wilson's hope, determination and genuine care for the people that make up the Hawkeye community, said Regan Smock, president of the UI student government, in her speech. "We are genuinely grateful you are here – not just as something you say. I am so excited to see the ways the University of Iowa flourishes under your leadership."
Under President Wilson's watch, she has helped secure a $70 million donation from the Richard O. Jacobson Foundation – the largest gift received in the university's history.
The University of Iowa has been led by a woman for 16 of the last 27 years, which is a "record to be proud of," said Ted Abel, director of the Iowa Neuroscience Institute and professor in the Carver College of Medicine.
"All of our presidents have led the university through difficult times: war, social unrest, campus violence, natural disasters, economic crises and pandemics," said Mr. Abel. "More importantly, all of our presidents expanded the university in critical ways. They've even used times of adversity to move us forward."
Mr. Abel pointed toward the opening of the new Stanley Museum of Art in the fall, joining the Hancher Auditorium and the Iowa Flood Center as positive outcomes following the Iowa Flood of 2008.