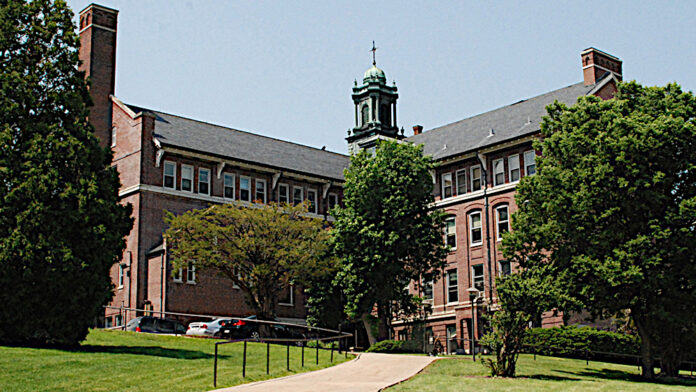 The hiring of the University of Iowa's new president, Barbara Wilson, has captured the attention of many of us in the Corridor region. She assumed her duties on July 12.
But her new tenure shouldn't overlook that Mount Mercy University in Cedar Rapids also got a new president last week. Todd Olson became only the 11th president of Mount Mercy on July 21 after being one of the four finalists. Mr. Olson replaces Robert Beatty, who resigned last September after less than three months on the job.
Laurie Hamen served as president of the university from 2014–20 and was a well-respected leader in the region.
Before Mount Mercy, Mr. Olson served as the vice president for student affairs at Georgetown University in Washington D.C., providing leadership for 15 departments and 140 student affairs staff. The Washington D.C. area has been one of the fastest growing regions in the United States.
Throughout his 35-year career in higher education, Mr. Olson has been an adjunct faculty member and most recently taught in Georgetown's higher education administration program and the School of Nursing and Health Studies.
We also appreciate that Mr. Olson is a Midwesterner. He is originally from Minnesota, earning his bachelor's degree from the University of Minnesota-Morris and receiving his master's degree in counseling psychology at the University of Kansas. He earned his Ph.D. in higher education from the University of Denver.
The Corridor has a fantastic group of institutions of higher education that provide a foundation of education for future (and current) leaders and workers. While the University of Iowa sometimes overshadows the others because of its sheer size and public standing, we still need to appreciate the role that many of these smaller private institutions play in our region.
And Mount Mercy has undoubtedly established itself as a solid economic development player in the region. Mount Mercy has nearly 1,700 students, and notably, 75% of its alumni reside in Iowa and 50% within the Cedar Rapids/Iowa City Corridor. Those retention percentages are fantastic and should reinforce the importance Mount Mercy continues to play in the region, especially as the workforce remains the Corridor's primary economic development challenge.
If all the higher education institutions in the Corridor had that type of graduate retention rate, we would no longer have any workforce issues.
How can we replicate those percentages for our other fine institutions of higher education? Do they have an internship program or pipeline to existing industries that are worth examining?
We welcome Mr. Olson to the leadership structure of the school and the entire region and look forward to working with him to advance higher education and combat this workforce challenge.