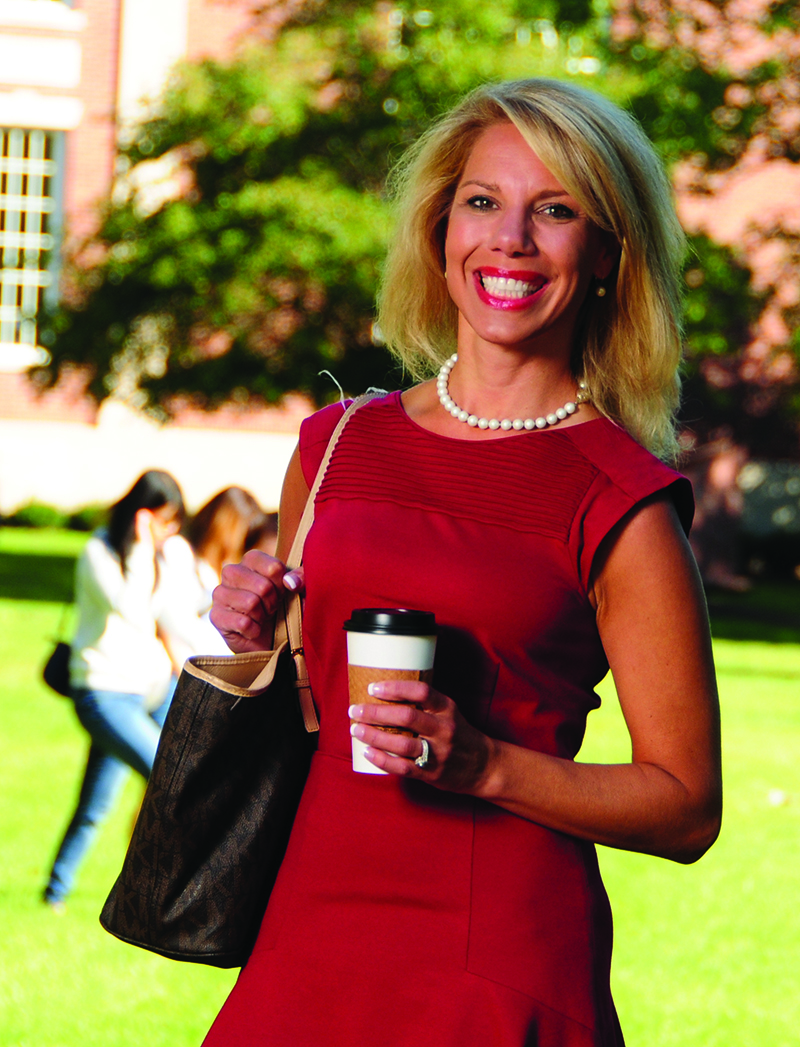 Founder & CEO
Converge Consulting
Many of those who know Ann Oleson wonder how she does it.
It's a question worth pondering. Ms. Oleson is an entrepreneur, an in-demand speaker and mentor, a mother of two and an active community volunteer, not to mention an unstoppable source of energy for the many people she influences on a daily basis.
As founder of Converge Consulting, an inbound marketing firm located in the heart of Cedar Rapids' startup scene, she built her business from scratch, making it one of just 2 percent of the women-owned businesses in the nation with annual revenues of more than $1 million. Converge counts 17 employees, with offices in Denver and Philadelphia.
As a volunteer with Big Brothers Big Sisters, Ms. Oleson has maintained a relationship with her Little Sister, Mary, for 15 years, helping her to become the first in her family to attend college, as well as graduate. That's in addition to her seemingly nonstop efforts within her children's schools and as a "softball mom," and her service with the Junior League and Greene Square Meals, a nonprofit in downtown Cedar Rapids.
"I'm definitely a person where my energy is a response to the people I'm around and the environment I'm in," she said. "The groups I'm affiliated with, they're always pushing me. And I love my clients – my favorite ones are those that are comfortable being uncomfortable, doing things in a different way."
Converge employee Robyn Anderson, a former business owner, said Ms. Oleson remains an enigma to her.
"It boggles my mind that Ann can run at a thousand miles an hour nonstop with a smile on her face," Ms. Anderson said in her nomination letter.
What's more, Ms. Oleson has been doing it her entire life. She grew up on farms in Kalona, showing livestock in 4-H, and working in such "character-building" jobs as detasseling corn and housekeeping at a nursing home. While attending Mid-Prairie High School in Wellman, she was "super involved" in everything from yearbook (editor) to basketball (forward).
"My parents were always really goal-oriented," Ms. Oleson said. "They always had us thinking about what our goals were and what we wanted to accomplish."
A love of fashion took her to Iowa State University to study fashion merchandising. After discovering a distaste for subjects like 'textiles chemistry,' she switched to marketing. That led to an internship with Younkers, and a job after graduation with Von Maur, where she worked her way up to advertising director – the place where she "really got excited about measurement in digital marketing," as e-commerce was just beginning to take off.
In 2001, she moved with her then-husband to Cedar Rapids, where she took a job as a client consultant with Stamats Communications, which specializes in communications and marketing for higher education clients. While there, she traveled often, doing everything from cold calls to helping schools with their recruiting. The experience opened her eyes to the power of education.
"When you're looking at influencing students to make a decision to enhance the rest of their life, it's incredibly rewarding," Ms. Oleson said. "The aspirations the students had, and the things they wanted to do – it was fun every time I went to campus to talk to the students."
While eventually named the first female sales director at Stamats, she found herself growing more interested in the possibilities of digital and inbound marketing. That led her to strike out in 2011 to form Converge "with only an idea and absolutely no clients," wrote Linn County Supervisor and former husband, Brent Oleson, in his nomination letter. He went on to describe the ensuing two years of "mind-blowing and back-breaking work on her part."
That dedication has extended Ms. Oleson's influence from coast to coast, with more than 125 schools including UCLA, Columbia and Notre Dame turning to Converge for help. But she's far from done.
"In my mind, education is the most important thing anyone can do to create the life they want for themselves," she said. "The ability to engage in some sort of intellectual learning that you're excited about gives you the autonomy to run your own life, instead of someone else."
– Adam Moore