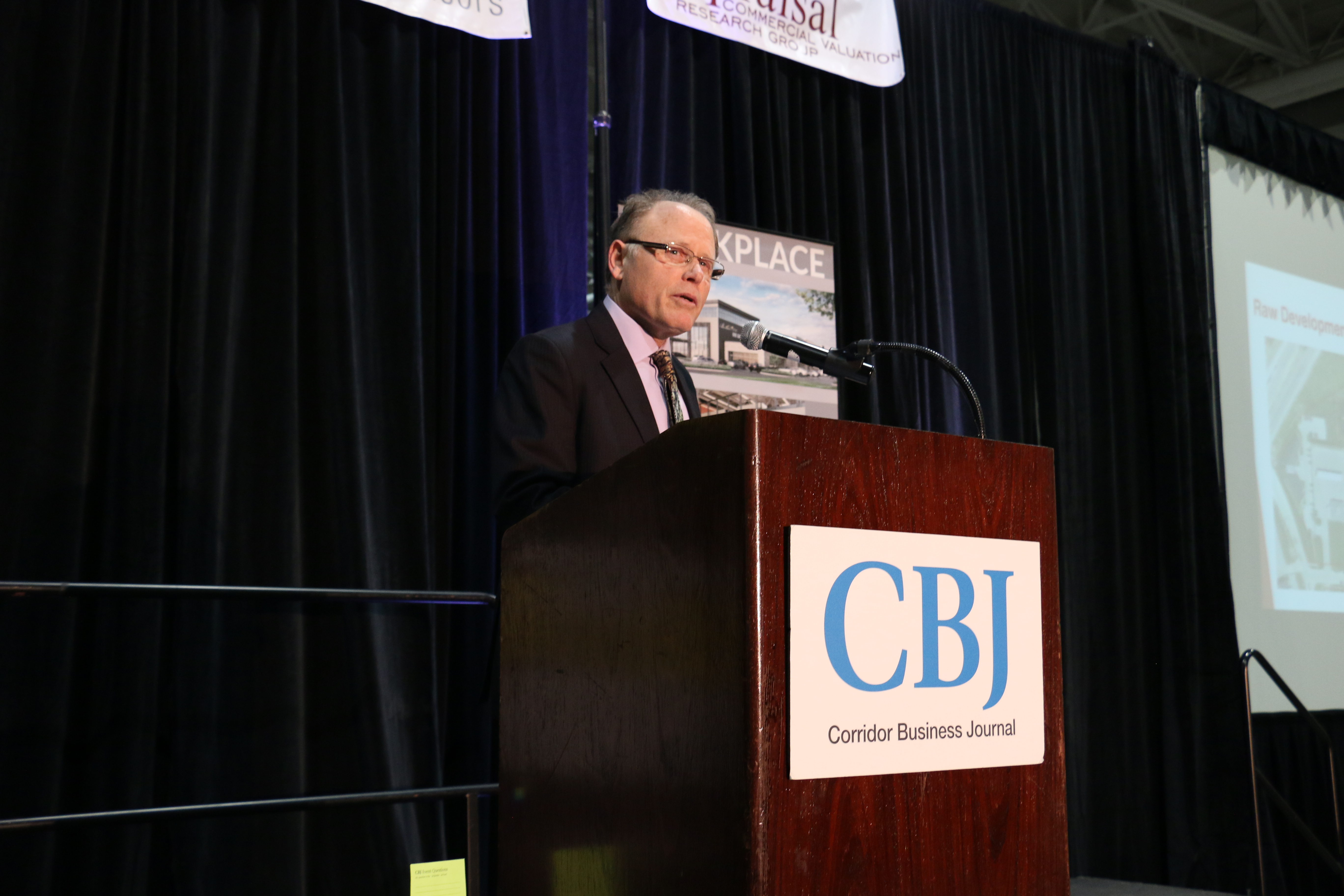 "You can't be a developer unless you're ceaselessly optimistic," Casey Cook told attendees of the 2017 CBJ Commercial Real Estate Luncheon. The commercial real estate appraiser offered advice from two of his own projects. PHOTO/EMILY BETTRIDGE
by Dave DeWitte
dave@corridorbusiness.com
Success in commercial real estate development takes vision and perseverance to maximize the value of a property, Casey Cook told attendees of the CBJ's 2017 Commercial Real Estate Luncheon.
Mr. Cook, the president of Cook Appraisal, shared a wealth of lessons from two development projects during his speech, one of the highlights of the March 8 luncheon at the Coralville Marriott. About 280 attended the event, sponsored by GLD Commercial, Shive-Hattery, University of Iowa Community Credit Union, Ahmann Companies, the city of Iowa City and Cook Appraisal.
Mr. Cook's day job is appraising commercial properties as the president of one of the state's largest appraisal firms, but he's also gotten his hands dirty in development with Garage Mahaul, a nearly four-acre, solar-powered self-storage facility at 4181 Alyssa Court in Iowa City, and Muskrat Free Partnership, an investment in a marsh-like Highway 1 area that has since been turned into a prime five-acre development lot.
"Finding and enhancing underutilized assets is how developers make money," Mr. Cook said. He said the opportunities are often well disguised, and paraphrased the Thomas Edison quote, "Opportunity is missed by most people because it is dressed in overalls, and looks like work."
Mr. Cook's work on the two projects left him with the following lessons:
"Don't let your ego undermine your common sense – when the market speaks, listen." He said the only viable price of a property is the fair market value, which has little to do with what was invested and the holding costs of a property. Developer profit is the difference between what it costs and what the project can be sold for, he said, adding, "Development profit is something you have to earn; it's not something you can plug in and assume you will make it."
"It can cost a bundle to change land from raw development potential to shovel-ready." Cook described obstacles like the interstate pipeline that had to be moved for Menards to develop an 18-acre site for its newest Iowa City store, and the two years it took for his Muskrat Free Partnership to fill its low-lying site with earth and create a compact stormwater detention basin. He added that "even if you think it's shovel-ready, it's probably not," and cautioned developers to always expected surprises. He described one such surprise – a change in the Iowa City zoning ordinance – that could have made his Muskrat Free investment a bust. The change was later reversed with his input. He said natural conflicts can be expected between the roles of developers, who are looking maximize profits on their projects, and city planners, who strive to create planning and zoning regulations that make the best city for everyone.
"Think about the endgame when considering creating a partnership." Cook said a decision-making structure that relies on unanimity "is a recipe for disaster." The only buyers for a partnership interest if one partner wants to liquidate due to "investor fatigue" are likely to be the other partners, who probably have similar levels of fatigue. The discount on an owner's value due to lack of control and marketability of their investment is often over 30 percent, Mr. Cook noted. Investors who try to use a 1031 tax-free exchange when they sell their property often end up overpaying in the trade, he added, so sometimes it's best to simply take the capital gain on a property's sale.
"Emulate a farmer" when holding property for development. Mr. Cook said changing the tax classification of a property to secure a lower tax assessment, such as a reclassification to agricultural, is more important than changing the zoning classification. During the long wait, he said it's also important to stay on good terms with your banker. "Take that person to football games, buy them a drink, and most of all pay the mortgage," he said.
"There can be a difference between value upon completion and value as stabilized." Cook said he phased construction of Garage Mahaul over four years as demand for storage units was filled to minimize interest costs and property taxes. Building over time in phases also allowed the project to be adjusted as market preferences became clear.
"Look for walk-out construction opportunities; it is a way of lowering construction costs as well as increasing value." Walk-outs are properties that can yield useful space more economically because the basement spaces have walk-in access and daylight from one side, and can serve as living or work spaces. Conversely, Mr. Cook recommended looking for opportunities like the solar power he installed at Garage Mahaul to maximize profits. He said the two solar arrays can yield an 11 percent return on investment through lower energy costs, tax credits and the effects of depreciation.
Mr. Cook didn't share the outcome of his two investments. He told the CBJ his return on investment in Garage Mahaul was excellent, partly because of the low initial land costs. He was able to put more buildings on the site than originally expected simply by asking a pipeline company to vacate a portion of its right-of-way that was no longer needed. The jury is still out on the Muskrat Free property on Escort Lane off Highway 1 because the property remains unsold.