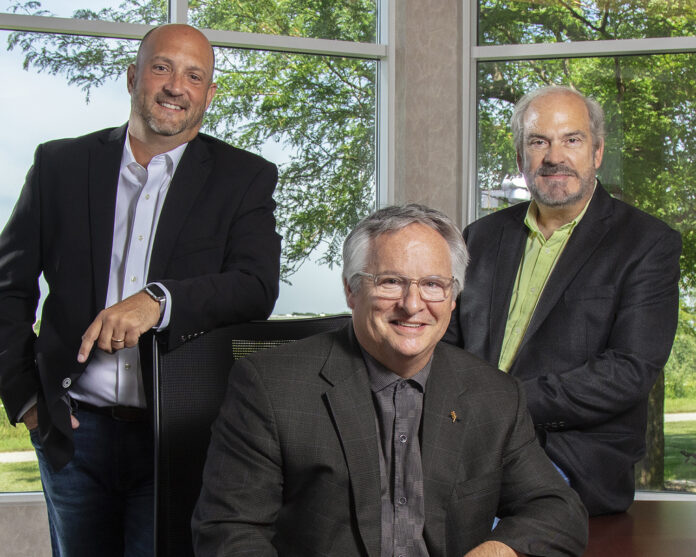 AMPERAGE Marketing & Fundraising, a multi-service agency with three locations in Iowa and Wisconsin, announces that partners Mark Mathis and Jim Infelt are transitioning out of ownership at the end of 2021. President & CEO Bryan Earnest remains at the company helm as sole owner.
The marketing agency and fundraising consulting firm believes this decision is one step to transition from an owner-led to a team-led company.
"We've been working and planning for this for some time," said Mr. Earnest in a statement. "We've weathered the COVID storm together, and our business is thriving. AMPERAGE is in the best place it can be, and now is the right time for this natural transition in ownership."
Mr. Infelt, the current chief digital officer, will retire at the end of the year.
"It can be difficult to leave a business one has helped build, but there is a right time, and that time is now," he explained. "We have an incredibly dedicated and committed staff with great leadership under Bryan. I look forward to where the next path on my life journey takes me. My passion has always centered on digging deeper creatively, and now I will have time to focus."
As for Mr. Mathis, he will transition from chief creative and strategy officer, to an employee role as a special projects consultant in 2022.
"After more than 40 years in marketing, I'm ready for this next phase of business life, and I'm excited to be a beginner again," he said. "I've been blessed to work with great people, and I've been lucky to have great mentors. Working in an advertising agency is a kick, and it continues to be an excellent career for highly creative and strategic people. It's never easy selling something you've helped start, but it is rewarding to see how bright AMPERAGE's future is."
Founded in 1996 with Dee Vandeventer, the company merged with Cedar Rapids marketing firm HRB in 2014. They then acquired Creative Communications, a marketing firm in Wausau, Wisconsin.
Today, AMPERAGE employs 40 marketing and fundraising professionals across its three locations. Corporate headquarters remain in Cedar Falls.
"I am excited for this new chapter for my partners and for AMPERAGE," Mr. Earnest said. "Together we've built a phenomenally successful business, and the AMPERAGE team will honor that collaborative legacy as we move forward. I am grateful to Mark and Jim for the years of dedication and camaraderie. We've accomplished so much together."
Those accomplishments include twice being named to the Inc. 500 list of fastest-growing private companies.