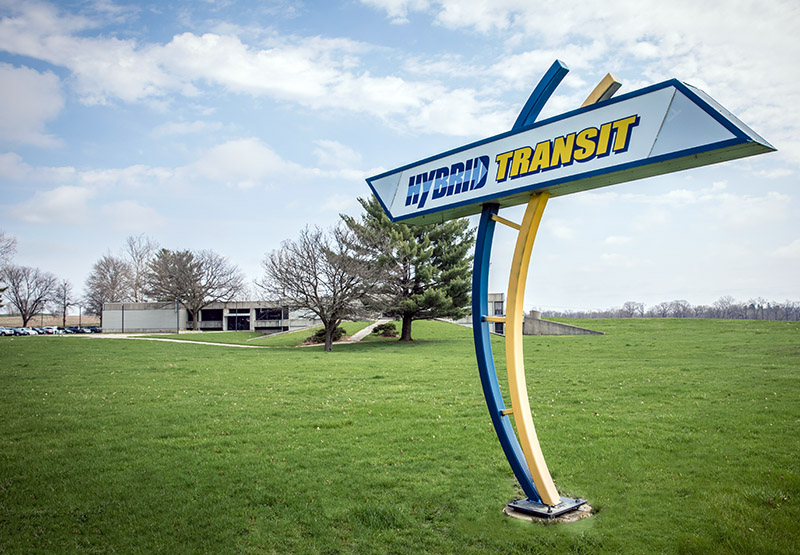 Hybrid Transit System's Cedar Rapids headquarters. PHOTO BRIAN DRAEGGER
By Katharine Carlon
katharine@corridorbusiness.com
Alliant Energy Transportation and Hybrid Transit Systems have joined forc­es in what leaders describe as a win-win that will offer shipping clients more seamless, customizable supply chain solutions, while positioning the com­bined entity for growth in a competitive market.
Alliant Energy Transportation (AET), a wholly owned subsidiary of Alliant Energy Corp., last week announced it has entered into a purchase agreement with Hybrid Transit through a non-regulated subsidiary, meaning no Alliant utility customer dollars will be used in the deal.
Company leaders declined to discuss the purchase price or specific terms of the sale, other than it is expected to close within 60-90 days, and all 43 or so Hybrid Transit employees will stay on the job.
"They definitely acquired us, but we'll be an operating subsidiary," said President and CEO John Miller, adding that far from paring back its workforce, "it's just the opposite. We'll be looking to recruit aggressively and grow. This is a partnership of two Cedar Rapids companies, and it's great to be part of [AET's] strategic plan and to continue to build. There is lots of great work ahead."
AET currently offers rail, material storage and handling, and logistics services. It operates the Cedar Rapids and Iowa City (CRANDIC) Railway, IEI Barge Services in East Dubuque, Illinois, the Williams Bulk Transfer materials-handling terminal in Williams, and Logistics Park Cedar Rapids, which is expected to be complete in spring 2020.
AET President Kevin Burke said the acquisition of Hybrid Transit adds freight-management expertise to its portfolio, allowing AET to offer "one-stop shop" intermodal transport convenience.
"Our plan is to greatly improve our customers' supply chain network," he said, adding the purchase complements AET's existing offerings through enhanced third-party logistics and "last mile delivery" capability – delivering goods from freight stations and ports to their final destination.
"A lot of what is driving these decisions is giving our customers what they want: more options and more solutions," he added.
Mr. Miller, who said Hybrid Transit was approached about the acquisition via a third party, explained the deal made strategic sense from both financial and competitive standpoints.
"We were always thinking about how do we compete, how do we cope with change, how do we continue to grow with recruiting and retention pressure?" Mr. Miller said. "As we thought about this, it made more and more sense. You have to be a differentiator in this market."
Hybrid Transit, launched in 2005, is among the largest privately held companies in the Corridor and has been one of its fastest growing over the past decade. It has appeared on the CBJ's Fastest Growing Companies list three times in 10 years, setting the third-highest growth rate in history in 2008 with 818 percent growth over a two-year period.
The company reported revenue of $20.8 million in 2017, according to data provided to the CBJ for this year's Largest Privately Held Companies magazine.
"Hybrid is a very successful company with a solid reputation in the industry," Mr. Burke said. "We're very happy to have them as part of our group."
AET has provided a variety of freight services since 1904, when its primary business, the CRANDIC Railway, began operating between Cedar Rapids and Iowa City. Today, in addition to its other services, it has become an economic development player with the logistics park and its newly certified mega site, Big Cedar Industrial Park in Cedar Rapids (see above).
"If you think about what Alliant does and the customer base they have, this is a way to serve them more deeply through a trucking environment," Mr. Miller said. "This adds a logistics piece they did not have."
AET's purchase of Hybrid Transit is the latest in a hot year for mergers and acquisitions in the Corridor. The CBJ has reported on 35 mergers or acquisitions involving regional companies so far in 2018, up 40 percent over 2017's mark of 25, and well above both 2016 and 2015. It is the eighth deal this year involving a company on the CBJ's Largest Privately Held list.