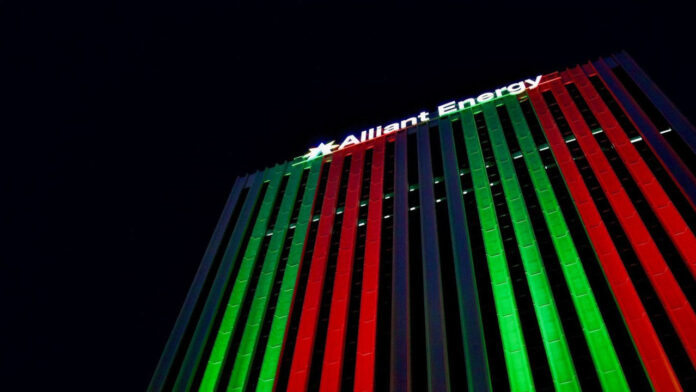 A public hearing will be held May 21-24, 2024, to consider Alliant Energy's request to increase electric and natural gas rates in Iowa.
The dates for the hearing were set Tuesday, Nov. 21, as part of a conference hosted by the Iowa Utilities Board to set a procedural schedule for Alliant's request.
Additional tentative hearing dates were also set for May 27-28, 2023, if required. After the hearing, the IUB will determine if Alliant's request will be granted, modified or rejected.
The schedule includes deadlines for various procedural matters in the case. Parties participating in the scheduling conference included Interstate Power & Light, Alliant's Iowa utility company; the Iowa Office of Consumer Advocate; the Iowa Business Energy Coalition; the Large Energy Group; the Clean Energy Districts of Iowa; and the Iowa Environmental Council.
Alliant Energy's Iowa utility company, Interstate Power and Light Company (IPL), filed a request with the IUB Oct. 12 to adjust its electric and natural gas rate, beginning in late 2024.
The company is requesting a 7.7% (approximately $10 per month) increase to the average residential electric customer's total bill beginning in October 2024 and a second phase increase of 5.7% (approximately $7 per month) to take effect beginning in October 2025.
Including all electric customer classes – commercial, industrial and residential – the proposal results in an approximately 9% increase to the average electric customer's total bill in October 2024 and a second phase increase of approximately 7% beginning in October 2025.
For IPL's natural gas customers, the company is requesting a 5% increase (approximately $3 per month) to the average residential gas customer's total bill in October 2024.
The utility says it's proposing new electric rates to be phased in over approximately two years as a means of "prioritizing customer affordability."
The overall impact on customer bills will vary, depending on actual energy used and final rates approved by the IUB after a series of hearings.
All told, Alliant's requested electrical rate increase would bring in $284 million in additional service revenue, or about 16% above the company's existing electric revenue requirement. The natural gas request would bring revenue of $14 million, or about 5% above the existing gas revenue requirement.
The utility's last rate increase was approved in 2019.
Several public comment meetings have been held on Alliant's request, including a Nov. 6 meeting in Cedar Rapids.
All publicly filed documents for the Alliant Energy rate cases are available for review in the IUB's electronic filing system under Docket No. RPU-2023-0002.