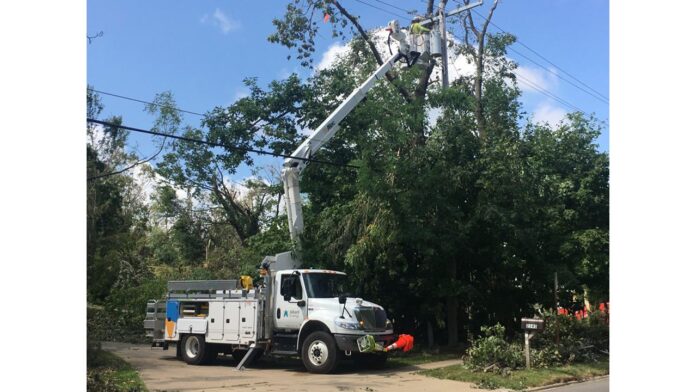 Alliant Energy has announced that more than 30 Iowa communities are receiving tree planting aid through the company's Community Tree program, part of their One Million Trees initiative.
This partnership with Trees Forever, also known as "Branching Out", will help communities develop, select and plant a "diverse mix of trees." The funds will help communities plant trees to increase energy efficiency and replace those destroyed by the 2020 derecho or the emerald ash borer.
Ely, Hiawatha, Oelwein and Marion are among the 33 recipients in 2022.
"Alliant Energy's commitment to supporting communities we serve includes improving the natural environment for future generations," said Terry Kouba in a news release, president of Alliant Energy's Iowa energy company. "Last year, we announced our One Million Trees initiative to donate and help plant more than one million trees – representing one tree for each of our utility customers – by the end of 2030. The communities announced today will benefit from our goal and increase their own energy efficiency and tree restoration goals." 
Each community was eligible to apply for grants up to $5,000 to fund new trees that will save energy and improve the environment. In total, $120,000 in tree grants are being awarded. 
In addition, communities also receive tree-planning support from Trees Forever. The organization will connect communities with tree experts, who will help select the best species for their area and create a care and maintenance plan to make sure the new trees have long and healthy lives.   
"Our partnership with Alliant Energy has persevered for years due to the strong alignment of our values," said Kiley Miller in a news release, President and CEO of Trees Forever. "We are proud to work together to help communities and local volunteers plant trees through Alliant Energy's Community Tree program, part of their One Million Trees initiative. These trees will clean our air, water and soil, while improving our health and providing beauty in all seasons." 
Alliant Energy's partnership with Trees Forever dates to 1990. Together, they have awarded over $7.7 million dollars in grants and planted more than 1.1 million trees, according to a news release.
Several communities will plant their trees this spring, with more  plantings planned for the fall.
List of recipients:
| | | | |
| --- | --- | --- | --- |
| Organization  | City / Town  | Funding  | Project Description    |
| Belle Plaine  | Belle Plaine  | $5,000  | Large community tree planting in Anderson Park and Box Memorial Park.  |
| City of Burlington  | Burlington  | $5,000   | Community tree planting on and around streets.   |
| Calmar NICC  | Calmar  | $3,690  | Planting shade trees around buildings on the Northeast Iowa Community College Campus.  |
| Centerville/Rathbun Area  | Centerville  | $2,000  | Community tree planting at Lelan Bradley Park, managed by the County Conservation Board.  |
| Clinton  | Clinton  | $5,000   | Shade tree planting at three schools in Clinton – Bluff Elementary, Eagle Heights Elementary, and Clinton Middle School.  |
| Cresco  | Cresco  | $1,400   | Planting in street public right-of-way and boulevards.   |
| Creston FFA  | Creston  | $4,940   | Shade tree planting downtown Creston, on the campus of the local community college, and in street right-of-way.   |
| Edgewood  | Edgewood  | $2,000   | Community tree planting matching funds will establish fruit trees on the school led by Girl Scouts.  |
| Eldora  | Centerville  | $970  | Community tree planting opportunity.   |
| City of Ely  | Ely  | $2,000   | Derecho recovery tree planting in Vavra Park and the Cedar Valley Trail.  |
| Fertile  | Fertile  | $2,700  | Community planting in Rhodes Park along Winnebago River.  |
| Grinnell Schools  | Grinnell  | $5,000   | Windbreak planting at Grinnell High School with the students.  |
| City of Hiawatha  | Hiawatha  | $5,000  | Community tree planting in areas impacted by the derecho.  |
| Jefferson  | Jefferson  | $5,000  | Community tree plantings in right-of-way along several streets in town with the local tree committee  |
| Laurens  | Laurens  | $3,132  | Community tree planting with local hometown pride group, planting for energy efficiency in Sportsmans Park and campground.  |
| Mallard  | Mallard  | $4,180   | The City of Mallard is planting shade trees in the City Park and public golf course.  |
| City of Marion  | Marion  | $5,000  | Community tree planting in the right-of-way with Tree Board and local volunteers.  |
| Marshalltown  | Marshalltown  | $5,000   | Local Trees Forever group will spearhead right-of-way plantings in nearly 10 locations throughout town.   |
| Mason City  | Mason City  | $5,000   | Community tree planting with school planting in right-of-way.  |
| Mechanicsville  | Mechanicsville  | $1,000  | Replaces trees lost to the derecho.  |
| Monticello  | Monticello  | $5,000   | Tree planting on the grounds of the Monticello High School.  |
| City of Muscatine  | Muscatine  | $5,000  | Street tree planting in right-of-way.  |
| Nevada  | Nevada  | $3,735  | Tree planting at the SCORE athletic complex for energy efficiency around some facilities.  |
| New Albin  | New Albin  | $1,388  | Community street tree planting.  |
| Norway  | Norway  | $5,000   | Replaces trees lost to the derecho.   |
| City of Oelwein  | Oelwein  | $5,000  | Community street tree planting in right-of-way.  |
| Rolfe  | Rolfe  | $2,739   | Community tree planting with hometown pride and students.  |
| Rossie  | Rossie  | $610   | Planting trees in the park and throughout town.  |
| Tripoli  | Tripoli  | $5,000   | Community street tree planting in several locations throughout town.  |
| Van Horne  | Van Horne  | $5,000   | Community tree planting at park and recreation complex.  |
| Washington  | Washington  | $2,000   | Planting around municipal buildings for energy efficiency.  |
| City of West Burlington  | West Burlington  | $4,000  | Community street tree planting in right-of-way along several streets in town.  |
| West Liberty Lions Club  | West Liberty  | $2,070   | West Liberty Lions Club partnering with the City for right-of-way street tree plantings throughout town.  |