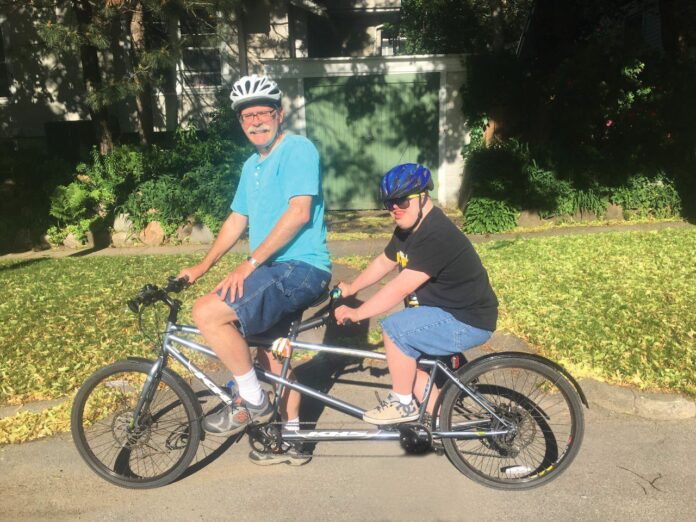 Craig Harwood (left) and his son, Dan, get ready for a tandem bike ride, one of their favorite warm weather activities. Dan, who has Down syndrome, has seen his care relationships upended by the switch from state administration of Iowa's managed care to private administration by for-profit insurance companies. Craig, an advocate for Iowans with disabilities, has found the new system isn't very responsive to his concerns. PHOTO COOPER HARWOOD
Ed. note: This is part three of Affording Health, a subscribers-only series exploring the crisis of health care affordability as it relates to employers and employees in the Corridor. This installment looks at the ongoing state of Iowa's transition to privately administered Medicaid plans.

By Dave DeWitte
dave@corridorbusiness.com
Four years after Iowa turned over its Medicaid program to private insurance carriers, the debate hasn't died over whether for-profit business competition has been good medicine for Iowa's rising Medicaid budget.
The widely misunderstood Medicaid program is the health insurance safety net for more than 636,000 Iowans, filling big health insurance coverage gaps that have been especially critical during the COVID-19 pandemic. The average annual cost for Medicaid services provided to a member was $9,440 in fiscal 2019, and it's estimated to be about $9,543 per member this fiscal year.
Although many think of it as a program for the poor, Iowa's Medicaid umbrella is a funding mechanism for a variety of state programs for different populations, including the IA Health Link program, the Healthy and Well Kids in Iowa (Hawki) program for children of low-income working families, and a variety of waiver programs for people with costly or long-term needs, such as intellectual disabilities and HIV.
Former Gov. Terry Branstad announced plans in 2015 to switch Iowa's Medicaid system from a fee-for service model, in which providers were paid directly by the state, to a managed care model run by private insurance companies, called managed care organizations (MCOs). The MCOs bid for the right to administer Medicaid programs for profit on the basis of a monthly rate per member, known as a capitation rate, and on supplemental programs and services to improve member health.
It was an approach spreading rapidly across the nation thanks to a belief that the dynamics of profit motive and competition could lower Medicaid costs. Mr. Branstad proceeded against the opposition of Democrats, who then held control of the Iowa Senate.
In the months after the first three MCOs were put in charge of administering Medicaid benefits to Iowans in April 2016, complaints poured in from enrollees who were stymied in getting services by new rules such as pre-approval requirements, and from health care providers who weren't reimbursed in a timely manner.
"Every one of these MCOs has had trouble paying their [providers'] bills," said State Sen. Joe Bolkcom (D-Coralville), an outspoken critic of the managed care model. "They have clunky IT systems. They've denied tons of claims, and whenever they deny a claim, the provider has to appeal…. They [health care providers] have been put through the wringer to get paid for what they do on behalf of the state."
In fiscal year 2017, the first full year after privatization, the state's overall payments per Medicaid enrollee were up 4.4%. That wasn't nearly enough to keep up with program expenses, however, and MCOs began to pull out of the program or ask for higher reimbursements.
For Medicaid enrollees with disabilities, like 39-year-old Dan Harwood of Cedar Rapids, "The cuts in services have come in many ways, many forms," according to Craig Harwood, Dan's father and an advocate for the disabilities community. Dan was born with Down syndrome and relies on the Medicaid program for costly support programs.
The family was required to take part in a new needs assessment for Dan to determine what tier of intellectual disability supports he needed, Mr. Harwood was told, despite past assessments of Dan's needs under Medicaid. Could Dan shower himself? Make his own breakfast? It was all going to be used to determine his ranking on a scale of needs, Mr. Harwood said, and like other parents who went through it, it was hard to make the optimistic projections he wanted for his son because he knew it would be at the expense of future services.
The fact that case managers for people with special needs now worked for private insurance companies made a big difference, according to State Sen. Liz Mathis (D-Hiawatha).
"A lot of the case managers hired by the MCOs were going out and assessing the patients, even if the patient had an intellectual disability, away from their parents or caregivers, and were given a different number [on the assessment scale]. That meant they would have less intervention and so it would be less expensive," Ms. Mathis said. "That just seemed like a huge conflict of interest."
The service providers who had built solid relationships with Dan were also being shaken. Although not directly a result of managed care, Dan lost his employment during a wave of sheltered workshop closings resulting from Medicaid changes at the federal level, which took away support from workshops that did not integrate workers with disabilities and those without.
After the switch to managed care in Iowa, with reimbursements falling short of costs, Mr. Harwood said the remaining service providers struggled to maintain competitive pay levels and keep experienced staff. As an advisory board member of the Options program Linn County offers for people with disabilities, Mr. Harwood was aware of what was happening.
"So, we've seen a lot of churn in staff," Mr. Harwood said. "It's this person one day, a different person the next day – it's been horrific. It's just, to me, a very profit-driven machine, and the people really getting ground up in it are the special needs community. They're paying the price."
Read the full, members-only feature in the May 25 print or digital editions of the CBJ. Not a member? Join today.