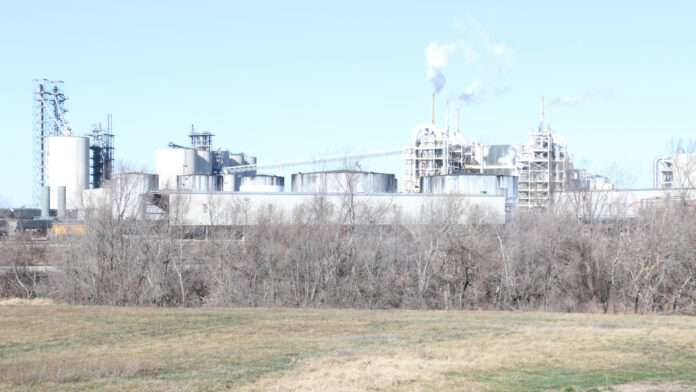 Archer Daniels Midland unveiled plans Tuesday to partner with Wolf Carbon Solutions to build a 350-mile pipeline for the capture, compression and transportation of carbon dioxide produced at ADM's ethanol facilities in Cedar Rapids and Clinton.
ADM says the pipeline would have the capacity to transport 12 million metric tons of carbon dioxide per year from the plants, which would be permanently stored underground at ADM's existing carbon sequestration site in Decatur, Illinois.
The company says the planned pipeline would have significant spare capacity to serve customers looking to decarbonize across the Midwest and Ohio River Valley.
ADM says its carbon capture and sequestration capabilities in Decatur have allowed it to safely and permanently store underground more than 3.5 million metric tons of CO2, paving the way for increased decarbonization of the company's operations.
"This partnership is an excellent example of industries working together to decarbonize and deliver upon their ESG (economic, social and governance) strategies and commitments," David Schmunk, president of Wolf Carbon Solutions, said in a news release. "Our organizations offer a great combination of complementary skills and experience – ADM with more than 10 years of experience owning and operating CO2 sequestration wells, and the Wolf Carbon Solutions team with expertise in owning and operating carbon capture facilities and pipeline transportation systems, including North America's largest third-party CO2 pipeline in Alberta, Canada."
The ADM project is the third CO2 pipeline proposed in Iowa. Texas-based Navigator CO2 Ventures has proposed a liquid CO2 pipeline, called Heartland Greenway. The pipeline would stretch 1,300 miles and run through Benton, Linn and Iowa counties, capturing carbon dioxide emissions at 20 different receipt points from ethanol and fertilizer plants and transporting it in liquefied form to be stored underground at a separate sequestration facility in Decatur, near the ADM site.
The pipeline would be capable of storing up to 15 million metric tons of carbon dioxide per year once fully expanded, according to Navigator documents.
Summit Carbon Solutions is proposing a separate carbon capture and storage project located in Iowa, Minnesota, North Dakota, South Dakota and Nebraska. The project, Midwest Carbon Express, will capture carbon dioxide emissions that otherwise would be emitted into the atmosphere from biorefineries such as ethanol plants, compress the captured emissions, and transport it through a pipeline to be stored underground in a North Dakota sequestration facility. The proposed project would traverse a number of Iowa counties, mostly in northern and western Iowa.
All three projects require regulatory approval from the Iowa Utilities Board.
The Navigator project has faced significant scrutiny and opposition in a series of public meetings. Attendees at a Linn County informational meeting on the Navigator project Dec. 6 said they were concerned about a lack of detailed information about the project, as well as possible environmental concerns if the pipeline were to be breached. Navigator officials maintain the project would be safe, pointing to more than 5,000 miles of operational CO2 pipelines already in place nationwide.
In a letter to the IUB Monday, the Linn County Board of Supervisors lodged its formal opposition to using eminent domain to obtain right-of-way easements for CO2 pipelin projects, including the Navigator and Summit proposals.
And in a statement Tuesday, Senior Iowa organizer Emma Schmit of Food & Water Watch, an environmental watchdog group, called for alternate solutions to reduce greenhouse gas emissions.
"Carbon capture and storage is an unproven and unsound technology that will do nothing to mitigate the climate crisis – it's an industry scam and distraction from the real work of reforming our agricultural and energy sectors to combat the looming climate emergency," the statement reads. "We envision an Iowa where communities work together to care for our land, climate and communities alike – carbon capture has no part in that future."