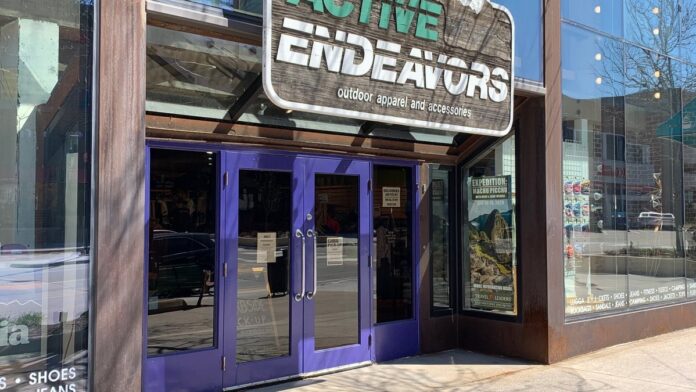 A longtime downtown Iowa City business is pulling up stakes as its new owner hopes to attract a wider audience. Active Endeavors held a final clearance sale last weekend at 138 S. Clinton St. as it prepares to move into a temporary space in the Iowa River Landing in Coralville before setting up a permanent shop there this fall. 
Matt Ostrom, who has owned the Active Endeavors store in Davenport since 2004, recently bought the Iowa City store from the group that purchased the business from founder Mark Weaver and his wife, Eadie, when they retired in 2018.  
"It just appears that a lot of retail in downtown Iowa City was getting harder to be successful," Mr. Ostrom said. "We weren't surrounded by as many retail spaces and obviously the excitement of what is going on at Iowa River Landing was definitely a plus."
"For us it was a chance to sort of rebrand Active Endeavors and move it to a market where it wasn't just only, in our opinion, student-based but we could appeal to more people in the Tiffin, North Liberty and Cedar Rapids areas and have all of the traffic that Interstate 80 provides."
The new store will be smaller than the downtown Iowa City location, primarily focusing on clothing and footwear, but continuing to provide outdoor equipment such as backpacks, he said. 
Demand for active outdoor apparel and equipment has increased since the pandemic started, Mr. Ostrom said, but like most industries, inventory has been bottled up with supply chain issues. 
"The demand is there but is far exceeding the supply right now," he said. 
The company is currently working on the temporary space in the IRL and hopes to be open mid-March with a goal of having the permanent location open to the public by Sept. 1, Mr. Ostrom said. 
For more of this story, read the Feb. 28 print edition of the Corridor Business Journal.