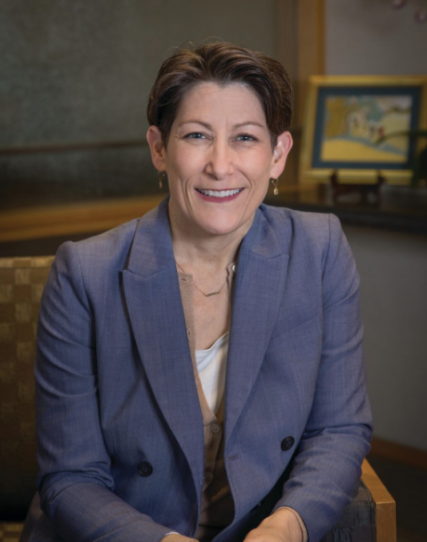 Janet Godwin
By CBJ News Staff
news@corridorbusiness.com
Iowa City-based ACT announced a shake-up in its top leadership late Thursday, as the education and testing company implements cost-cutting measures to cope with the COVID-19 pandemic.
CEO Marten Roorda will be leaving the organization, ACT said, with Chief Operating Officer Janet Godwin stepping into the role on an interim basis.
No reason was given for the departure of Mr. Roorda, who changed the focus of the organization from primarily a college testing service to a more holistic "learning, measurement and navigation organization" in recent years. Mr. Roorda, who arrived at ACT in 2015 after serving as CEO of Netherlands-based testing organization Cito, presided over tens of millions of dollars in investment in edtech, data analytics and K-12 products to broaden the scope and range of ACT's mission of "helping people achieve education and workplace success."
Ms. Godwin, a 2018 CBJ Woman of Influence, is a 30-year veteran of ACT who began her career with the nonprofit in 1990. After starting in an entry level role in test development, she worked her way up the ranks to positions in information technology and client engagement, as well as senior-level positions including vice president of operations, chief of staff and chief operating officer, the post that she has held for nearly six years. She has also served on a number of volunteer boards, including the Iowa City school board, which she currently leads as president.
"Janet has made tremendous contributions to ACT," said Chad Wick, chair of the ACT board of directors, in a release. "The ACT Board of Directors knows Janet very well, appreciates her deep and abiding commitment to the many organizations and millions of people ACT serves each year, and has high confidence in her ability to step in and provide outstanding leadership in this role."
ACT also announced Thursday it would embark on a series of cost-cutting measures to offset the negative business impact of the coronavirus crisis. Those measures include voluntary options for team members to reduce work hours, take leaves of absence, or voluntarily resign and receive severance pay. The organization also announced it would give no raises next year and some fringe benefits would be reduced.
"Beyond the steps announced Thursday, further cost reductions are expected," ACT said in its statement.
In addition to postponing its April 2020 national college test date out of concern for the safety of students and those administering the test, ACT said it had also seen a significant decline in its state and district testing programs. The organization plans to offer testing in June and July, but with fewer open test centers and at reduced test center capacity due to social distancing requirements.
Because of rapidly changing circumstances, ACT is providing free test date changes to future test dates or refunds of registration fees. It plans to begin offering remotely proctored tests by late fall or early winter and has unveiled free digital learning resources for students and members of the workforce. CBJ