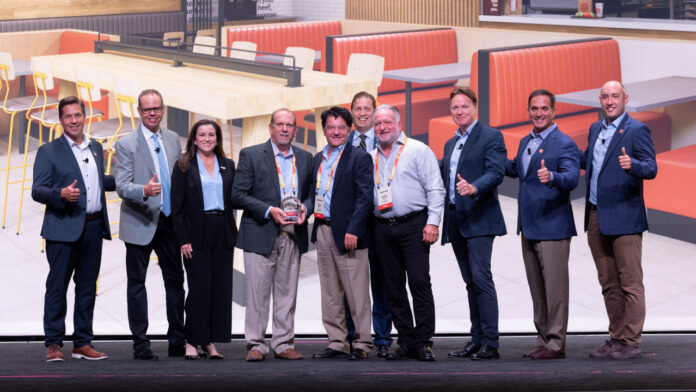 ACP, Inc., a manufacturer of commercial high-speed and specialty ovens based in Cedar Rapids, has been recognized with an award by Burger King North America as their 2022 Supplier of the Year for North America Equipment and Facilities.
The award was presented at Burger King North America's annual convention in Las Vegas in September..
ACP, Inc. built and branded a specialty oven for Burger King to align with their corporate growth goals. The oven, called The Hopper, is a queuing oven for efficient heating of Burger King's quick-serve food products.
Burger King has announced plans for significant investment over the next two years to improve restaurant technology, kitchen equipment, building enhancements and high-quality remodels and relocations. The Hopper oven is a part of that initiative.
"Our plan is focused on a few important priorities – operational excellence, refreshed image and enhanced marketing – that when put together, provide a superior experience for our guests," Burger King North America president Tom Curtis said.
"This award could not have been achieved without the tremendous efforts of the entire ACP team," added Greg Stak, vice president of sales for ACP, Inc., said about the Burger King award. "From the efforts of our factory floor to our field sales and service support teams, these ovens have helped transform the Burger King operation with innovation that has made an impact throughout the Burger King North America market."
ACP, Inc. manufactures XpressChef high-speed ovens, as well as Amana Commercial and Menumaster Commercial specialty ovens.
Headquartered in Cedar Rapids, ACP is a member of the Ali Group, a privately held corporation that through its subsidiaries designs, manufactures, markets and services commercial foodservice equipment for major restaurant, grocery, and hotel chains, independent restaurants, hospitals, schools, airports, and commissaries, through its 101 global brands in 34 countries.
The company traces its roots back to 1947, when Raytheon built the first microwave oven. In 1965, Raytheon acquired Amana Refrigeration, and just two years later, the world was introduced to its first affordable microwave oven: The Amana Radarange.