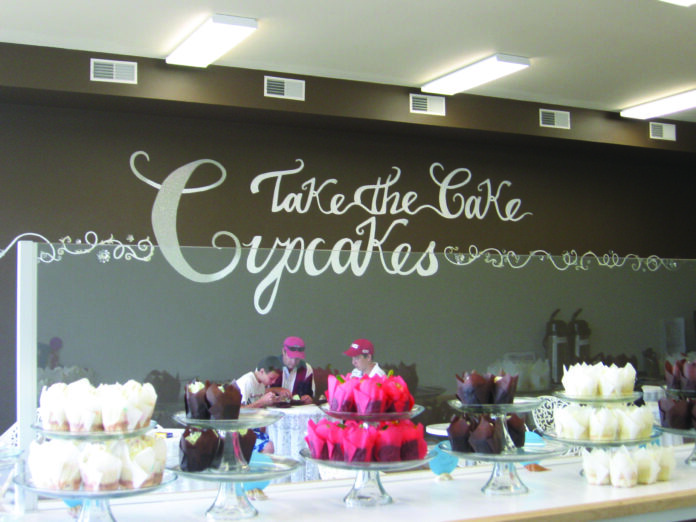 By Lindsey Cook
MARION–Baking cupcakes started out as just a hobby.
It was simply an activity for Megan Knatz to do with her daughter. But it has quickly grown into a full-fledged business that is growing very popular with Marion residents.
Ms. Knatz, a Monticello native, has a background in education and was working at Linn-Mar's Novak Elementary School as a school administrative manager last year, when she and her daughter started making cupcakes in their free time.
"We looked at all the flavors people were making online and just start trying different things. Looking back now, the flavors we were making then were really awful," she said.
She started to send some to her husband's office and people loved them. When she started bringing them into school and people started ordering them was when Ms. Knatz says it really took off.
Ms. Knatz started experimenting with recipes, developed a menu and started researching and perfecting recipes.
"To me, the key point that this could be a business was when complete strangers started calling me, wanting to order a dozen or two dozen; it got to the point where I got completely busy," she said. "I had to bake all the time, but I was excited about it."
At that point, Ms. Knatz contacted the Marion Chamber of Commerce and asked if they knew of any place where she could sell her cupcakes and was directed to the Kettel House Bakery & Café in Marion.
She started dropping off cupcakes and the Kettel House would take orders for her. Once she did, her business increased.
"I was only there a month when I realized I couldn't keep doing both," she said.
Ms. Knatz quit her job at Linn-Mar and started looking for a location for her new cupcake business.
"I wanted a place where you could get a quality product and a unique atmosphere and just started looking for a space," she said.
Ms. Knatz knew she wanted to stay in Marion, but also knew she wanted to have plenty of parking and have a place that was easy to get to.
"Part of what deterred me from the downtown was the parking situation," she said.
She opened Take the Cake Cupcakes at 5475 Dyer Ave. Suite 121, across Highway 151 from the Marion Walmart, in the former Sprint store, on July 31. Finally opening the shop brought its own challenges.
"I was not prepared for the demand for the cupcakes; we have had to figure out when we can bake," she said.
Ms. Knatz says they are baking 14-15 hours a day. They don't have large ovens, or mixers. The business will make upgrades as customer traffic increases.
"The first couple of weeks were crazy. Being a small business there are so many details that you don't think of, like actually typing out all of the recipes that had been in my head, so other employees can make them," she said.
Take the Cake Cupcakes have also been a very popular feature this summer at the Marion Farmers Market. The business may participate next year. The cupcakes are also sold at Brick Side Café and Ms. Knatz is creating a custom cake for Splurge.
The bakery employs six staff members, including Ms. Knatz. They make 35 dozen cupcakes a day Tuesday–Thursday, 45 dozen Friday, and 60-70 dozen Saturday. Ms. Knatz says they have been selling out almost every day. By 4:30 p.m. selection is slim, and they are currently baking as much as they can.
Special orders have also increased, they are receiving about 25-30 dozen in special orders per week. Knatz says those are usually for birthdays, work functions and family celebrations like baby showers and bridal showers. Foot traffic has also remained steady since school started.
A unique feature of the cupcake shop is flavors will change every four months with the seasons. The most recent change was Sept. 1, when 25 new cupcake flavors were added to the menu, including pumpkin and English toffee. "I Do Wedding Cake" is the best-selling flavor.
Cupcakes have become a very popular commodity lately with a cupcake store in Lindale Mall and another cupcake shop that will be opening up in Cedar Rapids later this year, as well as at least one new shop in Iowa City. Ms. Knatz says cupcakes are so popular right now because they are a luxury people are willing to indulge in.
"Cupcakes are a childhood memory for a lot of people," she said. "It's an affordable luxury; the industry has grown significantly because people can pay $2.75 for a cupcake instead of $100 to go to a spa."
Ms. Knatz says another reason why cupcakes are so popular right now is because of all of the creativity in the flavors, fillings, frostings and toppings.
Take the Cake Cupcakes is open 10 a.m.-6 p.m. Tuesdays through Saturdays. Saturday is the busiest day, and while closed now for Sundays and Mondays they might open for more hours at a later date.
The store sells cupcakes for $2.75, or $15 for a half a dozen and $25 for a dozen. They also sell coffee, water and milk.
As for the name, Ms. Knatz says she came up with it because she wanted something that hadn't been taken, cute but not corny.
For more information, visit www.takethecakecupcakes.com.