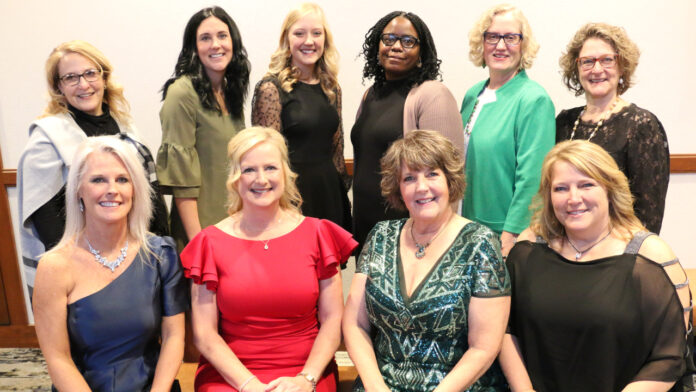 The Corridor Business Journal is proud to have honored 11 incredible women at the 17th annual Women of Influence awards banquet on Nov. 3 at the Hyatt Regency in Coralville. In all, 175 people were in attendance to celebrate these women who have made a difference in the Corridor as role models and leaders in their fields and community.
Honorees:
Michelle Beisker
Greater Cedar Rapids Community Foundation
Tatum Buse
Collins Aerospace
Jody Donaldson
Kirkwood Community College
Tonya Hotchkin
Tanager Place
Elizabeth Jacobi
City of Cedar Rapids
Ruthina Malone
University of Iowa College of Liberal Arts & Sciences
Heather Meador
Linn County Public Health
Andrea Rhoades
Corridor Business Journal
Dawn Schott
Linn County
Barbara Thomas
University of Iowa Tippie College of Business
Emerging Woman of Influence:
Ellie Moore
Community Foundation of Johnson County
For more about these influential women, read the Corridor Business Journal on Nov. 8 or log on to corridorbusiness.com.
The Women of Influence awards were presented by Mount Mercy University. In addition, ACT, Delta Dental of Iowa, Dwell Home Furnishings & Interior Design and Collins Aerospace all sponsored the 2021 CBJ Women of Influence awards banquet.