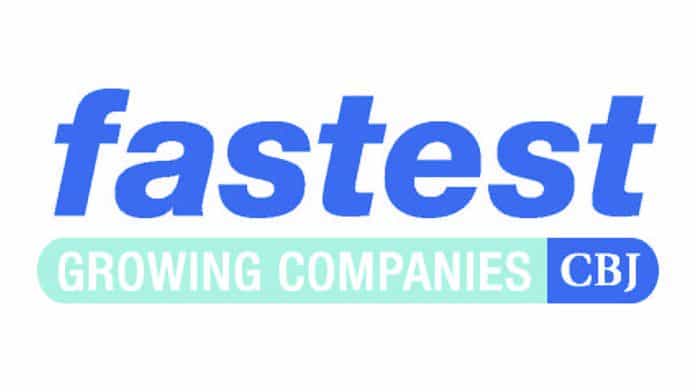 For a year in which nearly nothing was normal, the CBJ's 14th annual Fastest Growing Companies list showed remarkable stability as it welcomed back 18 previous honorees, including 14 firms that appeared on last year's list.
But just as in 2019 and 2020, it was a newcomer — Iowa City-based Axiom Consultants, LLC — that took the top spot.
The full-service engineering firm specializing in civil, structural, mechanical and electrical engineering reported the most rapid growth over a two-year period as calculated by accounting firm Honkamp Krueger & Co. Based on revenue numbers from 2018 to 2020, Corridor companies making the list averaged 87.37% growth, ranging from 31.39% for fellow newcomer and 25th place finisher Nations Financial Group of Cedar Rapids to Axiom's impressive 339.34% debut.
The average growth rate among the 25 companies on this year's list was down over last year's 126.36% — hardly surprising for a period that included a sharp economic downturn spurred by the COVID-19 pandemic. The median growth rate was 56.65%, which was also a drop from 111.6% in 2020 and 65.4% in 2019.
Last year's fastest growing company, Coralville-based ProCircular, made its second appearance on this year's list, finishing 18th with 45.28% growth. BLX Expedited Carriers, which smashed a CBJ record in 2019 with a whopping 1,263.7% growth rate and came in second last year with 339.79%, did not enter its revenue numbers for consideration this year.
Yet this year's top five contained many familiar faces, including second-place Moxie Solar of North Liberty posting 244.02% growth and making its sixth appearance on the CBJ's Fastest Growing tally. Numbers three, four and five on the list — Covenant Family Solutions (239.43%) of Cedar Rapids, Iowa City-based Servpro (133.97%) and Splash Pool & Spa (124.89), also of Cedar Rapids — each marked their second consecutive appearances this year, as did number six, First MainStreet Insurance of Cedar Rapids, with 121% growth.
Several Corridor companies celebrated at least a decade of Fastest Growing honors, most notably Urbana-based Clickstop, which made a record 11th consecutive appearance on the list at No. 23 and 34.78% growth, and Coralville's MediRevv, which clocked in at No. 15 with 111.6% growth in its 10th placement on the list.
Other companies racking up multiple appearances on the list this year include Spotix Inc. of North Liberty (No. 7); Almost Famous Popcorn of Cedar Rapids (No. 8); Marion-based EcoLips Inc. (No. 9); Hiawatha's Q4 Real Estate (No. 11); Sustainable Landscape Solutions of Iowa City (No. 13); Cedar Ridge Distillery of Swisher (No. 16); Streff Electric of Cedar Rapids (No. 18); Cedar Rapids-based Involta (No. 20); Waln Enterprises of Fairfax (No. 23); and Hiawatha's Channel Fusion (No. 24).
In addition to growth leader Axiom Consultants and Nations Financial Group, 2021 newcomers included Rayser Holdings, Inc. of Cedar Rapids (No. 10), Coralville's Meld Marketing, Inc. (No. 12), Hiawatha-based Integrated Connection, LLC (No. 14) and Basepoint Wealth of Cedar Rapids (No. 19).
Cedar Rapids took bragging rights to the largest number of fastest companies for the sixth year in a row — and it wasn't even close. The Corridor's largest city was home to nine companies on the list, followed by Iowa City, Hiawatha and Coralville with three apiece. North Liberty and tiny but mighty Swisher each counted two top finishers. Fairfax, Urbana and Marion each had one top 25 finalist.
Nominations for 2021's Fastest Growing list were solicited in April. To apply, companies had to demonstrate revenue of at least $350,000 in each of the fiscal years ending 2018, 2019 and 2020, and be headquartered in Kirkwood's seven-county region. Honkamp Krueger & Co. ranked nominees according to revenue growth over a two-year period, with consideration given to both dollar and percentage increases.
Honorees were recognized June 10 at a ceremony held at the DoubleTree by Hilton Cedar Rapids. The event was sponsored by Honkamp Krueger & Co. PC, Nyemaster Goode PC, BankIowa, MediRevv, the John Pappajohn Entrepreneurial Center and TLC Associates.