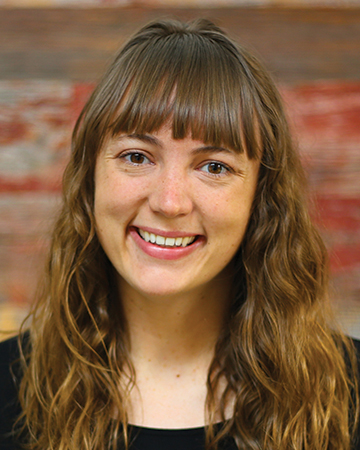 Jessalyn Holdcraft
Director of Marketing
NewBoCo
Chief Marketing Officer of the Year – Nonprofit
Nominated by Aaron Horn, Chief Operating Officer
In leading a top-to-bottom rebranding of her organization and doubling its media mentions, Jessalyn Holdcraft didn't exactly need training wheels during her first four years on the job at the New Bohemian Innovation Collaborative, or NewBoCo.
This year's Chief Marketing Offier of the Year in the nonprofit category started work at the Cedar Rapids collaborative as employee number three, just days after graduating from Simpson College in 2015.
Within less than a year, she found herself in the position of "architecting" a branding effort that brought previously separate programs, including the Iowa Startup Accelerator, under one roof, and creating a style guide and brand standards that allowed the newly formed entity to speak as one.
"Before I joined the team, our brand recognition and storytelling strategies weren't well-defined," said Ms. Holdcraft, who was also tasked with cultivating strong press relations. "We have so many impactful stories that we want to share with our community, but we had no way to consistently do that."
Ms. Holdcraft found a way, increasing NewBoCo's media mentions from 98 in 2016 to 191 in 2017. Today, Chief Operating Officer Aaron Horn calls her "the protector of the NewBoCo brand," and praises her ability to grow its name recognition via relationship building and a consistent storytelling strategy.
That storytelling extends into e-newsletters, websites and social media, and includes a segmentation strategy aimed at boosting engagement.
"Jessalyn is a great example of leadership stemming from influence," Mr. Horn said. "While she is in charge of marketing, [she] also has respected opinions across all teams at NewBoCo. The entire organization depends on her skills and experience across entrepreneurship, education and innovation."
Ms. Holdcraft said her biggest influences are her mother and sister –  women who "are both strong feminists and have shown me how to be a successful human in the workplace and in the world," while not being afraid to call her out for not doing her best work or being true to herself. Diane Johansen, design department manager at Printco Graphics in Omaha, is her "marketing and branding queen and mentor," while friends at de Novo Marketing and Sculpt also serve as inspiration.
"I draw inspiration from the world around me," she said, "whether it's grimacing at the use of Comic Sans, critically analyzing presidential campaigns' marketing and designs, or applauding Nike's latest campaign featuring Serena Williams."
An avid volunteer who has given about 2,000 hours to causes over the past three years, including quality access to health care, Ms. Holdcraft does not like to be idle.
"The best part of my job is that I'm never bored," she said. "We're always working on initiatives that can and will move our communities and state forward, which is really empowering. We also have plenty of diverse programs and events, and this allows me to go from writing about the number of K-12 teachers we've trained to teach computer science to an ISA-backed startup that's innovating in the agriculture industry with cutting-edge drone technology."
– Katharine Carlon