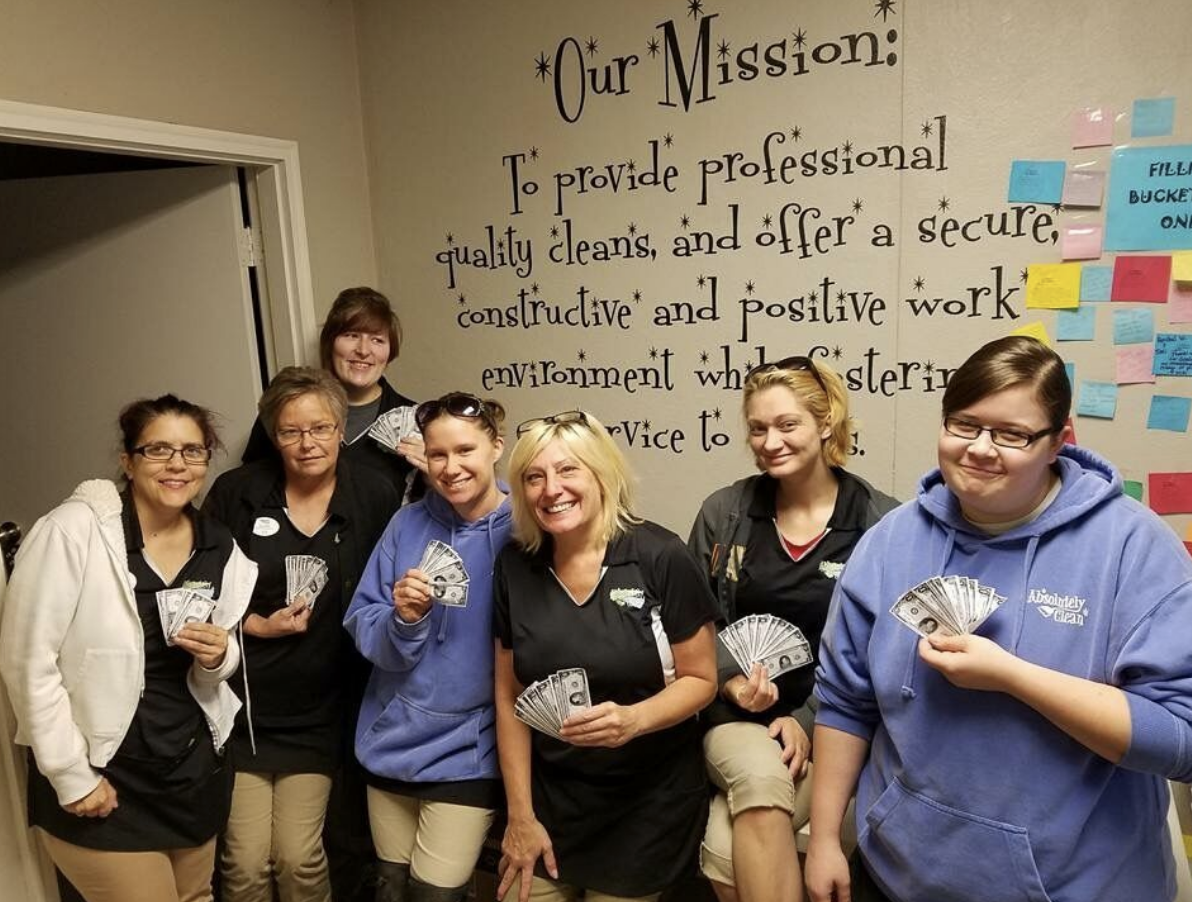 Absolutely Clean
Cedar Rapids
No. 1 Medium Company
Second time on list
www.absolutelyclean.org
By Katharine Carlon
katharine@corridorbusiness.com
With a raft of unique incentives from Flower Power employee awards and Thirsty Thursdays to "maid bucks" redeemable for paid days off and other goodies, it's no surprise that Cedar Rapids' Absolutely Clean took top category honors in the CBJ's Coolest Places to Work competition.
Yet owner Stephanie Nesseth says none of those perks mean a thing by themselves. It's the maid service's deep commitment to family and flexibility that sets it apart from other workplaces – and it's a commitment close to Ms. Nesseth's own heart.
"It's not about the donuts that we bring in, it's not about Thirsty Thursday," she said. "You can say, yeah, that's cool, that's awesome, that's fun … but we spend a lot of time here so the phrase 'work-life balance,' for me, has never made sense. It's all one and the same, and that's how I wanted to run this business."
Ms. Nesseth said she had no intention of starting her own business back in 2001 when she launched Absolutely Clean as a one-woman operation with "just me and a bucket." Her son was battling a rare and frightening childhood cancer – from which he's since recovered – and she needed a job that allowed her to set her own hours and attend to his care.
"You can only call in so many times … so it just got to a point where I needed my full focus to be on my family and that meant being my own boss," she explained. "And then one thing led to another and I found other people needed the same flexibility and that same power to make their own schedules."
Absolutely Clean's first employee was a woman who suffered from lupus and struggled to find employment because she needed frequent time off. Ms. Nesseth's second hire was a woman whose daughter had autism. Both had a strong desire to work, she said, but were limited by most employers' rigid scheduling and leave policies.
Since then, the company has grown to between 35-40 employees at any given time. Like Ms. Nesseth in the early years of the company, many of its mostly female employees juggle family obligations, illnesses and lives that don't necessarily conform to a 9-to-5 world. One current employee, for example, has a son who suffers from seizures and once came to work distraught, admitting her son was lying alone in the hospital.
"Sometimes I wonder who the heck these people have worked for when they come in and they're so scared that they may not have their jobs if they need to take a day off for something like that," Ms. Nesseth said. "I'll say, 'Why are you here?' And she'll tell me she needs the job. I say, 'Girl, I don't know how many times I need to express to you that that is not who we are, and I promise you, if you call and let us know what's going on, you are still going to have a job.'"
Ms. Nesseth said it often takes time and repeated reminders for her employees to truly believe Absolutely Clean's dedication to family and flexibility is more than "lip service." When employees take vacation time, for instance, she temporarily drops them from the company's secret Facebook page to ensure they "truly disconnect" and are not tempted to check in.
"Family is the always most important for everyone no matter what and you have to make that the ultimate," she said. "It doesn't matter what you're doing or selling – inventory is inventory and business is business, whether it's peanut butter or people. You have to make it a place you want to be in."
That work is clearly paying off, according to employees surveyed.
"It's family oriented. The people that work here are positive and support each other," wrote one Absolutely Clean worker on their survey.
"Our boss is amazing," wrote another. "She truly appreciates us and shows us she cares for us individually. All of us ladies that work together get along great, and it's a fun, comfortable environment."
Creating a warm and supportive workplace culture – a sort of family away from home – is another of Absolutely Clean's goals. The company has banished words like "can't" and "wrong" in favor of "challenges," and offers mentoring and personal coaching, including the construction of dream boards representing hopes and dreams for the future.
"I think by the time they go home on Friday, they feel pretty good and their shoulders are a little higher, so they go home, have a great weekend and come back hopefully ready to go again on Monday," Ms. Nesseth said. "When we say we're 'more than maids,' it's so much more than a tag line for us. … [Employees] are our number one client here. They are the heart of our company."
Sometimes that means pulling together to take care of one of their own, such as when the company paid for an employee suffering from stage 4 cancer and her son to travel to Disney World. Other times it means working as a team to serve the community. Employees recently began volunteering at the Ronald McDonald House in Iowa City to provide families of sick children with a clean, sanitized environment. That's in addition to the company's complementary nonprofit, Time in a Bottle, which offers free cleaning service to families of children battling cancer.
Ms. Nesseth said creating a safe, supportive space was how she began her business – and how she planned to end it.
"You know, we scrub toilets for a living, so for me, it's pretty powerful that we won something like this," she said. "These surveys aren't fake. It's not something where you can go online and say, 'hey, vote for us.' It feels so much more powerful because you know it's real … and it's something we've worked really hard at."
Cool culture, at a glance:
Flexible time for family life
"Maid bucks" for every four-star rating earned, to be used for items in the company store or redeemed for paid days off and other goodies.
Flower Power employee awards, voted on by other employees
Thirsty Thursday social hours
Regular monthly staff breakfasts
Daily, weekly and monthly incentives
Volunteer opportunities, including the Time in a Bottle program, which provides free cleaning to parents dealing with child cancer sufferers.