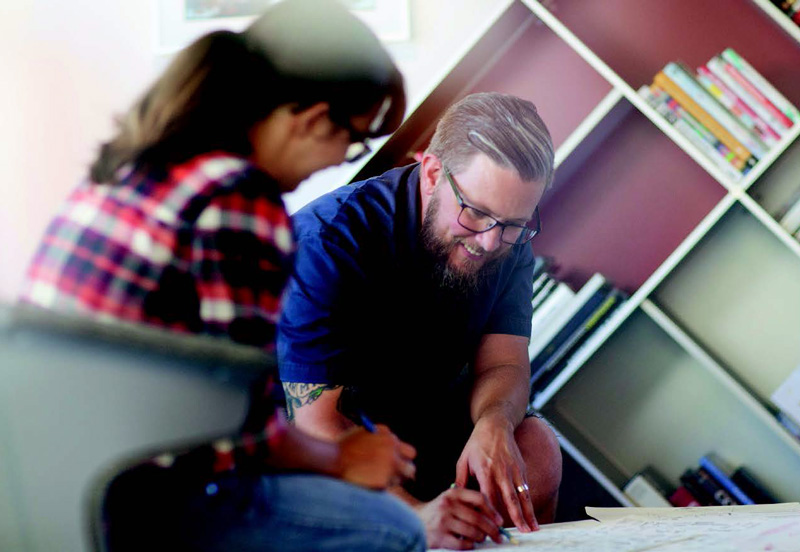 Production Designer Grant Cushman and Rhiannon Rasmussen, a staff designer, at work in FUEL's wall-less office in Hiawatha. PHOTO FUEL
By Katharine Carlon
katharine@corridorbusiness.com
When veterans of the corporate grind John Moes and Bill Bollman came to­gether to found FUEL 17 years ago, one of the first decisions they made was there would be no walls. That meant no phys­ical walls between people, and no mental walls, either.
Their intent was to create a democratic workplace without artificial boundaries or hierarchies – a place where creative types would be free to do what they do best.
Even the biggest wall of all – the one between client and creative team – came crashing down at FUEL, giving rise to a unique collaborative process that has earned the Hiawatha branding and de­sign firm a national reputation, and its second nod as one of the Corridor's Coolest Places to Work.
"Our approach started right at the beginning when Bill and I were sitting here," Mr. Moes said, recalling an ear­ly disagreement with his partner over what kind of music to play in the office. "He liked rap and hip hop and I had … a completely different genre. We were like, 'What do we do about this?'"
The men decided to alternate music days, a practice that continues today even as the company has grown to eight peo­ple. Each FUEL employee plays his or her unique Pandora station on rotation – just one small example of the ways the com­pany has worked to create a culture of openness and collaboration.
From its open plan office to its wide-open door policy with clients, who are invited into the studio to brainstorm with design staff, Messrs. Moes and Bollman see their roles as supporting every player on the field, keeping egos in check and knowing when to stay out of the way.
"We started a democratic process that very first day, and as more people have come into the company, we've expanded that into pretty much everything we do," Mr. Moes said, gesturing towards a team of young designers clustered around a com­puter screen. "When you walk up to our building, it doesn't say Moes or Bollman on the front, it says FUEL. That makes a pretty big statement that it's about these guys."
Mr. Bollman, who also serves as FUEL's creative director, said the company's culture has been key to attracting and retaining tal­ented designers, many of them new gradu­ates skeptical of making careers in Iowa.
"Hiring people is our toughest job be­cause finding top designers and keeping them interested in Cedar Rapids is not al­ways that easy," he said. "We decided early on that if we're going to spend time and commitment to bringing them up and hoping they stay, we'd better be taking care of them."
Not only does FUEL take pains to keep working hours at or below 40 a week – an anomaly in the industry – but it offers a number of unusual perks. In addition to providing employees with free Pandora accounts, the office refrigerator is stocked with organic eggs, fruit and vegetables, many of them harvested straight from Mr. Moes' farm. The team enjoys monthly mov­ie breaks where the office shuts down for a few hours to unwind and catch the latest release. Birthdays mean specially ordered-in meals and, over the winter holidays, the entire office shuts down for several weeks. That's not even mentioning the frequent outings, weekly "beer-thirty/wine downs" and spontaneous Pac-Man tournaments.
"I think it's important in life in general to have that balance," Mr. Bollman said. "Work doesn't have to be dead serious all of the time. We don't want to be a sweat­shop. And that's a philosophy we've kept since we opened the doors."
FUEL employees raved about the fun and sense of family in their survey re­sponses to the CBJ. But the egalitarian at­mosphere, opportunities for personal and professional growth and collaborative rela­tionships brought the strongest accolades.
"When I was coming out of school, I didn't think opportunities like this existed in Iowa or this area," said Pat Prior, FUEL's design director, who has been with the company for 13 years. "Being able to work at the caliber we are in a smaller commu­nity. Just the informalness of the environ­ment, the opportunities for growth, the fact it's not cut-throat or competitive."
More recent hires like Rachael Bair, a designer who's been at FUEL for just over a year, said the opportunity to work on projects "that we're personally invested in," was one of the best parts of her job.
Ms. Bair and fellow FUEL designer John Allen recently spent several days near the Arctic Circle in Canada, for example, working with First Nations communities on behalf of a nonprofit aimed at curbing substance abuse, suicide and depression via uplifting radio broadcasts.
Mr. Moes said that in many ways his goal was to recreate the team-based, collaborative environment of the farm he grew up on, a place where everyone pitched in and supported one another to get the job done without stifling structure, egos and roles getting in the way. FUEL's happy employees say he has mostly succeeded.
"I've had a lot of corporate jobs," said Grant Cushman, the team's production designer. "This is not that."